In January 2022, there were more than five million live websites with the WooCommerce plugin active. WooCommerce is considered a great online store-building tool as it is compatible with many other functional WordPress plugins, and it's free.
This article will guide you through building an eCommerce website using the plugin, along with helpful tips and tricks to optimize it.
1. Purchase Your Web Hosting and Domain Name
Web hosting makes your website go online, whereas a domain name is what people type in the browser to access it instead of its internet protocol (IP) address. Youronlinestore.com is a domain name example. These are the essential first steps to take when building a website. When looking for a hosting provider, you can use a random name generator to come up with interesting and memorable domain name ideas for your website.
If you plan to use WordPress for the long term, choosing managed WordPress hosting can be beneficial, especially if you are new to building a WordPress website. It has tailored WordPress support and is optimized for this content management system (CMS).
Look around online to find the best hosting provider since your website's availability online will rely on it. Most web hosting companies provide free domain name registration, which can make your website building process simpler. However, it's also possible to buy a domain name from a different registrar and connect it to your hosting account.
2. Set Up WordPress
If you use a managed WordPress hosting service, you can skip this step as the provider will help you set the CMS up.
The ways to install WordPress might differ based on the web hosting control panel you're using. Most of them will ask you for a preferred software tool upon registration. Otherwise, you'll be able to install it from the control panel's dashboard.
After completing the installation, you'll be able to manage your website via the WordPress admin dashboard. Generally, the control panel features a shortcut button to access it. Alternatively, you can also type in /wp-admin after your website's domain name in the browser – for example, youronllinestore.com/wp-admin
3. Install WooCommerce
The WooCommerce installation process only takes a few simple steps.
Click the Plugins menu on the left sidebar of your WordPress dashboard and type WooCommerce into the search bar.

Once you see the plugin, click Install and wait for a few seconds.
The button will change to Activate. Click on it. This will complete the installation process.
You'll have to go through the WooCommerce setup wizard to start selling your products. It won't take long – you'll only need to fill in a few details about your online store. However, if you don't want to do it right away, there's an option to skip it and do it later.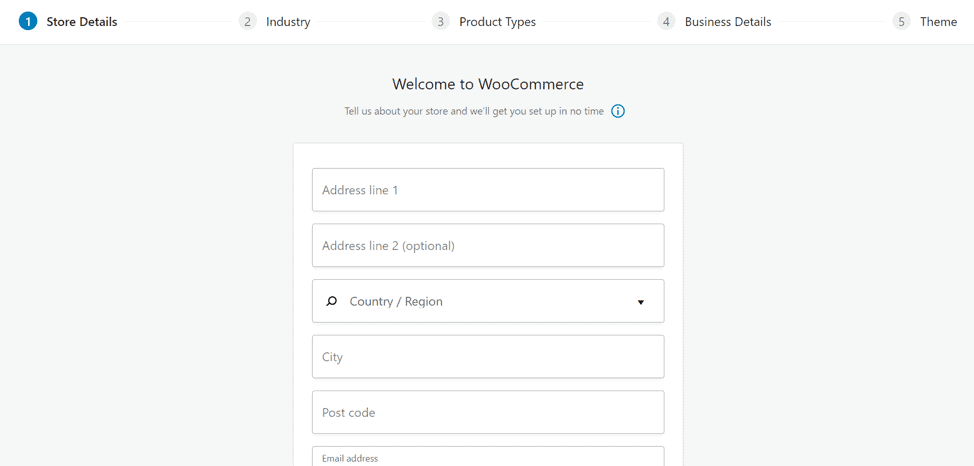 4. Design Your WooCommerce Store
Apply a theme to make your WordPress site more appealing to customers. Note that the WooCommerce plugin has many elements that a standard WordPress website generally doesn't provide, such as checkout or product pages.
There are many free or paid WooCommerce themes to choose from. Before installing one, pay attention to the following details:
Make it mobile-friendly – The percentage of people who shop online on mobile devices increased to 15% in 2021. It's important to create a pleasant shopping experience for your customers by choosing a responsive theme.
Avoid redundant theme ornaments – Choose a theme with a sleek design to prevent confusion and distractions. Furthermore, design a seamless checkout process so that it doesn't take long to process transactions.
Regularly check for updates – You need to update your WordPress theme to avoid security issues. Hence, make sure to check for updates or set them up automatically.
Once you've chosen a theme, create pages to facilitate the navigation of your online store. You can customize them directly by clicking on Pages on the dashboard.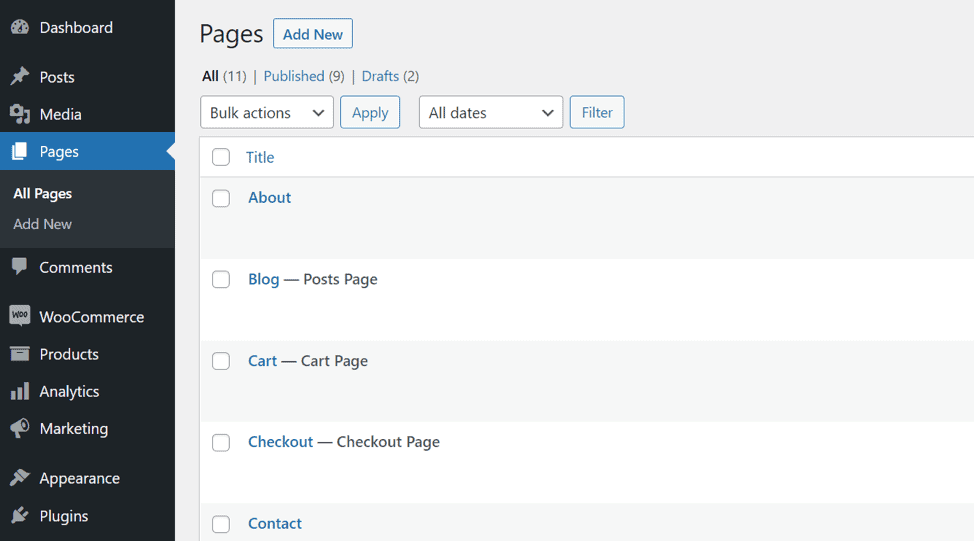 The plugin will have created the essential eCommerce pages, such as Cart, Checkout, Shop, and My Account. Here are some other pages that every website should have:
Home
About
Contact
FAQ
Privacy Policy
5. Install Essential WooCommerce Plugins
WooCommerce is more customizable than many website builders because it has numerous add-ons. Here are some of the essential WooCommerce extensions:
Payment gateway plugins – There are a number of plugins with numerous payment options like debit and credit card payments or eWallets. In addition, there are many plugins that manage shipping cost options, taxes, and provide accounting software.
Order management plugins – This type of plugin will help log your orders and speed up the shipping process, especially when you have a lot of transactions.
LiveChat – This WordPress plugin allows you to connect directly with your customers while they're browsing your eCommerce website. Aside from that, you can also set a personalized message and create a mailing list.
6. Display Your Products
With WooCommerce, you can sell physical and digital products. You can add them by accessing Products from the WordPress dashboard and clicking Add New.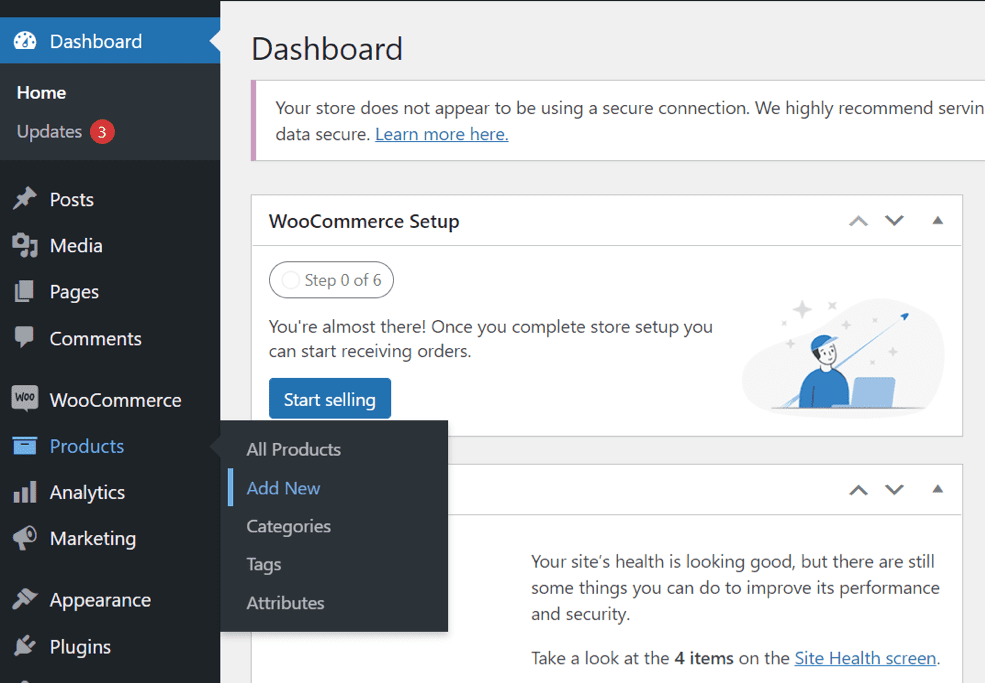 Start by writing the product name. You can include a picture by clicking the Add Media button. Make sure that you feature a great product photo to show off the item.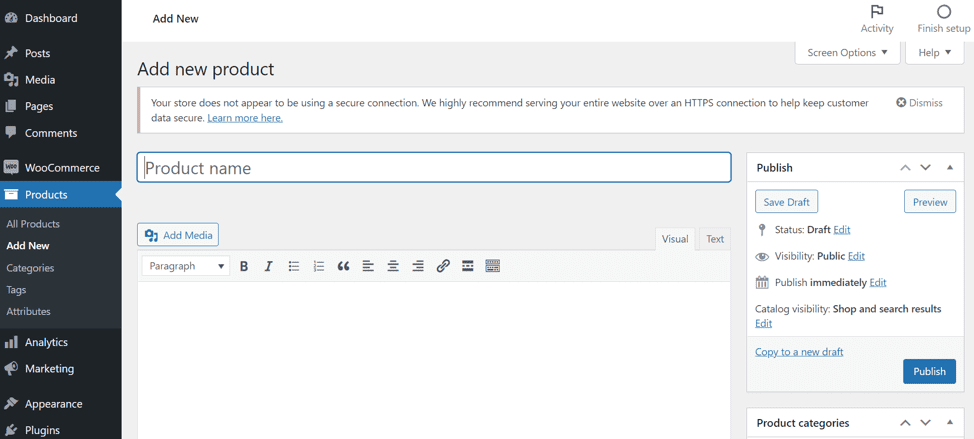 Include a description and set the categories for the product. There are many more customization options that can be set up via WooCommerce.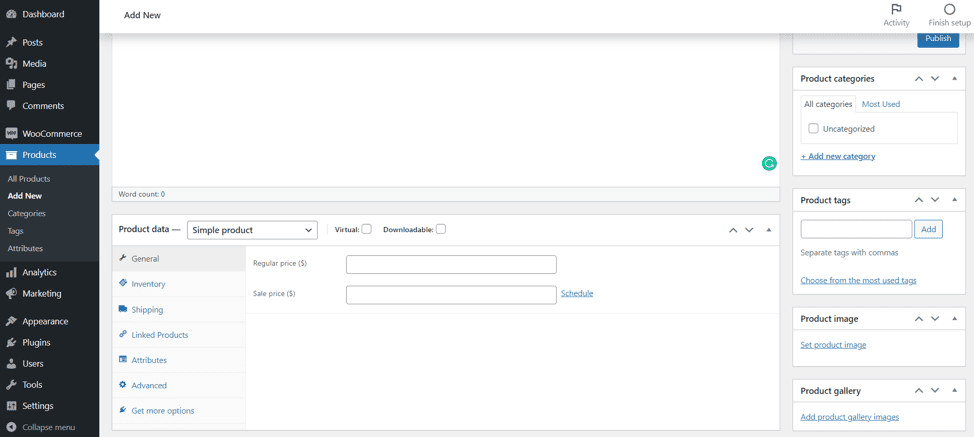 Once you're done with the product page, click the Publish button to complete the process.
7. Optimize Content for Search Engines
You'll need to optimize your website to rank high on the search engine results pages (SERPs). Creating quality content is one of the best ways to do so – your online store will eventually gain popularity and add value to customers.
To help with content creation, conduct keyword research. It refers to the process of compiling and monitoring popular search terms that people type into search engines. That way, you can try to answer popular questions or discuss trending topics that people look for in your niche.
Don't create random content. It's important to plan strategies to maximize your website's search engine optimization (SEO). Aim to show your expertise in your area and make the potential customers attracted to your offers.
Keep in mind to update your content regularly as trending topics and search engine rankings are volatile.
Integrate YoastSEO to guide you with SEO practices. Besides, there are also SEO checker tools you can use to evaluate your website.
8. Launch and Track Store Performance
Launching an online store might not bring you instant success. Make sure to monitor its performance via the WooCommerce dashboard. It will give you a comprehensive report on the number of sales and popular products.
If you need extensive tracking and marketing features, these WordPress plugins are worth trying out:
MonsterInsights – This free plugin allows you to integrate Google Analytics to track your products, categories, and landing pages. Additionally, you'll be able to see your customer statistics, including how much time they spend on your website.
MailChimp for WooCommerce – Install this plugin to help you improve your site's marketing. It can help you create landing pages pop-ups, set up marketing automation, and create a detailed marketing performance report.
Google Listings & Ads – This add-on syncs your products with Google by making them more discoverable on the search engine. Aside from that, you can also run paid ads and track your store's performance from the dashboard.
Conclusion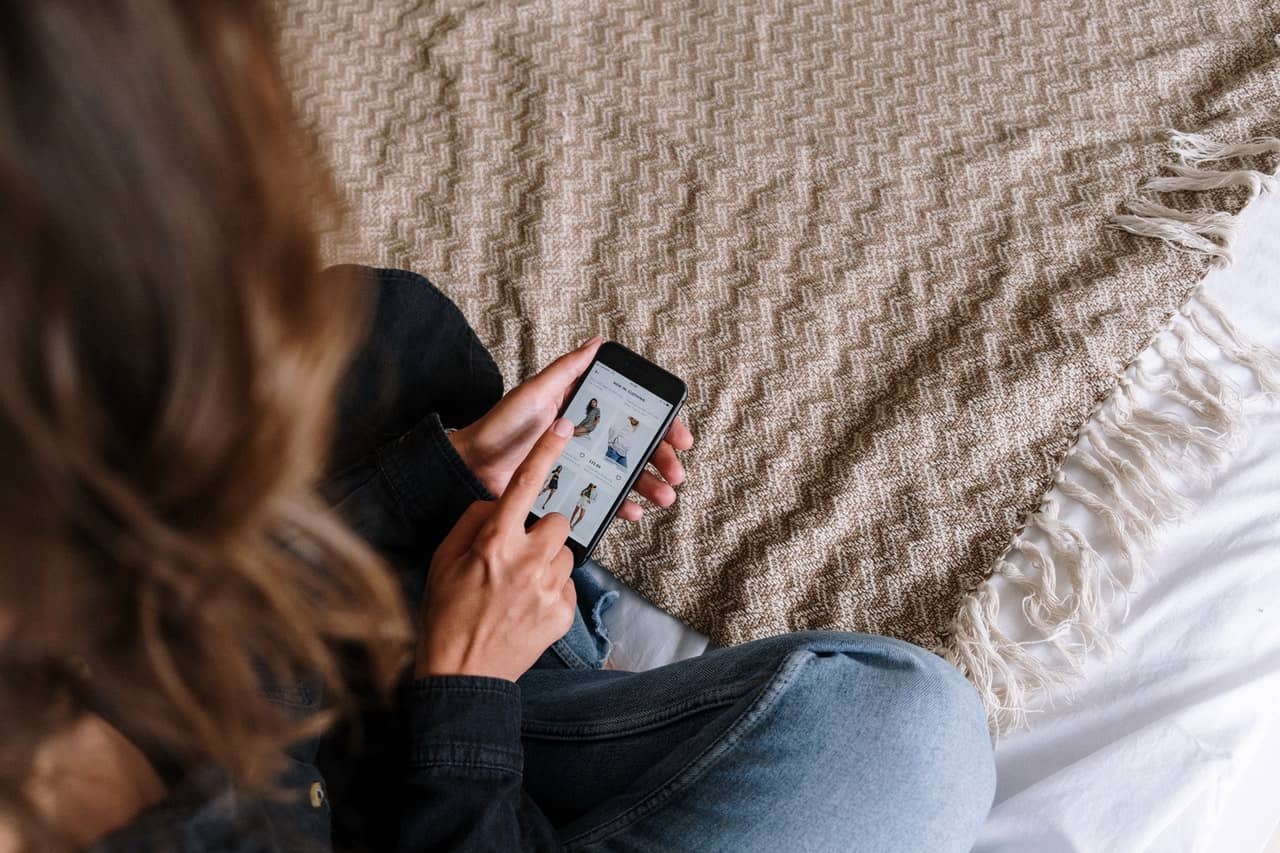 WooCommerce is a great WordPress plugin you can use to build an eCommerce website easily. However, it's worth mentioning that it might take some time and effort to attract customers to your online store and generate more revenue.
In this article, we've discussed eight easy steps to start an online store using WooCommerce:
Purchase web hosting and a domain name.
Set up WordPress
Install WooCommerce
Design your WooCommerce store
Install essential WooCommerce plugins
Display your products
Optimize content for search engines
Launch and track store performance
Keep learning more about the ways to improve your website. We wish you the best with your WooCommerce store opening!