WordPress Development Tool

for Non-Devs

Speed up site deployment, testing & recovery by controlling, resetting & restoring the WordPress environment in one click.

Work Faster with WordPress
It's one of those tools that you simply don't realize you need until you see it in action, and then you wonder how the hell you actually lived without it – video review



FEATURES
No bloat; just the tools you need to work faster
---
We use WP Reset every day to develop, debug, and maintain dozens of WordPress sites. We only add features that are needed to get the job done.
Still installing your favorite 20 plugins one by one? That's insane!
Do it with WP Reset Collections. It takes only one click!
Over 500,000 Happy Users
---
Users love WP Reset for its power, ease of use, and friendly support.
Don't take our word for it. See what users like you have to say.
Works like a charm, and FAST! No need to even read the instructions. I used this to test a demo importer for my premium theme and it was very clear and obvious how to use. Just the right amount of options to help me work fast without being too bloated. Great job!

I use it Regularly – Works Great! I use it regularly to reset WordPress to do new trainings on a fresh install. Options to delete plugins and themes is good to have within the plugin.

Pricing
Grab our 50% OFF launch discount
---
Agency
$299
$119
/year
100 sites license
50 WPR Cloud Site Licenses
Over 25 tools
Snapshots & Auto Snapshots
Plugin & Themes collections
Emergency Recovery Script
WP Reset Dashboard
All features included
License Manager
White-Label Option
Rebranding
Buy now
Most Popular
Team Lifetime by AppSumo
$158
$49
/lifetime
5 sites license
5 WPR Cloud Site Licenses
Over 25 tools
Snapshots & Auto Snapshots
Plugin & Themes collections
Emergency Recovery Script
WP Reset Dashboard
All features included
License Manager
White-Label Option
Rebranding
Buy Now
Personal
$79
$39
/year
1 site license
1 WPR Cloud Site License
Over 25 tools
Snapshots & Auto Snapshots
Plugin & Themes collections
Emergency Recovery Script
WP Reset Dashboard
All features included
License Manager
White-Label Option
Rebranding
Buy Now
100% No-Risk Money Back Guarantee!
You are fully protected by our 100% Risk-Free Guarantee. If you don't like the plugin over the next 7 days, we will happily refund 100% of your money. No questions asked.
I don't get this plugin; explain it to me like I'm five
WP Reset is a time saving tool! If you spend most of your days in WP admin you'll realize it fills a need you didn't even know you had. There are no tools similar to it so the fastest way to see what it does is to see
5 things only WP Reset does
. Video is short and has bookmarks so you can jump through it.
So it's only for developers?
Absolutely not! The vast majority of our users are complete beginners. They use WP Reset to quickly test new themes and plugins, knowing they can always return the site to a previous state in seconds. And they use collections to install all of their free & premium plugins with one click.
Can I accidentally reset my site or delete something?
No, that's not possible due to multiple fail-safe mechanisms. You have to confirm all destructive actions and even double-confirm the reset actions in two different ways.
Who's this plugin for?
For everbody who builds sites using WordPress. Webmasters, agencies and individuals who find themselves installing, building and maintaining WordPress sites on a daily basis.
Can I move the licenses between sites?
Sure! Once you deactivate the plugin on a site, the license goes back into your license pool, and you can activate it on another site. This applies to cloud licenses as well via WP Reset Dashboard.
Where and how do I manage my licenses?
Purchases, sites and licenses are managed in the WP Reset Dashboard. It's a central place where you can also manage snapshots and collections for all your sites.
Is WP Reset a backup plugin?
WP Reset does not replace conventional backup plugins. Instead, it works alongside them to provide better protection for your site. Watch this video for a more detailed explanation.
How does the PRO version compare to the free one?
Short answer – PRO version has three times more features than free one. Long answer – see the full comparison table.
What's WP Reset Dashboard?
Dashboard allows you to control your licenses, sites, snapshots, collections and much more from one centralized location. It's the SaaS part of WP Reset designed to save time when working with multiple sites by having access to everything WP Reset related in one place.
What's WP Reset Cloud?
Cloud is where you safely keep your collections and snapshots. It's a no-setup service designed specifically for WP Reset users that serves as a storage place that's always available from the plugin and from the WP Reset dashboard.
Blog
Latest Content From our WordPress Development & Plugin Business Blog
---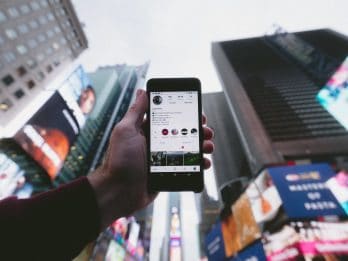 In the realm of marketing, where messages need to reach thousands swiftly, social media marketing (SMM) emerges as the go-to strategy. Whether it's about growing an audience on a tight budget, establishing a robust online presence, narrating a compelling brand story, proving product superiority, or cultivating a custom audience – social media marketing is the linchpin.
Read more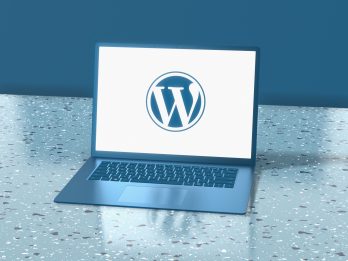 Are you tired of the generic, uninspiring login page that WordPress provides by default? Do you want to add an extra layer of security to your website by changing the login URL? If so, you're in the right place. In this article, we will explore how to transform your WordPress login page from bland and forgettable to a visually stunning and secure gateway for users. We'll delve into the reasons why customizing your login page and URL can enhance your website's overall aesthetic appeal and protect it from potential security threats.
Read more
Plugins & Themes Collections - The Ultimate Time Saver
Every new site you build comes with the same tedious job - install and update all your favorite plugins. Some are on the WP repo, some are pro, so you have them in ZIPs. Then you have to activate them, enter license keys, and make sure they are all updated. It can easily take half an hour to install 10 plugins. With WP Reset's collections, installing 10 plugins is one click and a few minutes of waiting!
create as many collections as you need
once created a collection can be used on any site since it's saved in the cloud
every collection has unlimited plugins and themes
you can add plugins and themes from WP repository and from ZIP files
license keys can be saved safely&securely in collections, so you don't have to look for them (don't worry, we keep them encrypted!)
collections can be installed any time - on fresh sites or after resetting a site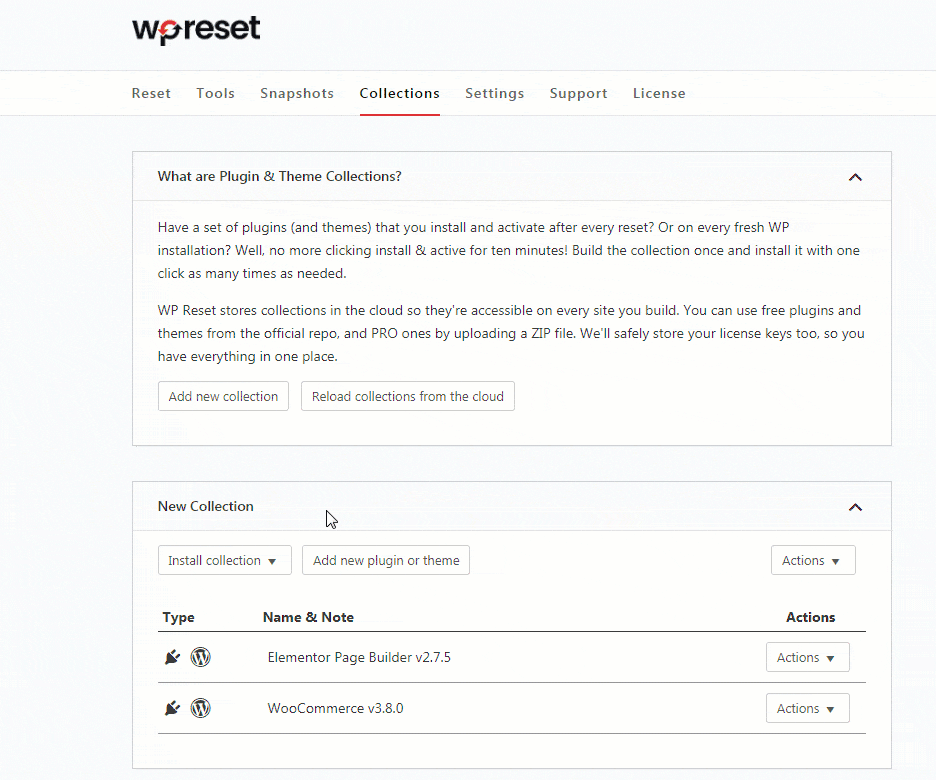 Snapshots - Your Personal Time Machine
We all like clicking the update button and testing things on live sites. In most cases, it goes well. But what if things don't work out? How can you undo that update? You can't! Unless you have WP Reset, which automatically creates a snapshot (like Windows restore point) before you make big changes on your site! How do you restore a snapshot? You click "restore" and wait for a few seconds. Yes, it's that simple.
WP Reset automatically creates snapshots before plugin updates, activations, deactivations and other important changes you make on the site
create snapshots from any WP admin page in seconds
it saves the whole database and the plugin/theme files that were changed
you can create as many snapshots as you need at any point before making changes to the site
restoring a snapshot takes one click
typical snapshot takes only 3MB of space on your hosting account
old snapshots are automatically deleted, so they don't take up space
snapshots can be offloaded to WP Cloud, Dropbox, Google Drive and Cloud for save keeping and to save space on the server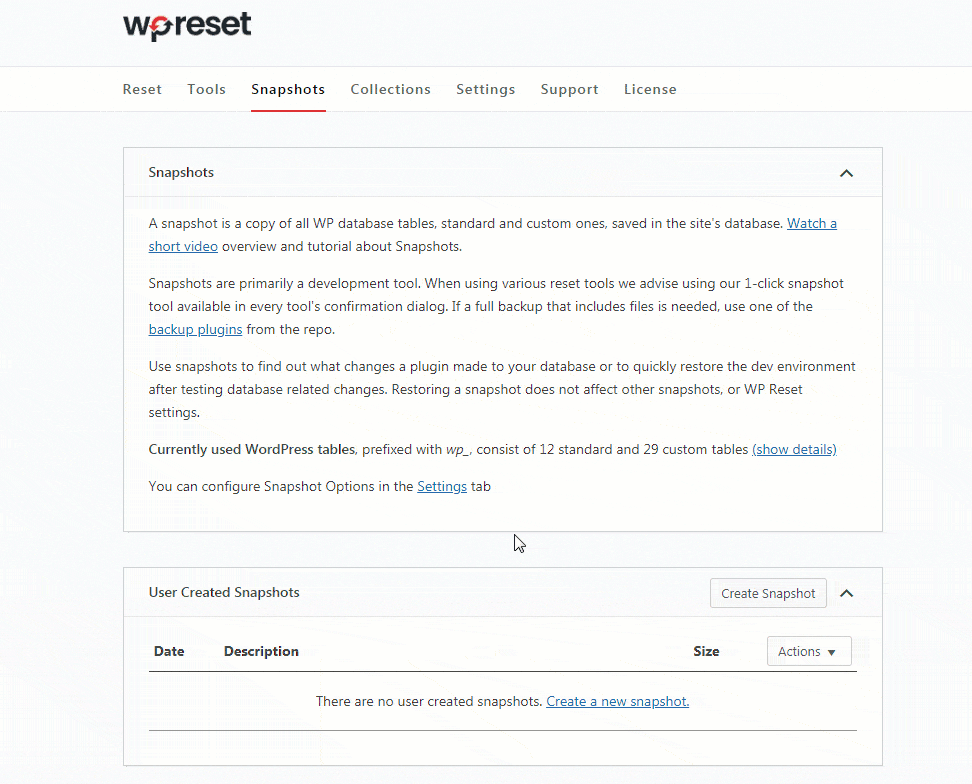 Emergency Recovery Tool - Your Personal WP Superhero
You can't log in, but you know the username and password? The site doesn't work, admin doesn't work. All you see is a white screen? Are you in full panic mode? Don't be. We've all been there. WP Reset's Emergency Recovery tool is a standalone script that is completely independent of any WP files and always works. Open it via a secure link, and it'll help you get the site up&running in no time. Here's what the tool offers:
disable/enable selected (or all) plugins
disable current theme
check all core files to see if some are missing or damaged and restore them
create a new admin user without logging in
repair user privileges
edit site and WP address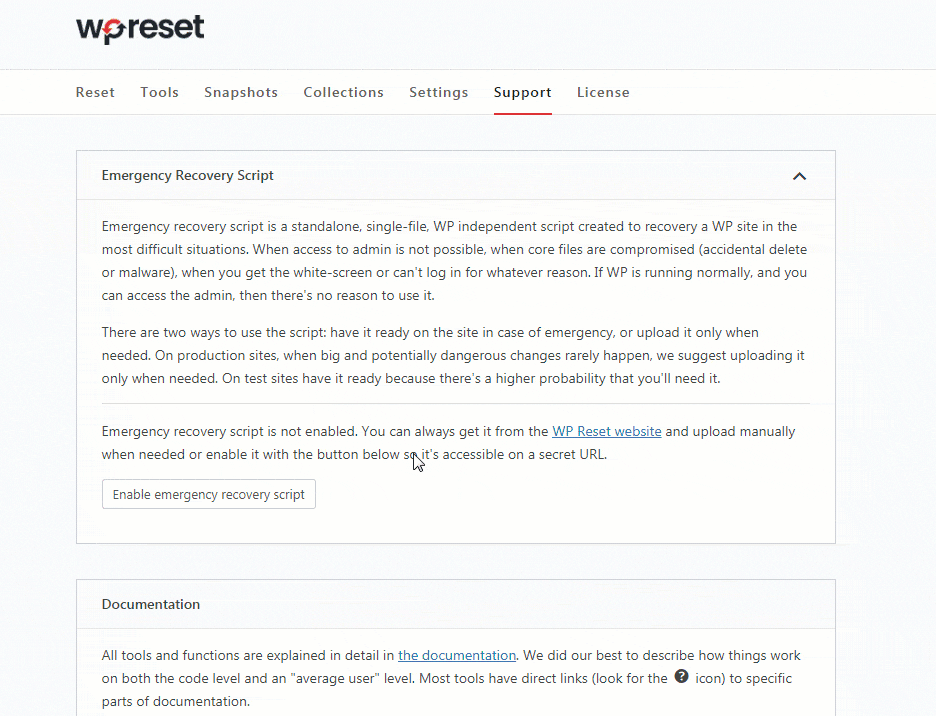 Cleaning Tools
Nobody likes a messy site, but cleaning out data left by theme and plugin demos can take hours. WP Reset offers various tools that will remove all that junk with a single click, and leave the data you need intact. Here's a look at our cleaning tools:
delete transients
delete any content type - posts, pages, menus, custom post types, revisions, ...
delete local data - cookies and local storage
purge cache in all plugins
delete widgets
clean uploads folder
reset theme options
reset user roles
delete themes
delete plugins (with extra support for MU plugins and drop-ins)
delete or empty selected custom tables
delete htaccess file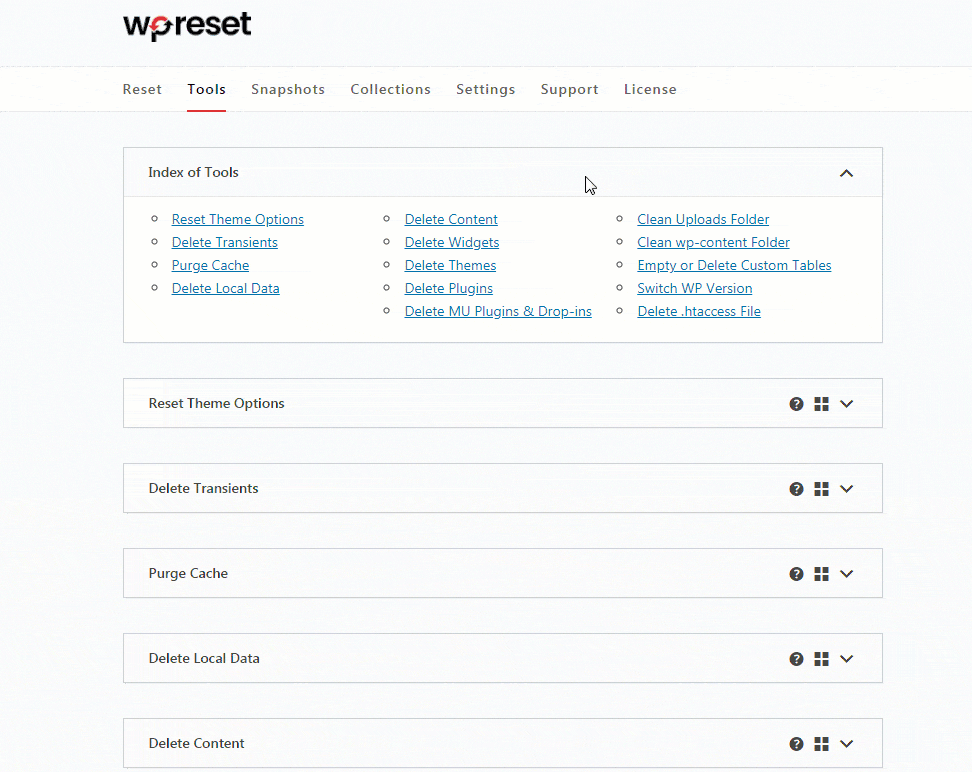 Nuclear Site Reset - Sometimes Starting From Zero is Best
You've spent half a day finding the right plugin or theme, and now that you finally have it, it's time to build the site. But, before you do you need to clean it from all the junk that's left behind. Hit "nuclear reset" and in 30 seconds, your site will be cleaner than a fresh installation! WP Reset will remove everything, all the junk from the database, all plugins, themes, whole wp-uploads folder - everything leaving you with a fresh installation and your current user account.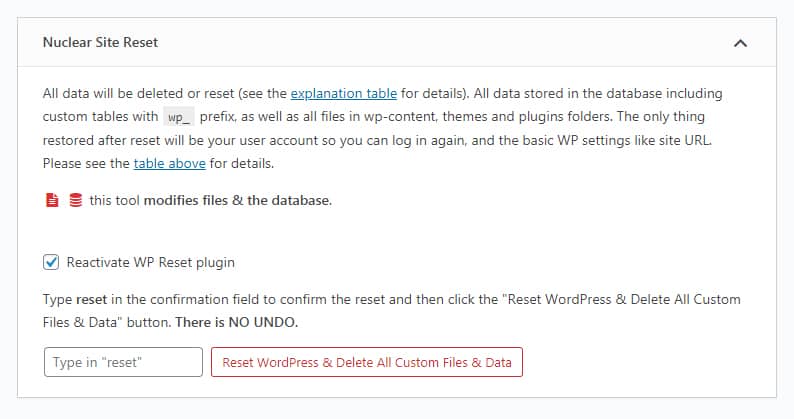 Switch WordPress Version
Your hosting company is pressuring you to switch to the latest version of WP and they updated without asking you? Not a problem! Pick the version you want, click "switch version" and you're done, it's that simple. Feel free to test fresh beta versions too - you can always go back.
White Label Option
If you are working with clients, you don't have to show them the details about WebFactory, the developer of this plugin. Simply turn on the Whitelabel Option, and all our logos and links from the plugin will disappear.
It also hides the license tab from your client, so they won't be able to access the license information and mess with it.
Automatic Snapshots
If you are ready to give up a portion of control and delegate it to WP Reset, you can end up having a semi-autonomous environment that takes care of you & your site. Let the plugin automatically store snapshots to the cloud, so you can be safe all the time.
Just in case something goes wrong, or you realize that you shouldn't have done something that messed up your entire site, WP Reset would be able to save your b*** by having a snapshot automatically created. Whether it's a snapshot created before an important update, installation, or it's been done after a specific period of time has passed, you'll love the fact you can always revert back to a safe & working state of the website you had earlier.
Still, whenever you decide to create a manual snapshot, you just have to click a button.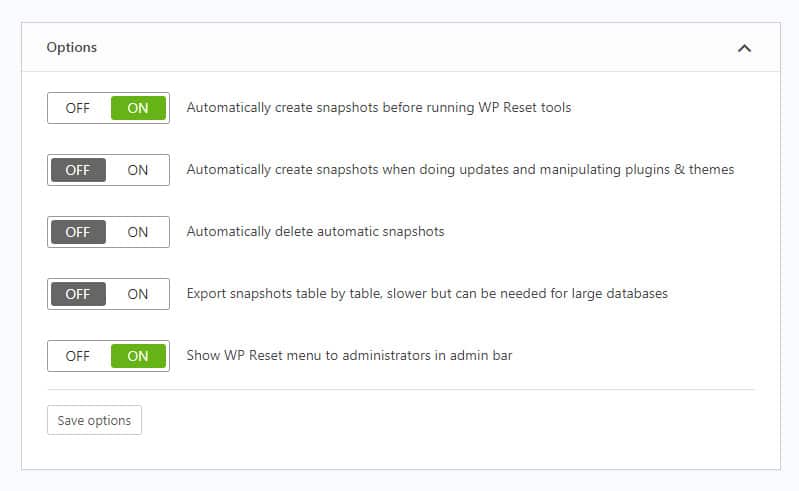 The Cloud
Clouds are everywhere 😊 and that's why we store WP Reset's snapshots & collections in the cloud, so you don't have to rely only on your hosting, so you're sure there's a backup available, and that you can access your snapshots and collections from every site!
Every WP Reset PRO user gets to use Dropbox, Cloud, and Google Drive, where they can easily connect and offload those snapshots & collections. But if you want a specialized no-setup-solution, you can sign up for our cloud service, meaning everything will be automatic and controlled by WebFactory, so you don't have to worry about a thing.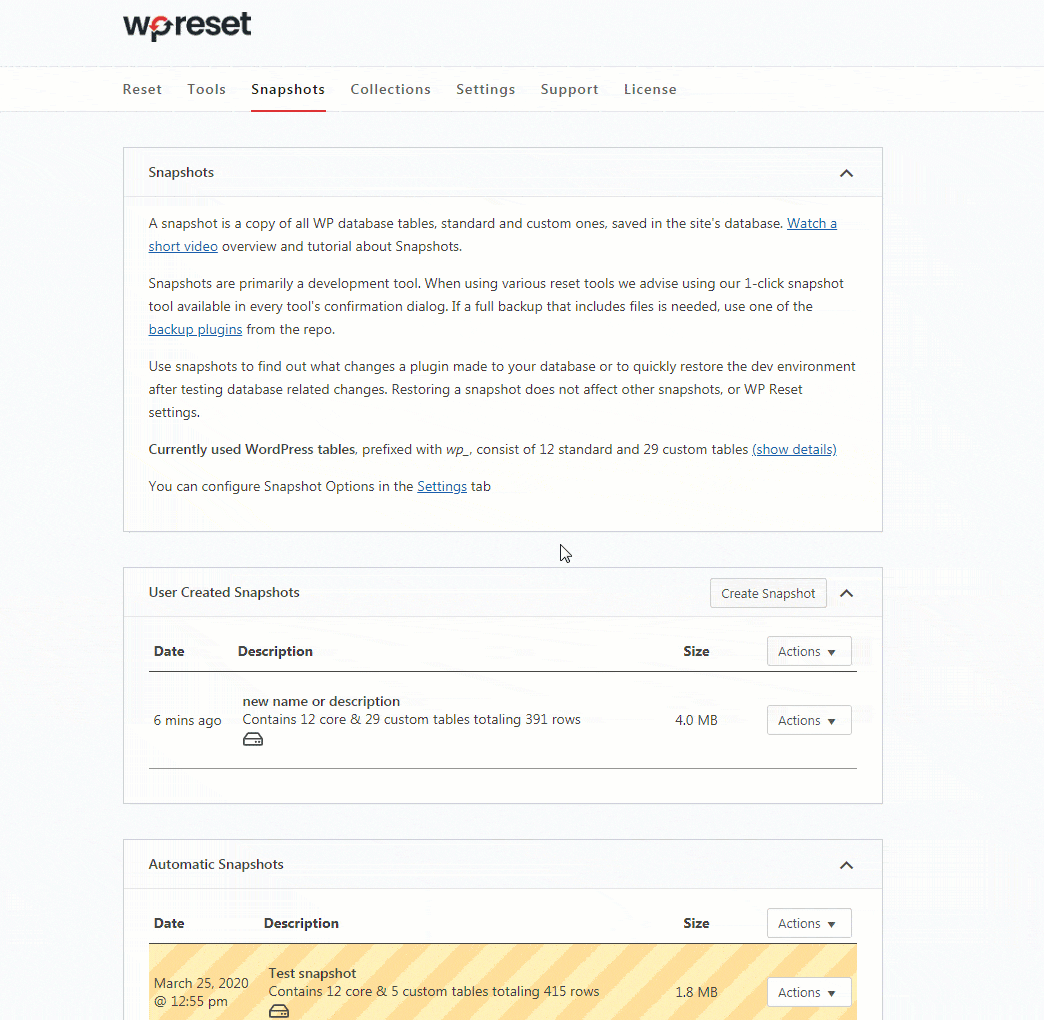 WP Reset Dashboard
Do you have multiple websites that you manage and where you need the help of WP Reset? If so, the WP Reset Dashboard is where you'll be able to control all your websites, collections & snapshots. It's a feature you won't be able to live without!
Instead of configuring numerous collections for each site or losing time to track down a specific snapshot from each and every site separately, save some time by doing all the important work from just one spot.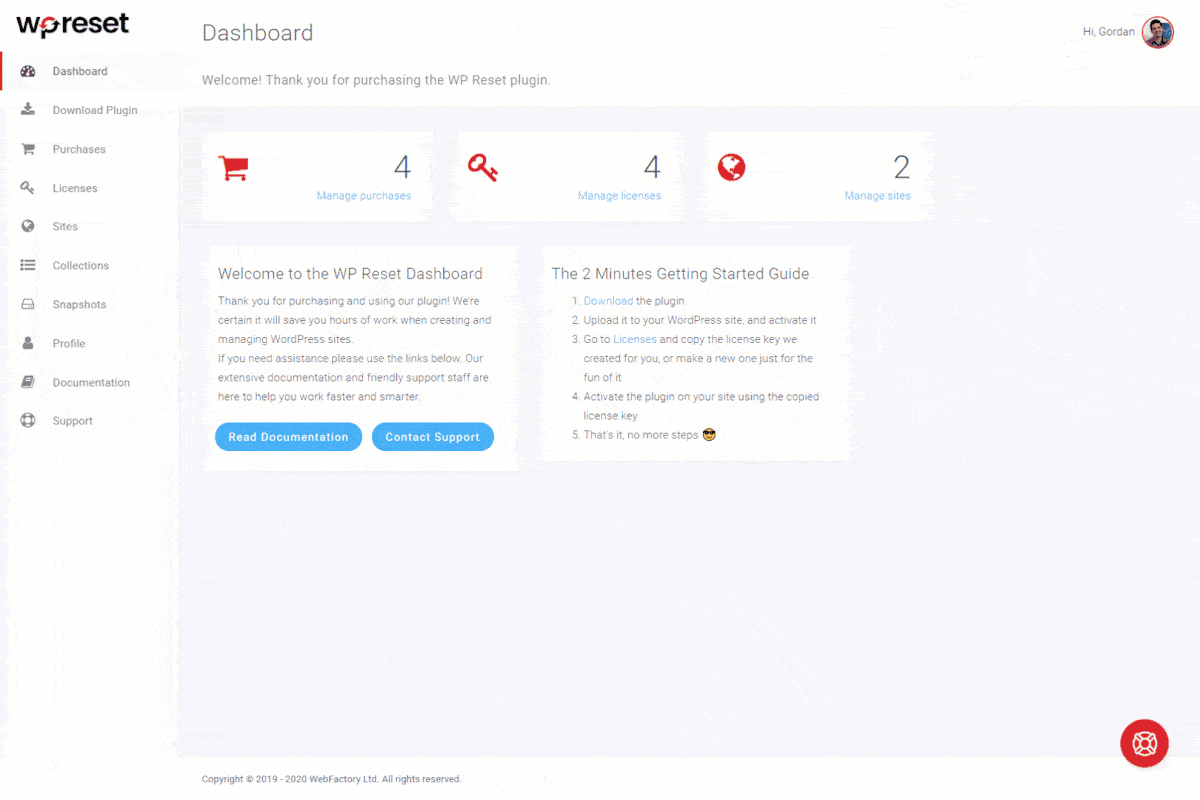 Premium Support
If you need help with anything, we got your back!
We do not outsource support, meaning that you will be talking directly to the WebFactory team who has been working on the plugin from the very beginning. All our colleagues work with WP Reset on a daily basis and will be able to help you with anything you need. But just in case the problem gets bigger, you can stop worrying because the developers who actually spent months coding the plugin are here to help and you will be able to talk to them directly!
Continuous Developemt
The WebFactory team has been working on WP Reset for more than two years. After so many time spent with the plugin, we can proudly say that there are more than 200,000 active users who use & love WP Reset!
All the support has given us wind in the back, and we are now even more eager to continue working on both the free & PRO versions of the plugin. This means we will constantly keep improving the plugin and do our best to make it the best reset plugin for WordPress all the time.