If you are in the WordPress business, you know that SEO is one of the most crucial parts. It is practically like your best friend in the online world, and it helps you bring organic clicks and views to your site that can translate into loyal customers.
Of course, that top spot only comes to you if your site is stable and reliable thanks to good hosting. One thing that sets WPMU DEV's hosting platform apart, is that as well as having all the hosting features you'd expect – it also comes built-in with 7 pro WP plugins – covering performance, security, backups, and more. Get 20% off any of their plans here.
We all need help trying to figure out where we need to improve our SEO. It is a complex subject, and a lot goes into it. That's why we have a tool that will show us what we need to fix.
In this article, we will list down the most important things that this tool offers, show you examples, and analyze them so that you can understand the basics without being familiar with SEO upon reading it.
Websiteseostats
Websiteseostats is a website that will be your favorite tool to check your SEO statistics whenever you feel like it.
It has a lot of options like plagiarism check, article rewriter, meta tag generator, word counter, and more. But we are not here for that, we are here to analyze a website and its SEO to improve it.
The Analysis
In our example, we will use WP Reset and see how the site is performing, the mistakes, and how it can be improved.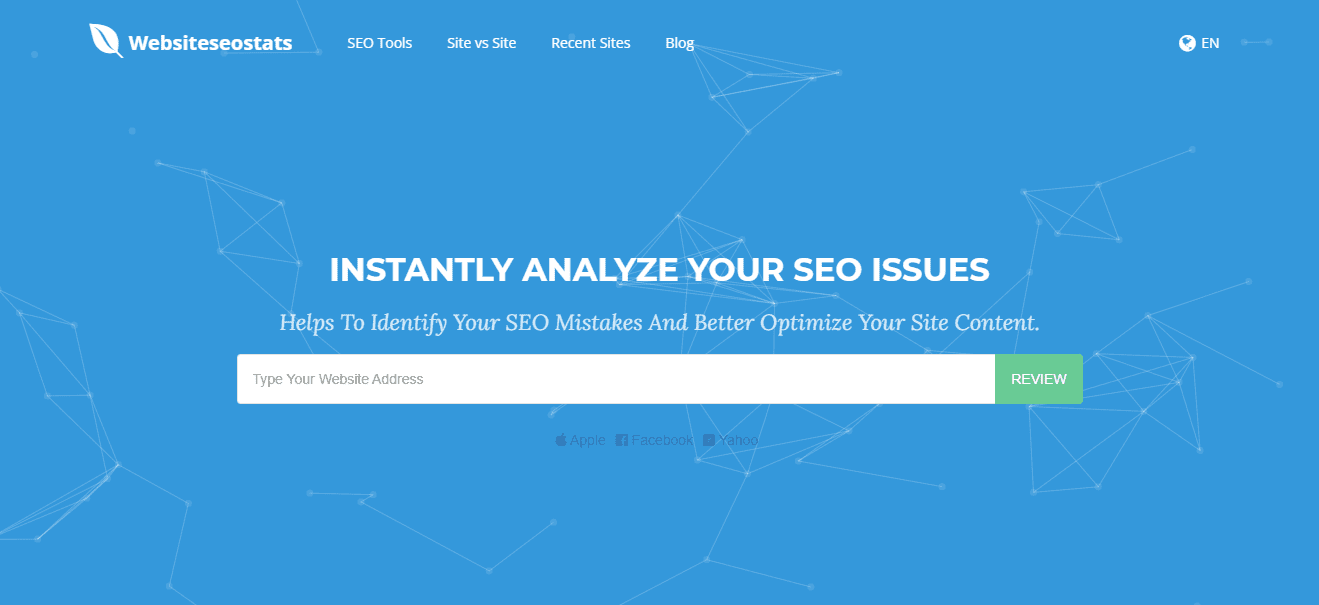 After entering your site URL, you need to click on the review button to take you to the analysis. It is pretty fast, and it will take under a minute to analyze the whole page and give you back the report.
The first thing that you will see is the overall score of your page, together with three performance bars "passed", "to improve" and "errors".
Underneath that, you have the option to download the full report to your PC, share it, or compare it if you want to.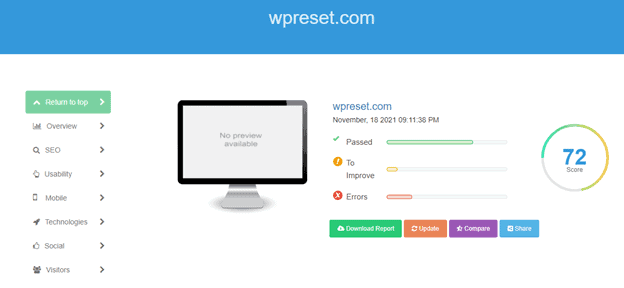 SEO
Under the Search Engine Optimization category, you have a few things to look at, such as title tag, meta description, meta keywords, Google preview, keywords, keyword consistency, and more.
Under Title Tag, you will see how long your title tag is. If it's somewhere between 10 and 70 characters with spaces, then you will be good to go! You need to ensure that your title only contains the most important keywords!
Meta Description will help you influence how your site is shown in search engine results. Ideally, it should be from 100 to 300 characters with spaces. If it's not, then this tool will tell you that you need to rewrite it!
Google Preview is a combination of meta description and title tag that will show in search engine results. This is how you get people to click on your page when it shows up in their search.
Now, one of the most important things regarding SEO is keywords. Without them, everything is useless.
Under the Keywords section, you will see all of your keywords and their consistency on your page. It is always essential to do keyword research and see what keywords you should use, and there are plenty of tools to help you with that!
You also get a table of your keyword consistency right under this section. If you want to improve your chances of a better ranking, you must know that you need to include some specific keywords in all categories or at least in some of them.
XML Sitemap is also under this section, and for good reason! If you do not know what an XML sitemap is, let us explain quickly.
A sitemap lists all URLs that are open for crawling and usually is filled with additional information about your site, such as frequency of changes, latest updates, and importance of URLs.
With this, the search engines will crawl the site more intelligently.
So be sure to generate an XML sitemap for your site and submit it to Bing Webmaster Tools and Google Search Console.
Websiteseostats also provides information about how many years and months it has been since your domain registration. There you can see domain age, created date, updated date, and expiry date.
And right under that, you will see WHOIS data, and that data can help you determine the administrator, technical contact information, and billing.
Next, you have Indexed Pages. There you can see the total number of pages indexed on your site. If it is a low number, bots cannot find your web pages, which is typical due to lousy site architecture and internal linking.
Another thing that is crucial to SEO is backlinks. And you can see all your backlinks in the Backlinks Counter. Those are links that are pointing people from another website to yours. It is like letters of recommendation. If you have a low number, it is safe to say that you need to work on that and improve the quality or quantity of those links.
Usability
Under this category, you can see a lot of different things. You can find the URL, favicon, custom 404 page, page size, and more.
But you can also see your site's loading speed, which is crucial to search engines and visitors.
Domain availability is also analyzed, and you can see which domains are free if you want to purchase them. The same goes for typo availability, which you can see in the picture below.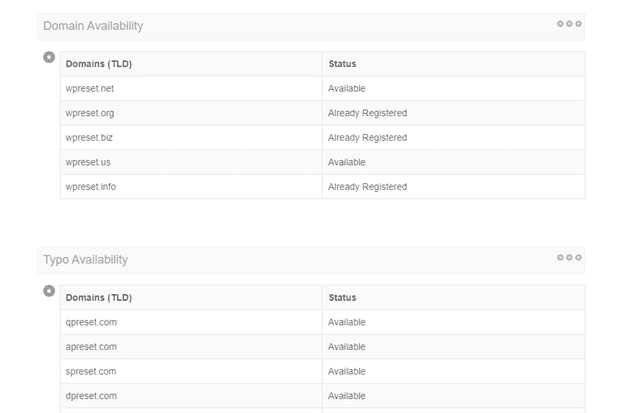 Mobile
How our page looks on mobile devices is essential since more and more people are using them to search the internet.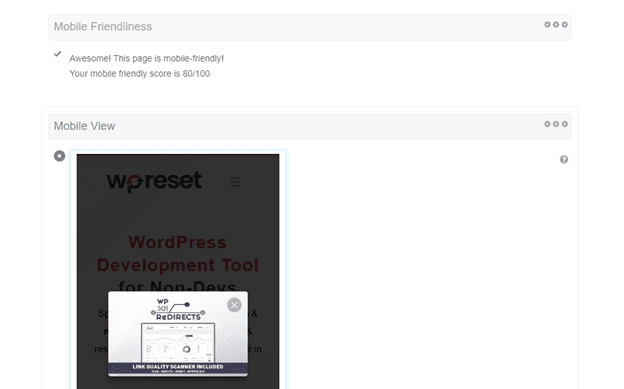 In this category, you can see if your site is mobile-friendly, mobile view of the site, and mobile compatibility – all things necessary for your mobile users to have a flawless experience.
But, you can also see the PageSpeed Insights of your site for mobile and desktop.
Conclusion
This helper can be a greater good to your site if you follow what it suggests. There are a lot of other categories except the ones that we highlighted here. So, there is no need to shy away from a tool that will only help you improve your online presence.