The digitalization of modern society took its toll and it found its way of integrating into pretty much every aspect of one's routine. Although some perceive it as a deficit, it's not necessarily a bad thing – quite the contrary. Everything is sped up, more accessible, and so many opportunities are unlocked due to the digital affirmation. And just like with basically any other sphere, the future of shopping is for sure eCommerce, not only for customers but shop owners as well.
With online shopping, we've got 24/7 access to online stores, any day of the week, from every part of the world, and in just a few simple clicks, the long-desired item finds its way to our doorstep, without the need for you to get out of your pajamas. Also, not to forget that there are no lines, annoying salesmen, and you don't need to wait to buy a product – on eCommerce sites, everything runs smoothly. And these are just a few reasons why eCommerce is a game-changer.
To build a quality store and ensure flawless customer experience, you need to have the right assets in your toolbox, for example, eCommerce tailored WooCommerce extensions, because the competition is fierce, and you want people to keep coming back, and recommend you to others, meaning there is simply no room for mistakes.
But luckily, resorting to the right software enables you to optimize your workflow and ensure that everything runs like clockwork. So buckle up your seats because you're about to meet your new favorite tool called SmartSeller.
Online Store Builder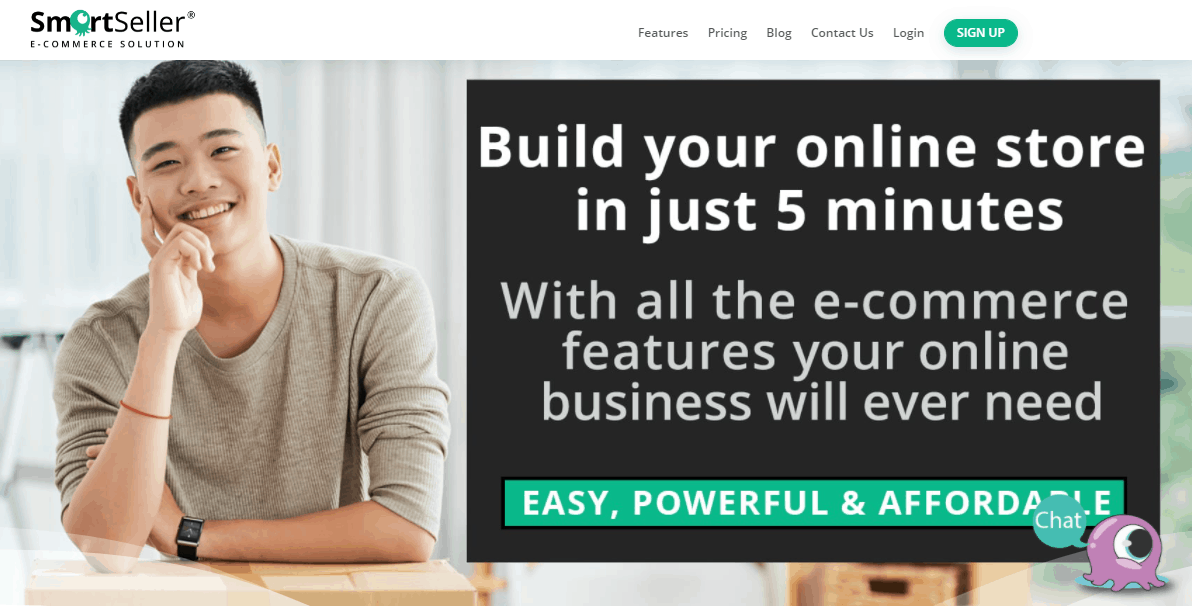 Let's kick things off with the basics. SmartSeller is packed with over 50 templates that are ready to use so setting up your environment can be done in a matter of minutes. To further simplify the process, no programming experience is required since there isn't a necessity to write a single line of code.
Mobile phones are ruling the online realm, with well over 50% of users accessing the world wide web via the alternative that fits into their pockets, so having a website that runs smoothly on a mobile phone or a tablet is crucial for gaining digital recognition.
With this in mind, SmartSeller was optimized to be fully responsive on all types of devices, so regardless if your visitors are rocking a desktop, mobile phone, or a tablet, their experience is guaranteed to be polished and effortless.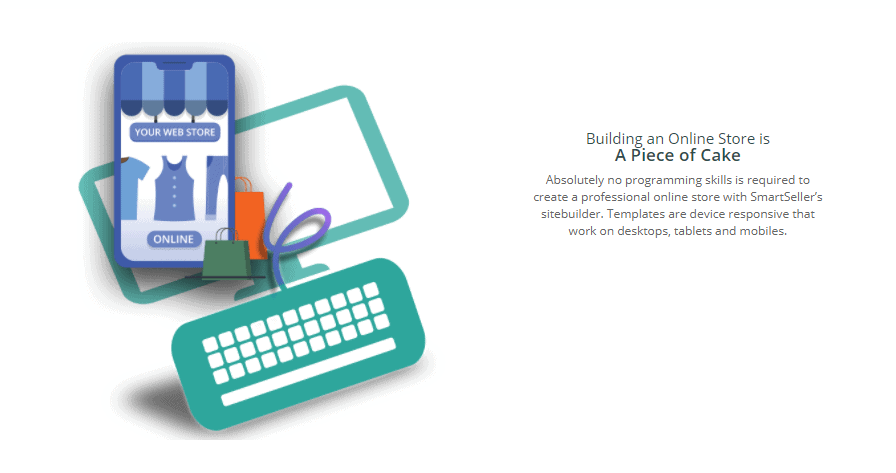 Not to forget that this powerful tool lets you have a custom domain so that you can be easily recognizable in the online market. It builds your online store and allows you to link it to your own domain. By utilizing this feature, you will have your own identity and can create an amazing brand with it. And we all know that having good branding increases the value of a company, and improves how other people perceive you.
Search Engine Optimization doesn't require any special introduction since your online prosperity relies heavily on your ability to excel in the search results and ensure that your voice is heard, so having a tool that is SEO-friendly is fundamental. Of course, that factor was in the back of the developers' heads while crafting this tool, so your discoverability will be assured.
One of the flaws of online shopping is the trustworthiness required for a potential buyer to make the purchase. Scams are present left and right, and no matter how high your guard stands, there's always a factor of insecurity when inputting your credit card details into a website you've never dealt with before.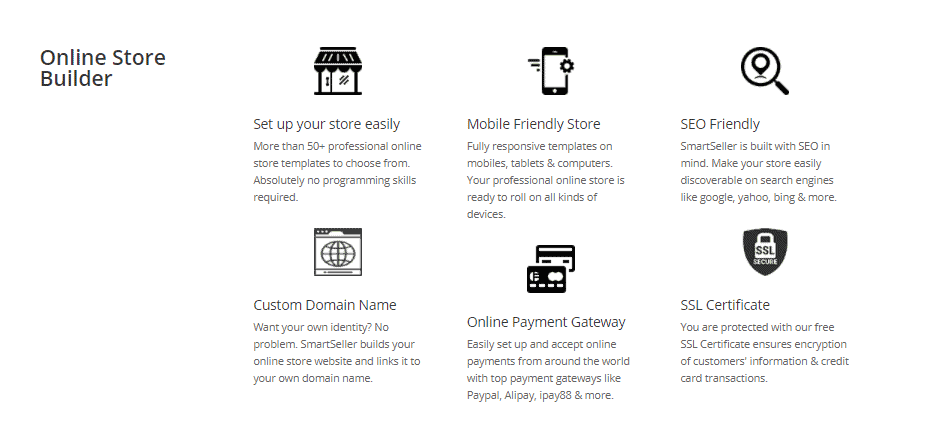 Giving your word that the operation is legit usually won't give out the required sense of security, so putting it down on paper is the approach that will seal the deal. Using SmartSeller, all of the user data is backed up with an SSL certificate which ensures that their private information stays private, and all of their credit card details and transactions stay encrypted.
With that in mind, you have the option to accept payments from all around the world, using the best payment methods like PayPal. It is all about putting the customer in the first place, and them knowing that they're your number one priority.
Inventory Management
Let's dig a little deeper to get a more profound idea of what SmartSeller can provide to you as a store owner in the context of its simplicity.

The product listing panel has been oversimplified so you can easily manage your products, their description, quantity, and pricing. It also gives you the option to import and update thousands of products with a formatted CSV file, so there is no need to waste time by adding them one by one.
To stay on brand, you can also protect your product images by adding watermarks containing your company logo, symbol, or branding text.
Store Management
Store management is the part intended for keeping everything organized and neat, so having it carefully crafted to keep up with all the orders, shipments, and payments is heavily recommended if you want everything to stay coordinated.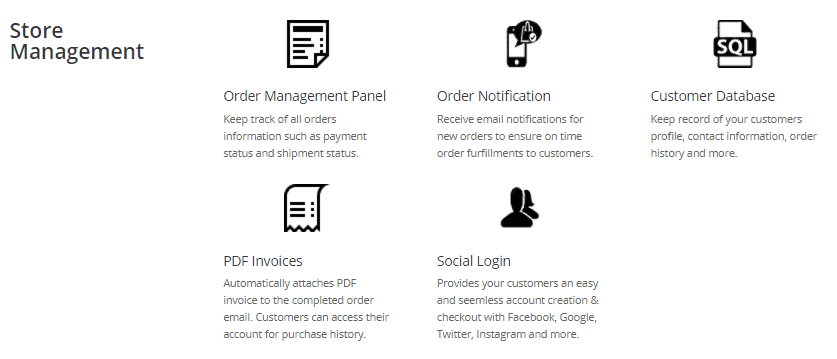 Customers appreciate your concern which is why they want to receive feedback from the store as soon as possible regarding their shipment. That's where the order notification feature comes in handy since it pops an email notification up for every new order so everything gets handled in a timely matter.
That being said, it will also attach an automatic PDF invoice in the email. And to further expand the data collecting, the customer database, with all the information, like purchase history and contact details, will be saved so you're always up to date with your insights.
Sales Reports and Analytics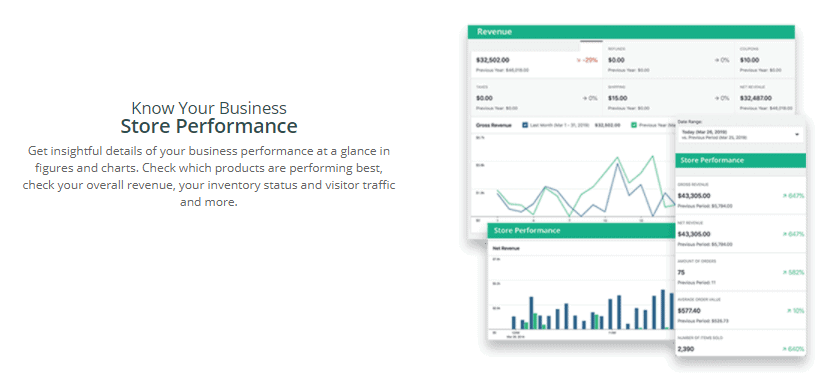 Sales management is an essential part of running any kind of business. Owners should rely on the statistics to see where they can improve their sales, what products are the best selling ones, and which products are underperforming on the site.
Well, this tool will give you great insight into your performance, detailed sales analysis, and on top of that, you will be able to see what is the best selling product on your site so that you as a site owner, can make sure to provide those best-selling products again.
The sales management dashboard is very user-friendly and you won't have any hard time managing it. You will understand your business and store better with it.
But this is just the tip of the iceberg – you can also get detailed insights into your visitor traffic, and eCommerce events as well. With this, you can drive more traffic, improve your sales, and boost your revenue, which is what every site owner should strive for.

SmartSeller did not forget about the biggest social media platform that Facebook is. It has an option called Facebook Pixels, which is a code that can be placed on your website that will then collect data from it to help you track the conversions coming from Facebook.
You can use this feature to make sure that your ads are showing up to the right people. By that, we mean the people who have searched for a specific page or have taken an action on your website. Nevertheless, you can also see the impact of your ads and measure what happens when customers see those ads through monitoring their actions.
It is a great option since you want to know if your ads are doing their job, and what percent of people are coming to your site thanks to them.
Marketing and Sales Growth
Marketing your products to a wider spectrum of people is the key to growing your business. Starting from online marketplaces to social media platforms, it is a good move to cover as many platforms as possible, since it's next to impossible to guess the platform where you'll reach the highest discoverability, without giving them a few test runs and gathering the insights.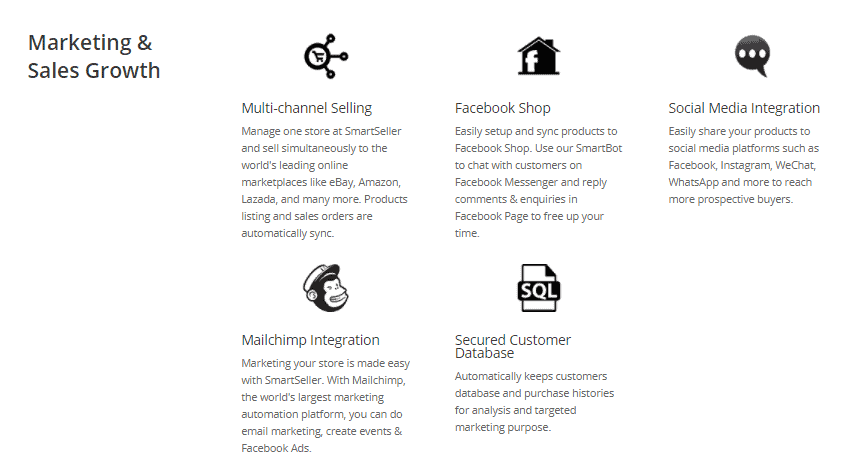 With SmartSeller you can manage a store and sell on marketplaces like eBay, Lazada, and Amazon with ease. Everything from inventories, sales orders, and product listing can be easily handled on your SmartSeller dashboard. With this option, you will have an advantage while competing with bigger retailers. This strategy is taking over the eCommerce world, and to ensure that you're catching up, SmartSeller is providing it.
You can also create your Facebook shop and easily set up and sync the products to it. Setting up the store on your Facebook is just one click away, and editing was never easier since changes that you make on your site will be automatically transferred to your Facebook store.
Some people enjoy shopping on Facebook more so making sure that your FB store is just flawless as your site will benefit you and the customer as well. And it can be flawless because you can organize your items into collections by tagging them in photos, which will improve your visibility and help your customers browse your store more easily.

And if your customers want to message you and ask more about the product, you can chat with them through your own SmartBot on Facebook Messenger. You can also reply to comments and inquiries on your Facebook page so that you can free up your time.
Because more and more people are using mobile phones to browse Facebook and the web in general, both of your stores and SmartSeller are designed for mobile users as well. So that your customers who are browsing from their phones have the best experience possible.
Having a great email marketing game is essential, especially if you are retailing. That's why this tool has the world's biggest marketing automation platform included as well. MailChimp will guide you through your email marketing, ads, and events by giving you the ability to manage mailing lists, newsletters, campaigns, and more.
Now that you have your social media game on point and your store is looking like a snack, it is only right to have the email marketing be top-notch as well.
Promotional Tools
Another way of getting more traffic to your store is by using promotional tools like coupons or discounted bundles, which are available within this tool.
You can create coupons and gift certificates with which you can then encourage customers to come back and have a second look at your offer. Discounted bundles are also great because you are offering a particular item with another one that is discounted. This also benefits you as a store owner, because you will sell 2 items to a customer that was initially interested in one.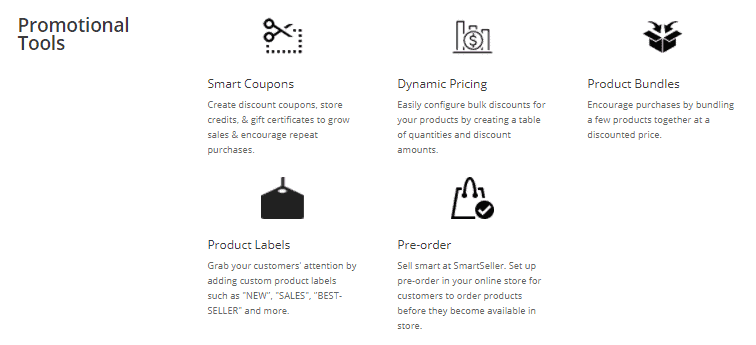 It is proven that people give more attention to items that have big labels on them saying "new", "best-seller", or "sale". So why not create some? SmartSeller has that option so that you can drive the attention of customers to particular items of your choice.
You can also create pre-orders so that your customers can pre-order items that aren't available in the store yet, and be the first ones to get their hands on them. This will give the customers the feeling of importance since they will have the items before anyone else, and when they feel respected and important somewhere, they will most likely come back.
Pricing
Considering all the features that SmartSeller provides, you will be mind blown by the pricing.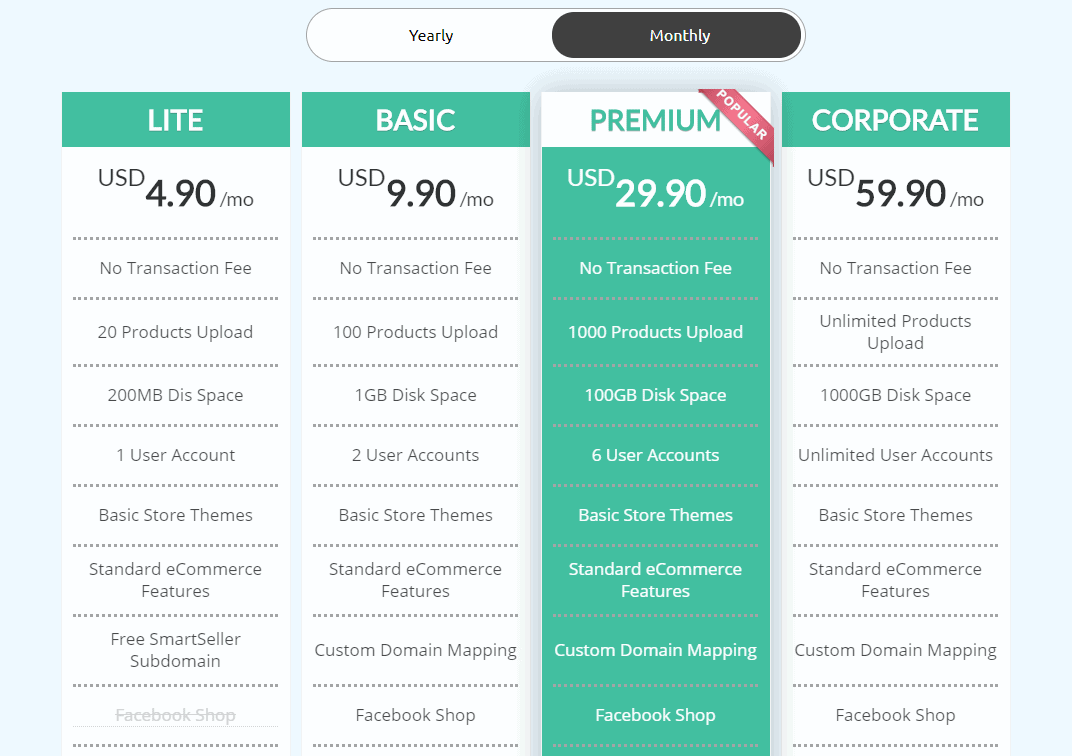 They have 4 different pricing options available:
LITE
BASIC
PREMIUM
CORPORATE
The LITE version offers all of the basic features that you need for starting your online business. It's a great option if you're taking your first steps and don't require additional features found in other plans.
The BASIC version costs $9.90 per month which is a bargain by itself, not to mention that if you decide to go for a yearly subscription, you get rewarded with 2 months free of charge! And with it, you get, of course, a feature-packed product, which is perfectly tailored for owners who have a smaller store with up to 100 products.
The PREMIUM version is the most popular option, with a price of $29.90/month, and with it, you get a huge amount of features and additions. Some of those are uploading up to 1000 products, 6 user accounts, premium store themes, premium eCommerce features, and marketplaces sync which distinguish this plan from the cheaper options, but the value gained for the few extra bucks is definitely worth it for expanding your business.
The CORPORATE version is the priciest one going for $59.90 per month, but if you're serious in the business and crave all of the obtainable features, you're in for a feast! Starting from an unlimited number of products to upload, unlimited user accounts, a free domain, premium features, B2B wholesaler, and with a few more features that'll be in stock soon (like dropshipping, or accounting integration), there are pretty much countless possibilities for you to play around with. You can also start the free trial, which lasts for 30 days, and see everything for yourself.
Conclusion
eCommerce is for sure the future of shopping, and by utilizing the right tools, it's much easier to gain online recognition and succeed in your ideas than many were led to believe.
SmartSeller has all the right tools needed to craft the ideal store tailored by your preferences. Ranging from inventory management, all the way to promotional tools, this piece of software has it all. Use all the advantages that this tool provides, and make the best out of it!