Running a successful site is a complicated business. There's simply so much you have to take into account. In a sense, it's similar to running an llc texas – full of details you have to keep an eye on.
Luckily, WordPress has evolved as a platform so much over the years that with its plethora of services and plugins, you'll be able to handle everything by yourself and save some money in not hiring an outside contractor to do it for you.
To help you out, we've compiled a comprehensive list of over 25 products that can, all in their own way, help you achieve your ultimate goals and get your site to the next level. They are all centered around WordPress since we consider it by far the best platform to use in this kind of endeavor.
Without further ado, let's get started…
The WP Reset plugin comes in both free and PRO versions. This plugin makes resetting websites painless. Reset and start over aren't seen very often, but almost every website needs it. Some functions have been improved and others increased in the PRO tier. Create a collection of favorite plugins and themes, use more than 25 cleaning tools, take automatic snapshots and manage all of your licenses, sites, and collections from one place with this plugin. That includes rebranding and disaster recovery.
WP 301 Redirects comes in both free and PRO version plugin that helps you set up automatic redirects for any page or post that has an invalid or broken link. These settings are controlled by a simple to set up the dashboard. This plugin ensures that any deleted site or the page does not result in a 404 error. The plugin will also update your site's URL if you change it. For example, boosting meaningful traffic instantly, rerouting redirects, scanning every outgoing link, and rerouting rules are some of the main features. This plugin is great because it automatically whitelists Google and disables automatic redirection for bad bots. The plugin has built-in charts and quick support.
A plugin that makes it simple to create modern and delightful Instant Under Construction Pages. They look very professional and like they took a long time to make. See more info for the features of free and PRO versions. With this plugin, you can do a lot more. It lets you create your own landing page or "coming soon" page. It has many templates for creating your own landing page, over a million beautiful searchable HD, and 4K images.
It allows you to export orders and product data from WooCommerce. You can use filters to get only the information you need. It also has a free and PRO edition with features like exporting all data, automatic exports to email or FTP, column reordering, multiple exports, and more.
To optimize shipping and incorporate rule-based methods for calculating the final shipment charge, the WooCommerce Table Rate Shipping plugin was created. It includes personalized pricing and is categorized to account for every order component. It comes in both free and PRO versions. Among the features are advanced shipping rules (based on weight, item count, and more), force shipping methods, unique shipping method names, and the ability to import and export your own shipping methods.
Coming Soon & Maintenance Mode is simple to use, has all the features you need, and custom themes. Here are some examples. For example, with using Licence Manager you can create and manage unlimited licenses, keyless licenses that are domain activated and do not require a license key to activate and disable sites or licenses as needed. You can rename and sell it – delete the original branding (including the plugin name, graphics, and descriptions), upload a new custom logo, change the colors, and customize the CSS. More info about free & PRO versions you can find on the support site.
Guest blogging is a great way to boost traffic. Simple Author Box adds a responsive author box to your WordPress content. Author boxes look great both on smartphones and desktops. It includes everything you need to create author boxes with all of your writers' vital data. Simple Author Box is available in free and PRO versions. Simple Author Box adds an author box to your post. Many customization options, link management, and post-type support are included.
Wish your WooCommerce customers could skip the basket and go straight to the checkout? This plugin makes it very easy. It also has strong Buy Buttons. They can be placed anywhere on your website (not just product pages) and when clicked, add the product to the basket and direct the customer to the checkout (skipping the cart). You can direct customers to the checkout for all items, increasing sales. You can create buttons for specific items and place them anywhere on your website. These allow consumers to quickly add items to their cart and checkout. Put buy buttons in your blog posts, widgets, and everywhere else!
WP Sticky allows users to create unlimited sticky components without writing any code. Not a techie? Use this plugin to speed up the process. Create a sticky menu, sticky header, video, special offer, etc. It is also easy to use for a newbie. WP Sticky is also compatible with any theme, page builder, or plugin. If a problem arises, the creators provide immediate support. Check out the developer's website for more details about free and PRO versions.
This plugin works with all WordPress themes currently available. The plugin's most notable features are its ease of use, ability to add an unlimited number of maps, define map layouts, easily embed maps anywhere on your page, mobile compatibility, and numerous customization options. It comes in two editions; free and PRO.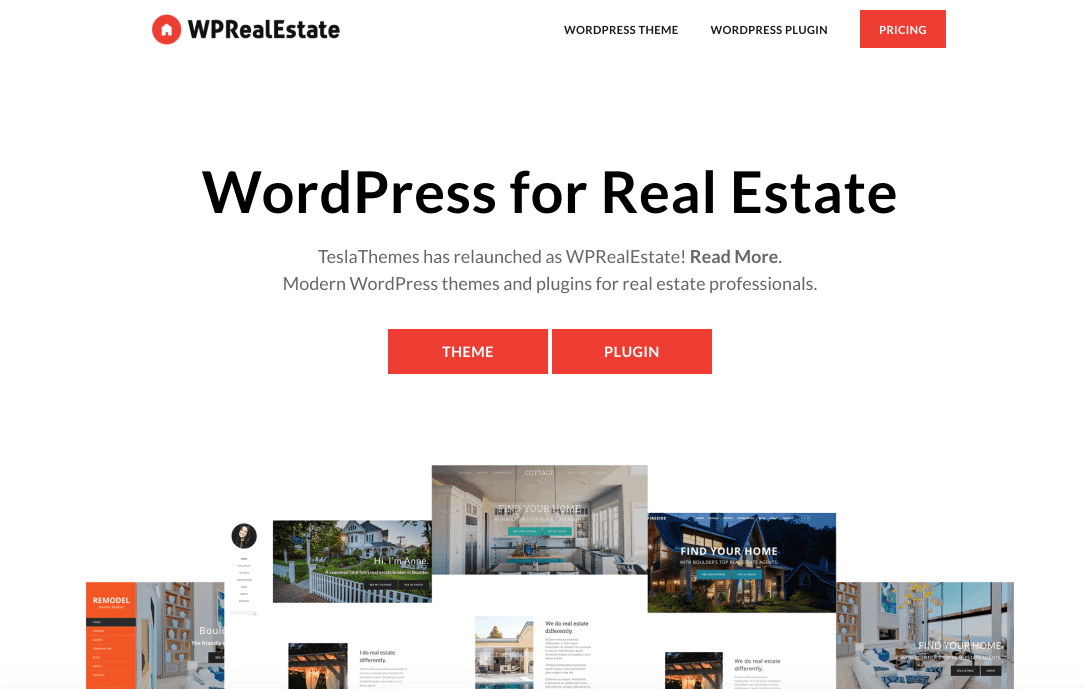 Websites in the real estate industry have very specific needs for both design and functionality. WP Real Estate offers a powerful theme and plugin combination that meets those needs very well.
The WPRealEstate theme includes 16 designs that are both great looking and real estate specific. You can import demos with a few clicks and then customize the look and feel of your website with hundreds of options.
The plugin allows real estate professionals to add, manage, and display both manual and MLS listings. Visitors can use an elegant interface to search and filter listings, and view their results in both list and map view. The plugin is 100% block-based, and all blocks offer a nice array of styling options.
Together, the WPRealEstate theme and plugin make it easy to launch a real estate website that looks and works great.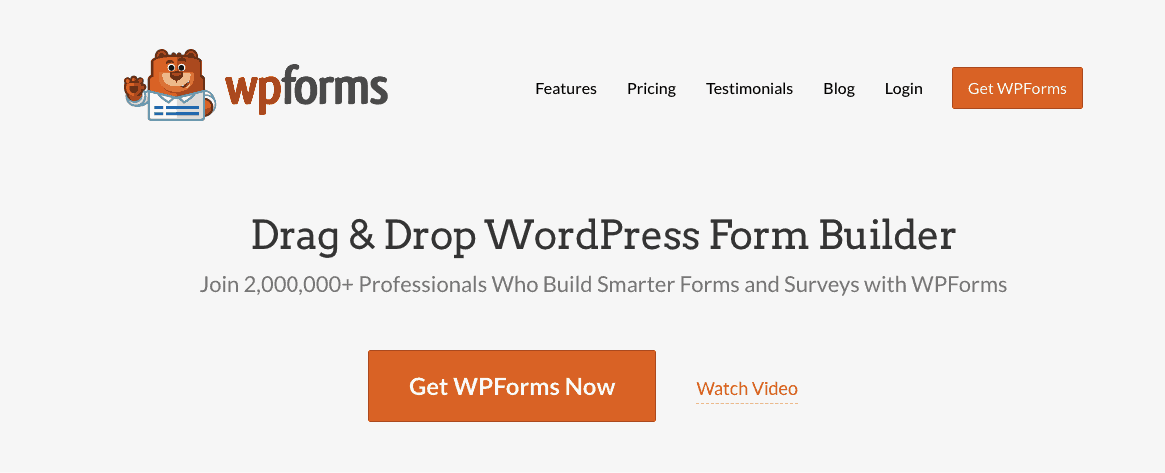 If you're looking to build a subscription-based site, you'll need to set up a registration process. The best way to do this is through forms, and the best plugin that deals with form is WPForms. Creating forms manually from scratch requires extensive coding knowledge and a decent amount of working hours. If you lack either, you'll probably end up commissioning the work to an outside associate, making a dent in your budget. Using WPForms, you'll be able to create professional-looking forms in a matter of minutes, without any prior coding knowledge.
The plugin offers a wealth of options. The interface is based on a drag-and-drop principle where all the changes you're doing are displayed in real-time without the need to refresh the page or jump to a different tab. You're given premade fields that you then just incorporate into the page, adjusting the color scheme to best fit with your overall theme. Creating forms from scratch will give you a unique result, and since it's really simple to use will probably be the best option. You can, however also take one of the numerous templates and just tweak them to create something familiar, but with a twist.
There is really no limit to the type of forms you can create with all the features at your disposal. Basic forms quickly grow into more complex ones in just a few clicks using advanced elements like user registration, file upload, geolocation data, multi-page forms, instant notifications, and many more. To add to it all, all forms are automatically responsive, and they have great integration with other popular services like MailChimp, AWeber, Constant Contact, PayPal, Stripe, etc.
To put it bluntly, if you're going to be using forms on your site, you should be using WPForms.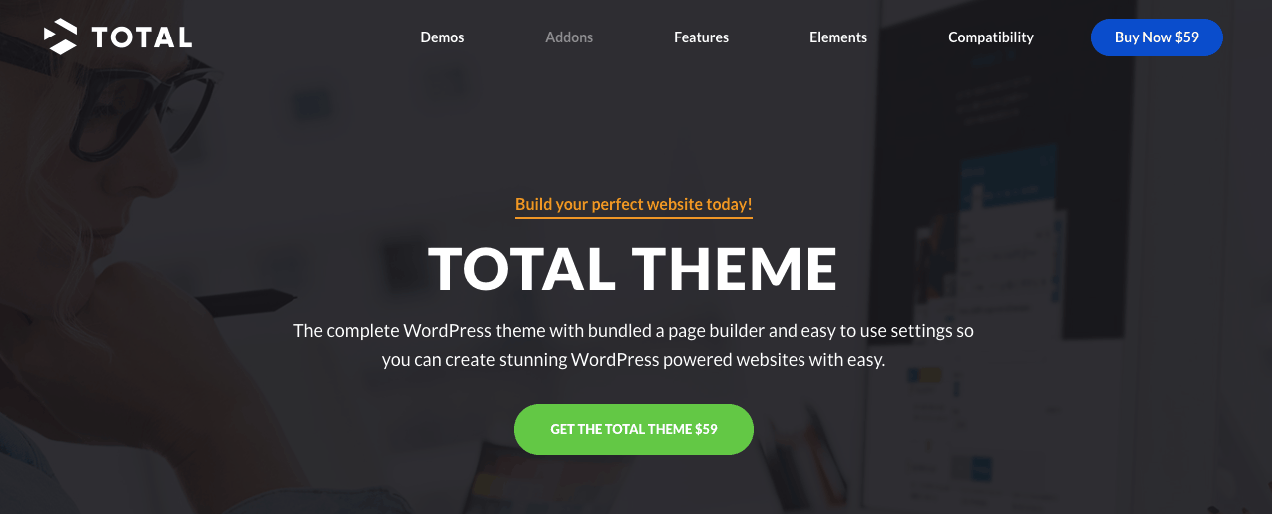 Using only default, run of the mill themes in today's competitive market just won't cut it. You'll need something that sets you apart from everybody else. If you're looking for great, professional themes, you should definitely give Total Theme a go. With it, a theme is not just a color pallet; you'll change to fit your logo. Instead, you'll be given the option to create shops, blogs, agencies, portfolios, and basically any kind of site you can think of.
Since every type of site has its own unique interface, you'll be glad to know you can sort through 40 demos with premade sites that will give you an idea of how it will all look once implemented on your site. Once you figure out the basic idea, you'll have the page builder WPBakery and over one hundred page building elements to customize it to perfection.
Not only is it a breeze to use, but your themes will be integrated with other popular plugins like WooCommerce, MailChimp, Yoast SEO, and many others. All of them work without a hitch, and if you've been already using them prior to Total Theme, all your hard work will not go to waste. If you're considering a new look for your site, give Total Theme serious consideration.

Stats are everywhere, you just can't run away from them, and you can't afford not to use them. From business to sports and everything in between, something is always being tracked, dissected, and made into a graph of some sort. Google Analytics data is the most commonly used information package on data concerning your site, and MonsterInsights is the best plugin to bring all those numbers to your site.
Through a simple dashboard, you'll get a fantastic overview of everything you've ever wanted to know about your site but didn't know where to find out. You'll get access to crucial information about your visitors like their ages, gender, geolocation, browsing method, etc. All this data will enable you to create a fairly accurate picture of your "default" visitor and give you the opportunity to either learn more into their characteristics to further keep them engaged, or diversify your content to attract different types of visitors.
Having a better understanding of your visitor's habits will help you keep your site relevant. Since all the data constantly updated, you'll always be able to stay ahead of the curve, continuously tweaking your content to keep your visitors always engaged.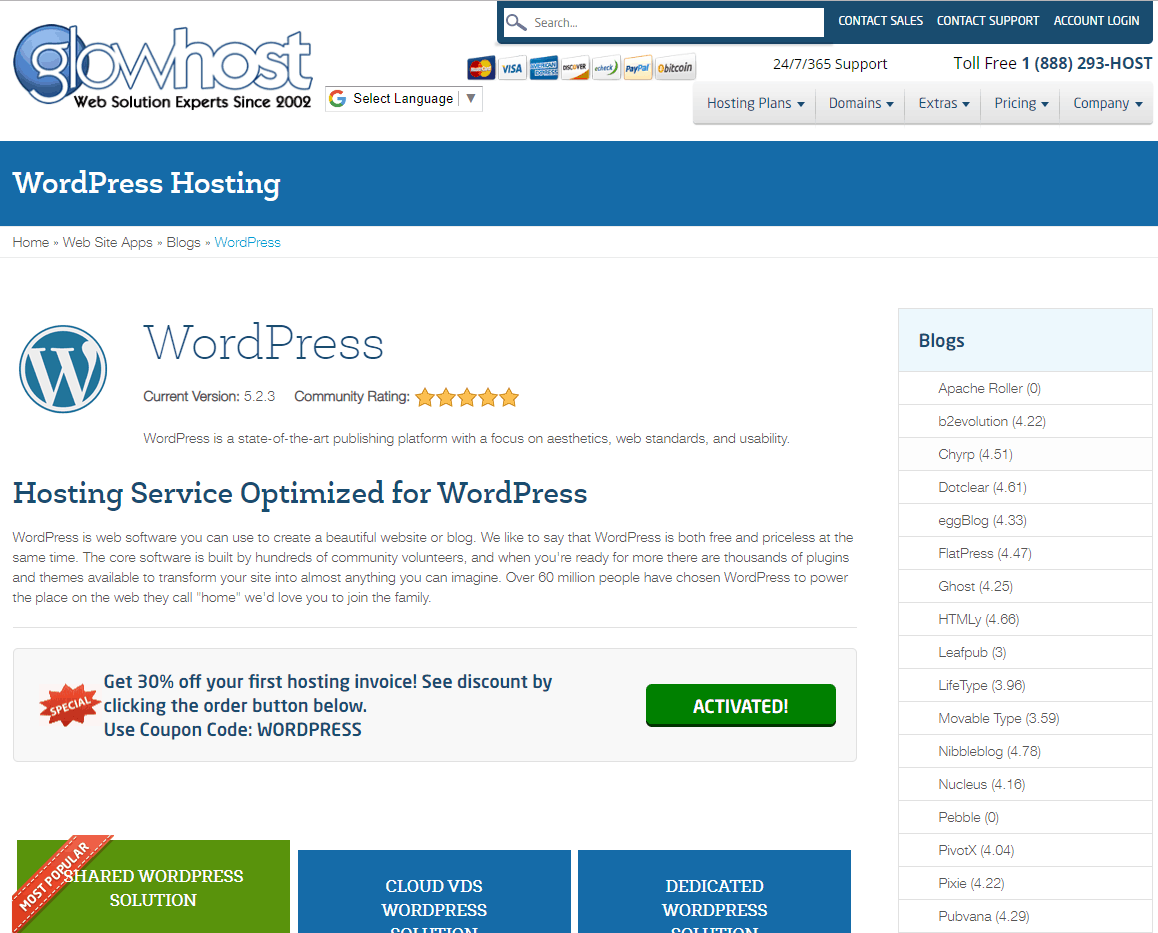 A site that aims to be successful needs its underlining infrastructure to be on par with the quality of content they're putting out. In translation, this means you need a good hosting service that guarantees 100% uptime, high speeds, regular backups, etc. A service that's had it all since way back in 2002 is GlowHost, and since then, it's only fortified its position as one of the best solutions on the market.
More so than other hosting services, GlowHost has specialized in a solution specifically tailored for WordPress sites. This fact is additionally emphasized with their WordPress Management service. Apart from just hosting your site, they'll take care of all other aspects of managing a site through WordPress that includes installations, updates, maintenance, and even content creation. They're very flexible in giving you the option to choose whether their approach is fully hands-on or if you want them to take care of just the necessities.
As of writing, they're offering three distinct packages, and we're sure one of them will be perfect for your site. If you want to make your site stable, secure, and fast, you can't go wrong with GlowHost.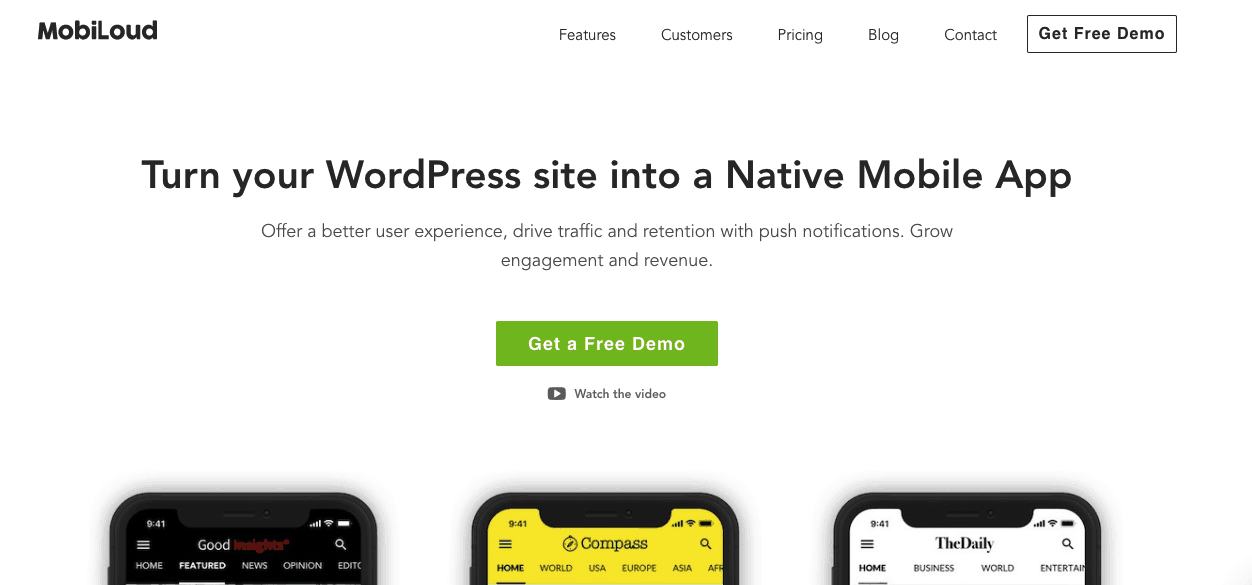 Nowadays, more browsing is done through phones and tablets than through computers. It's no wonder then that sites make their sites responsive to fit the confines of various displays automatically. The next step, however, is creating your own app. This way, your visitors have separate, direct access to just your site, which generally means they'll be using it more. Add to that the ability to fully customize the experience for your users and keep them constantly updated with notifications, and you'll find there is simply no good reason you shouldn't run with an app instead of just a "regular" site.
To convert your site into a native mobile app, it'll be hard to find something better than MobiLoud. Choosing MobiLoud, you'll get the full service – they build the app, they publish it on the App Store and Google Play, and they maintain and update it for you. With all the technical aspects taken care of, all that's left for you to do is put out engaging content for your users to be drawn to.
An alternative to MobiLoud is AppMySite. If you have a WordPress website, AppMySite will essentially allow you to create a mobile app for it without writing a single line of code. All your site's content will be synced to the app, including your pages, posts, categories, and so on. AppMySite also supports WooCommerce, which means you can use it to create an ecommerce app as well.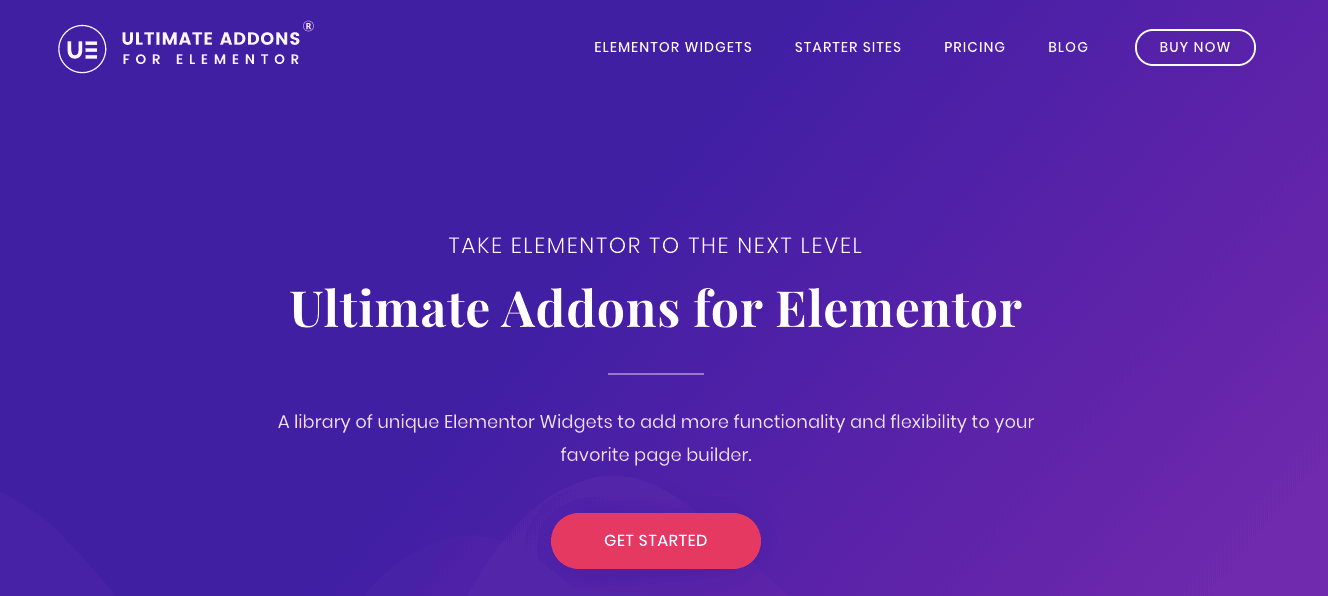 Elementor is being used in over three million websites. Let that sink in for just a moment. It's by far the most widespread page builder (and with the visual page builder craze that's been going around, there is a lot of them to choose from) out there, and all these millions of satisfied users prove just how good it is.
Believe it or not, but you can make it even better with the Ultimate Addons, which expand your database with over 30 widgets and templates that you'll get to play with. If you're already using Elementor, you should strongly think of expanding on the experience with this addition.

If you're a one-man army, managing your site by yourself, chances are you aren't knowledgeable in all aspects of your site. Themes, for example, can't simply be just technically sound, they also need to be visually sound and functional at the same time. The same can be said for plugins and essentially all other additions to your WordPress site. Take all this together, and you're expected to be a manager, programmer, and artist all at once.
Fortunately for those that don't consider themselves such "renaissance men," there is Codester. Codester is a marketplace where you can buy or sell themes and plugins that will improve every site. All items up for sale are thoroughly vetted before being published so you can be sure everything is stable, fast, secure, and SEO optimized. If you ever need something but can't seem to find it in the default WordPress repository, be sure to check Codester out.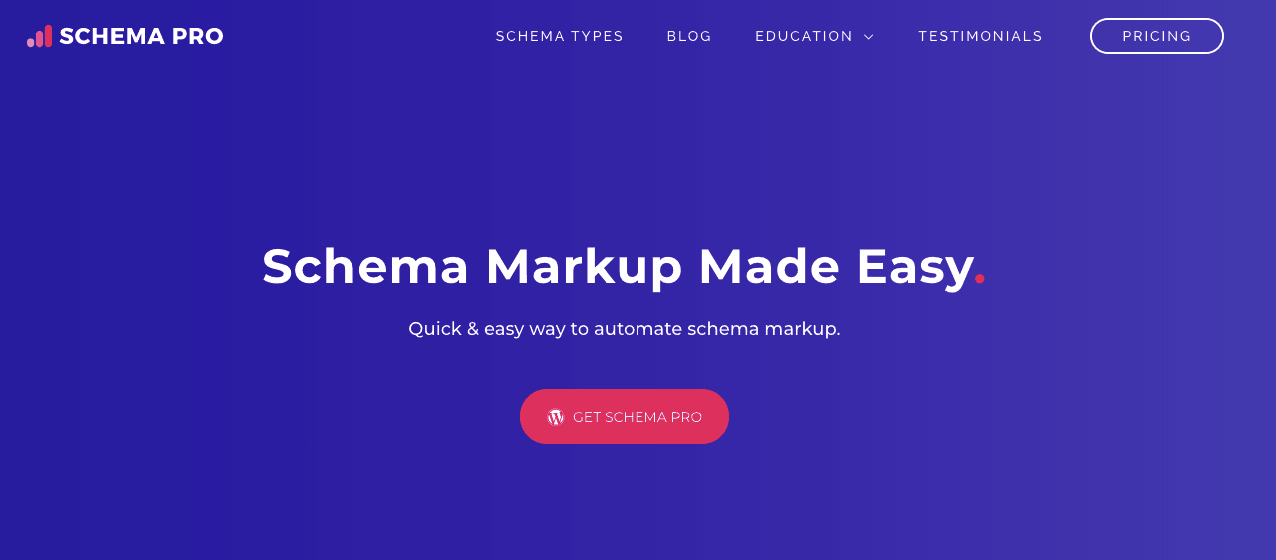 Looking to boost your SEO rating and you've pretty much exhausted all your options? Before handing in the towel, you should look into schema markup. Using it will help search engines return better, more informative results for potential visitors.
In case you have only a vague idea of how it all works, don't fret, just use Schema Pro. The plugin will automatically add markups based on your parameters to post and pages in just a click or two within minutes. With everyone coveting the first few spots in a search engine results page, you'll need every advantage you can get, and Schema Pro can be one of those advantages.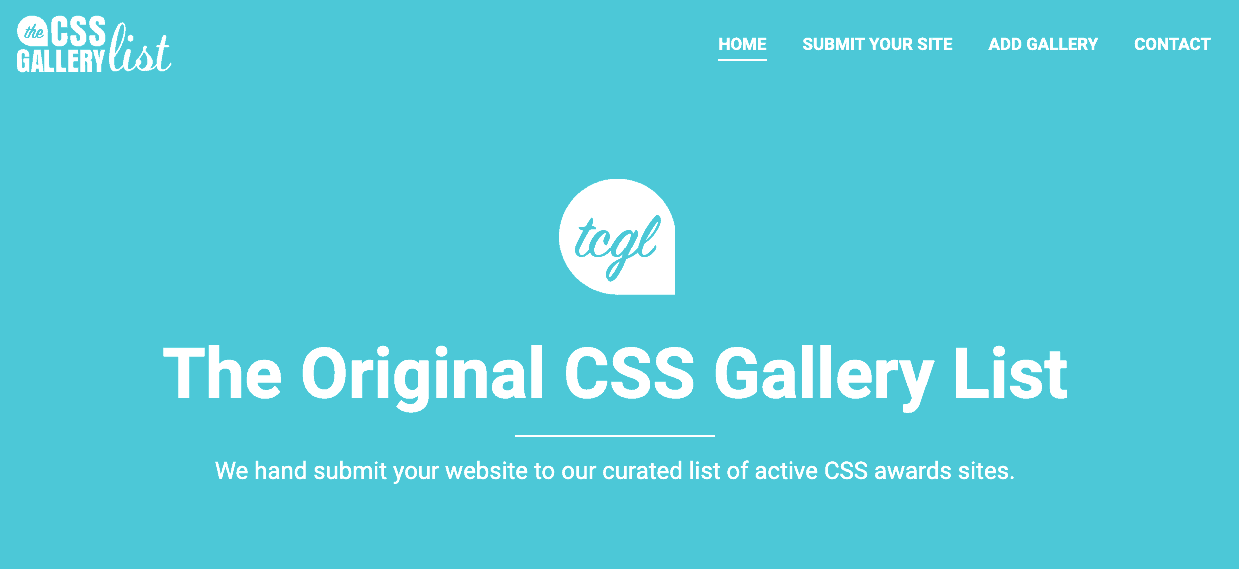 Your work and your site are generating some buzz, but you need even more – try the Gallery List. Here you'll be able to submit your content that includes projects, startups portfolios to a curated list of directories available for viewing. It's always important to get your work out there to as many people as you can, and Gallery List will help you with that.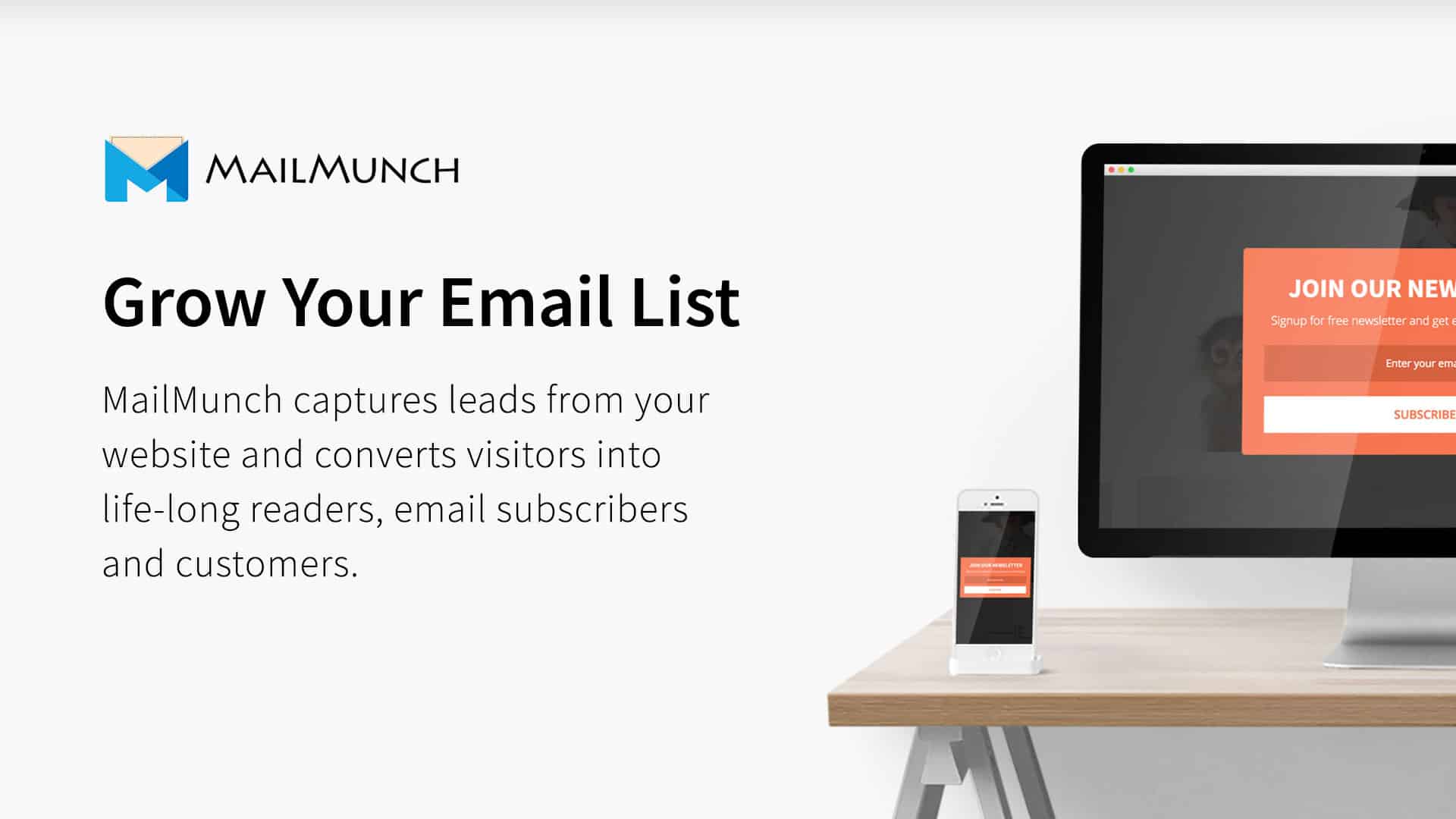 Marketing doesn't stop when your visitors leave your site, and that's something guys at St Louis marketing agency will be able to show you through example. With ever-shorter attention spans and more site to browse than ever, you need to keep your site relevant over and over again. One of the ways this can be done is through mail campaigns.
MailMunch is the perfect example of a platform that lets you build advertising mails that aren't pushy and bland that will go directly from the inbox folder to the trash or even worse spam. You'll be able to make eye-catching emails that pop of the page with the easy to use WYSIWYG Builder either from one of the numerous templates, from scratch, or a combination of both. Grow your visitors' list and, therefore, business, with targeted campaign mails that no one will be able to look away from.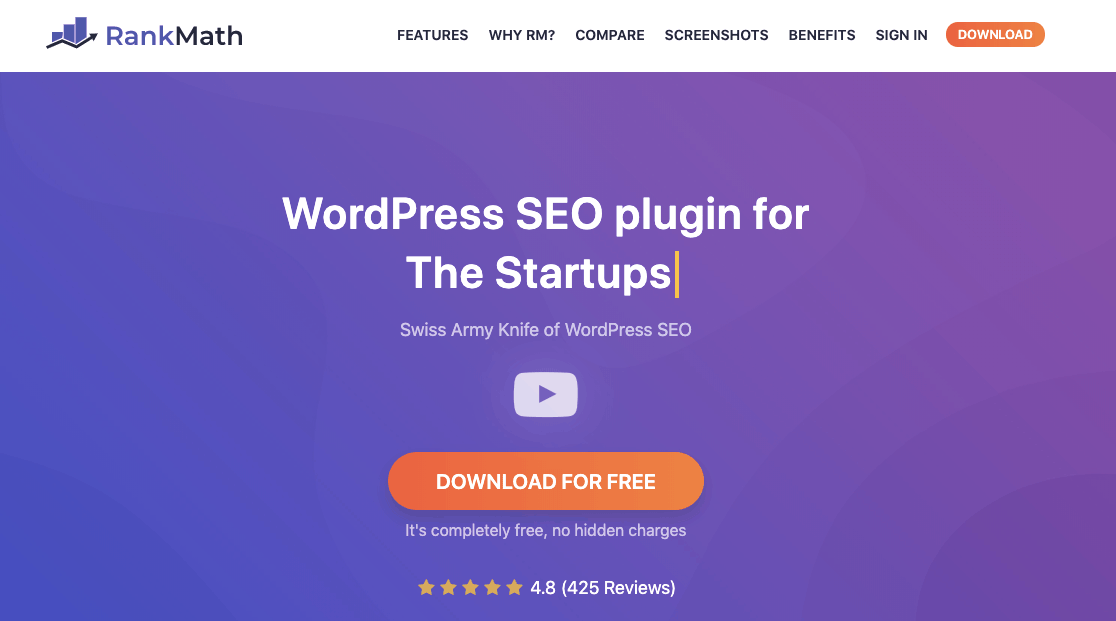 You've probably seen the term SEO ranking mentioned a few times already, so you know it's one of the most important things to consider while managing a site. There are so many aspects to consider for a good rating that it tends to put off people from investing time into developing it. This problem can now be rectified with Rank Math SEO. With this plugin, once you configure everything, the process is automated, and you'll see the results in no time.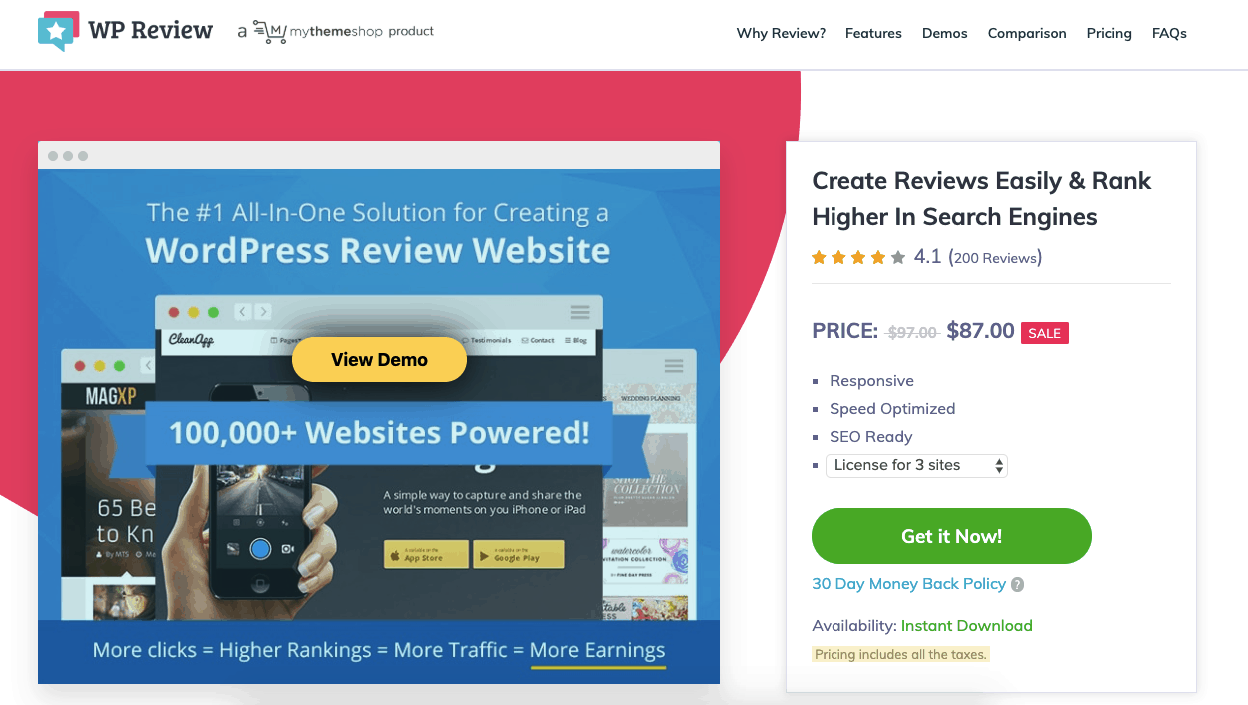 We've come to the point where the proverbial word of mouth has been replaced by user reviews and stars. Marketing campaigns have their purpose, but more of than not, the most reliable point of reference for a product will be the user review and accompanying the score.
Whether you're running a webshop, or just review site, the WP Review plugin will offer you enough features that you'll never need to look for anything review related again. WP Review comes with 14 snippets, 16 templates, and multiple scoring systems (naturally, including stars). Enable your users to share their thoughts with others and watch as an increasingly engaged form of your site raises your traffic flow.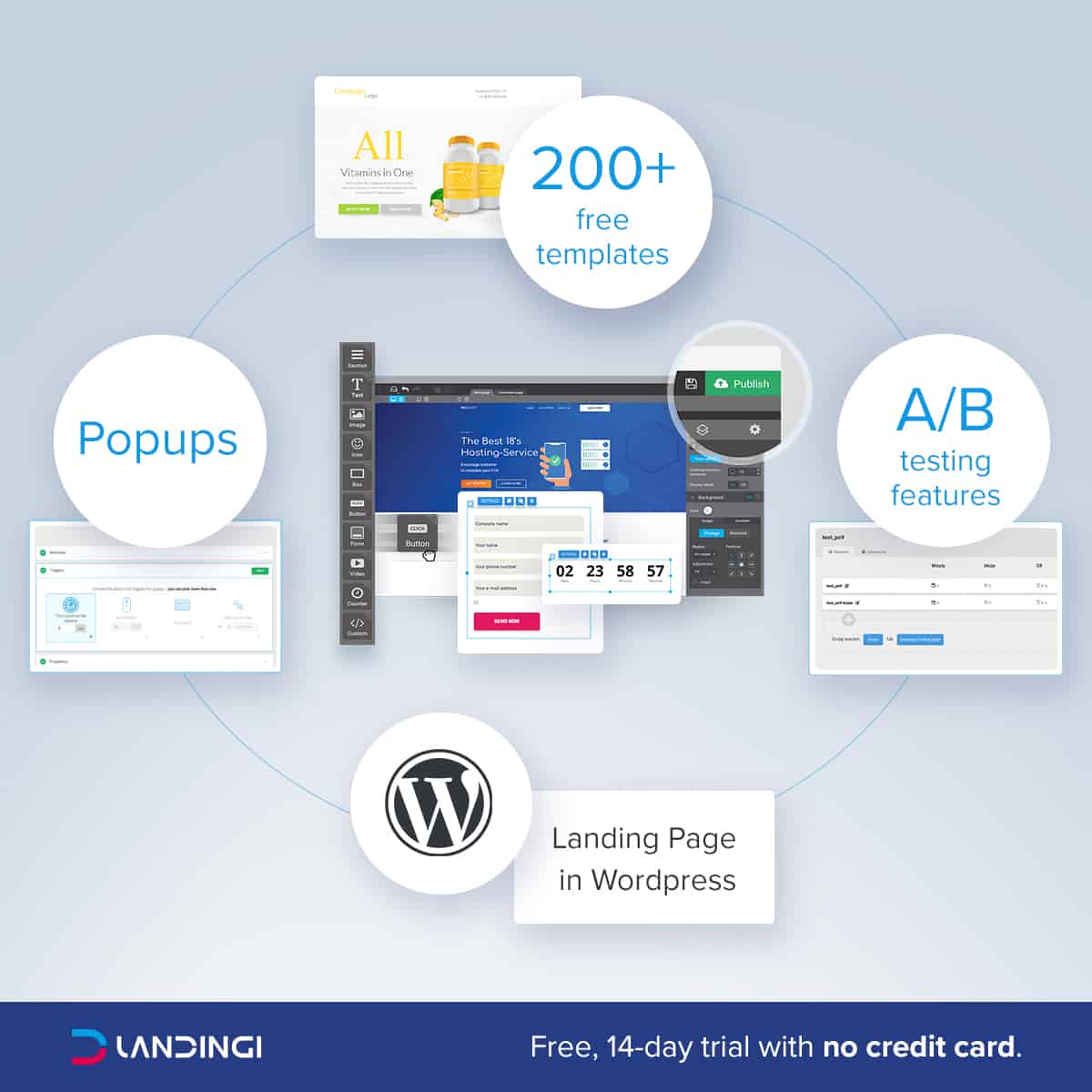 Building up your visitor database is much easier if you have good leading pages on your site. These pages will take the mandatory information your visitors will input (most commonly, at least an email address) in return for something (a free download, for example). All that data then goes to your lists, where you can use it for something like marketing campaigns later on.
In order to tempt your visitors into giving you their information, you'll need an enticing leading page, however. This is where Landingi comes in. It's brimming with features like a drag and drop builder (similar to those of visual page builders) for those more adventurous and over 200 templates for those who prefer the sure thing. Either way, you go, you'll be able to customize your pages further with something like pop-ups, to make them even more prominent. Landingi provides you with all the tools to make the best landing sites with minimal effort.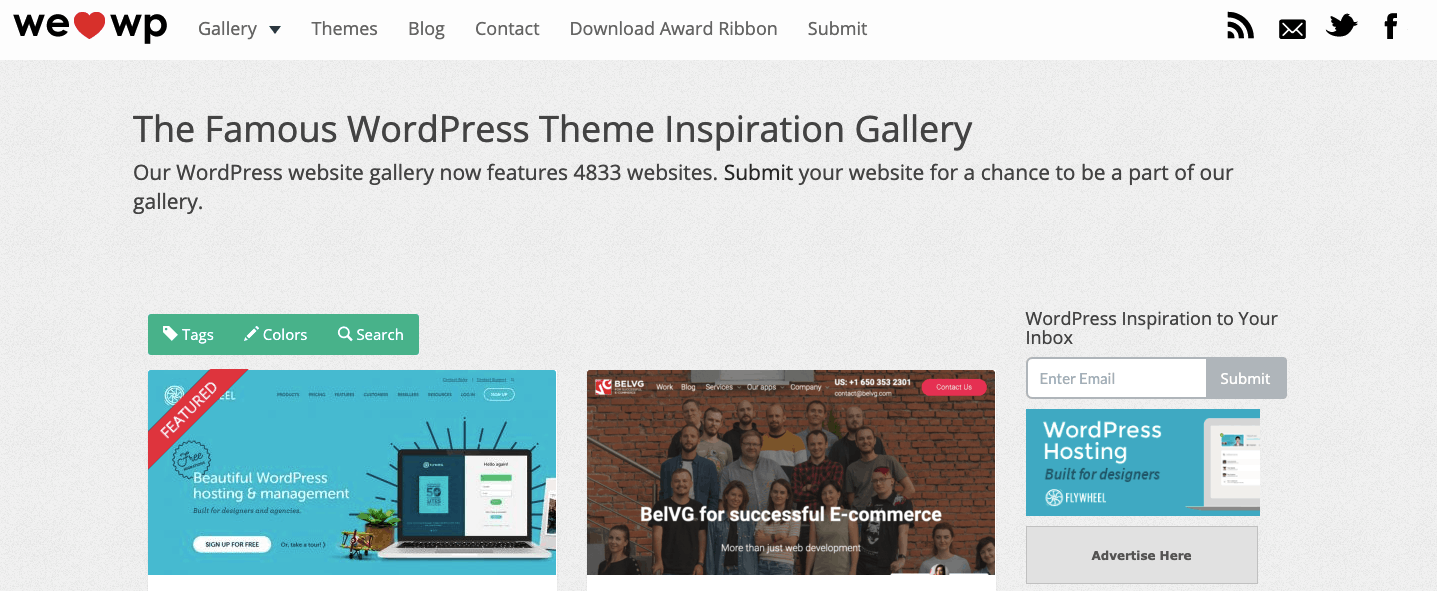 Sometimes you just draw a blank. Your ideas utterly exhausted; you need to find that spark of inspiration and imagination again. Small things go a long way in igniting that spark, even as small as seeing someone else's work.
WeLoveWP represents a gallery of sorts. Only instead of images, you'll be viewing the most beautiful WordPress websites out there. You can browse and see something you'd like to emulate in your own work and can submit your best work for others to see; the choice is up to you.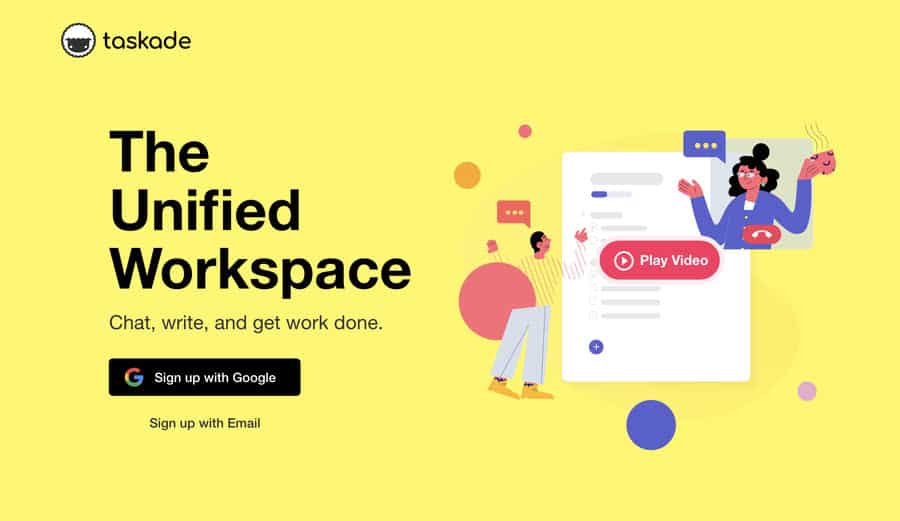 Working in teams can be a blessing or a curse. This isn't even directed solely towards your coworkers, but also the way in which you can interact. If poorly organized, team members can leave work unfinished, or do twice the work on the same thing; there really is no way to tell what can go wrong if you aren't on top of it all.
Taskade provides the perfect solution in that it simplifies the whole process greatly. In the same place, you'll get to manage tasks and chat, meaning no task will be forgotten, and none will be done twice. Since every team and every job is different, you'll be glad to know that you can adapt the interface and the functions specific to the need of your team.
If you're having trouble performing team tasks, or simply want to raise your efficiency to the next level give Taskade a go, you won't be disappointed.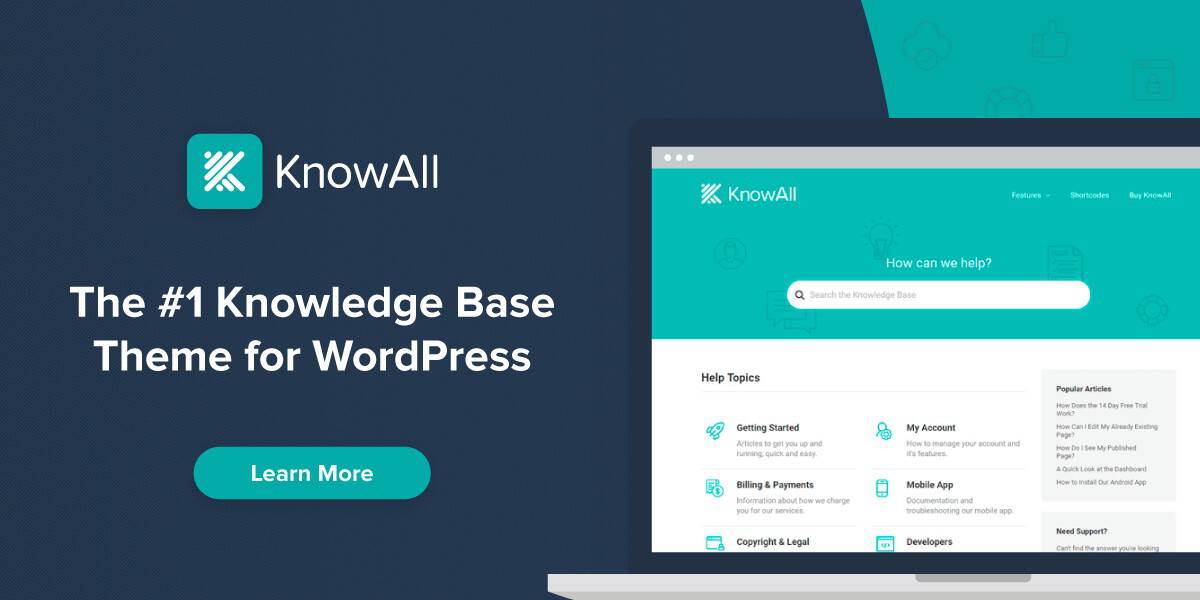 Do you want to know more? Even if you don't, your customers probably do. KnowAll provides you with the best theme where customers will be able to find out all the info about a product or access a FAQ section to find answers to the most common questions, both without having to contact you.
Designing your site in such a way, where you preemptively give your customers a way to get their answers instantly, without any further interaction with anybody else, will go a long way in raising their satisfaction and streamlining your business as a whole.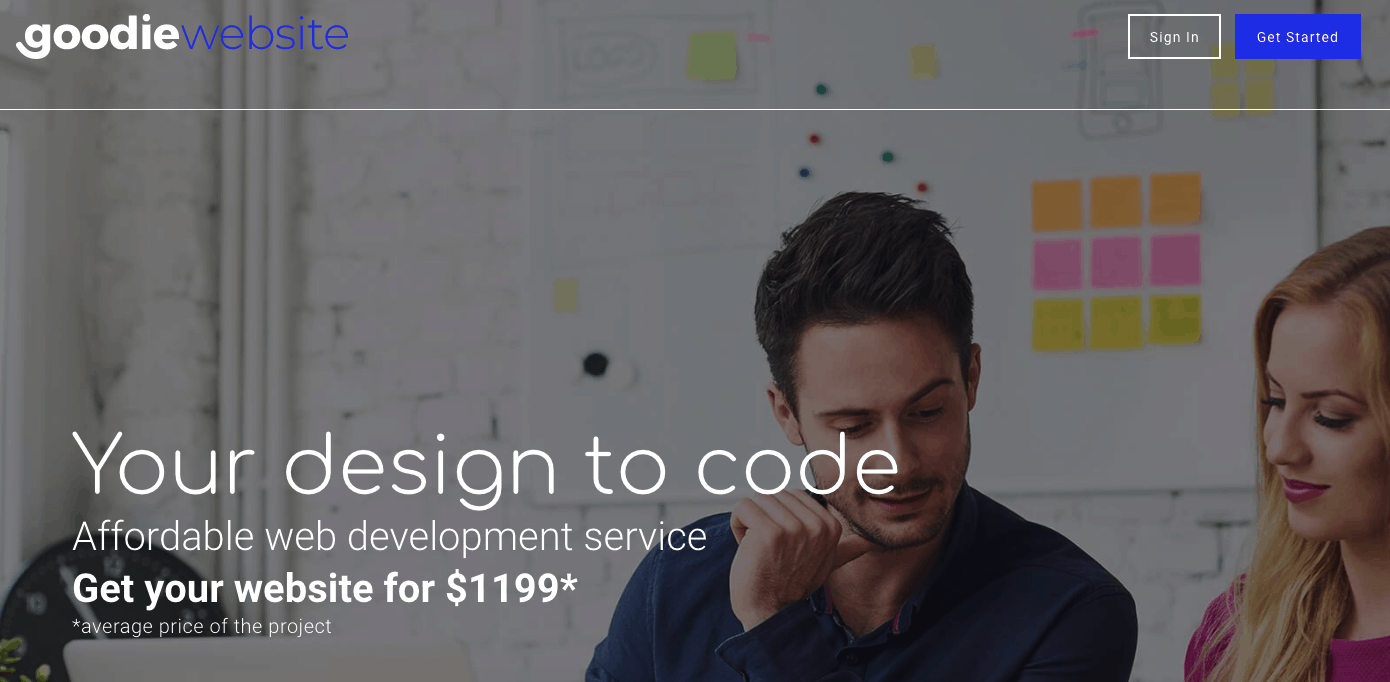 Nobody is an expert in everything, and sometimes all of us need help. Whether it's programmers looking for designers or the other way around, Goodie can provide you with all the help you need, at least in web development, that is. It essentially acts as a contact service that puts people in touch with each other. When you're in a bind and need work done quickly and efficiently, look no further than Goodie.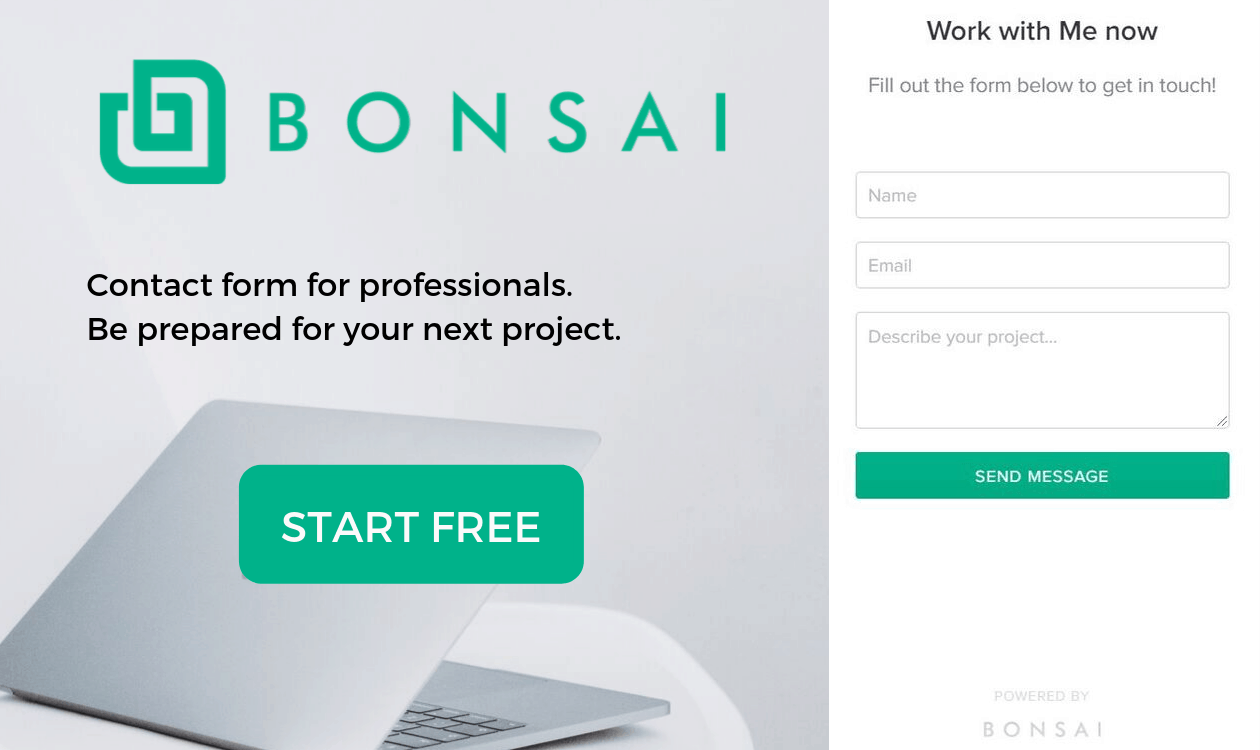 We've already touched a bit on the importance of forms on sites and to put the point home we've gotten to Bonsai. When you're looking to create professional-looking forms for invoices, contracts, or proposals, this is the plugin you're looking for. You can also use it for quick time tracking and accounting. Essentially, this one is for those strictly business situations where everything needs to be clean, precise, and direct.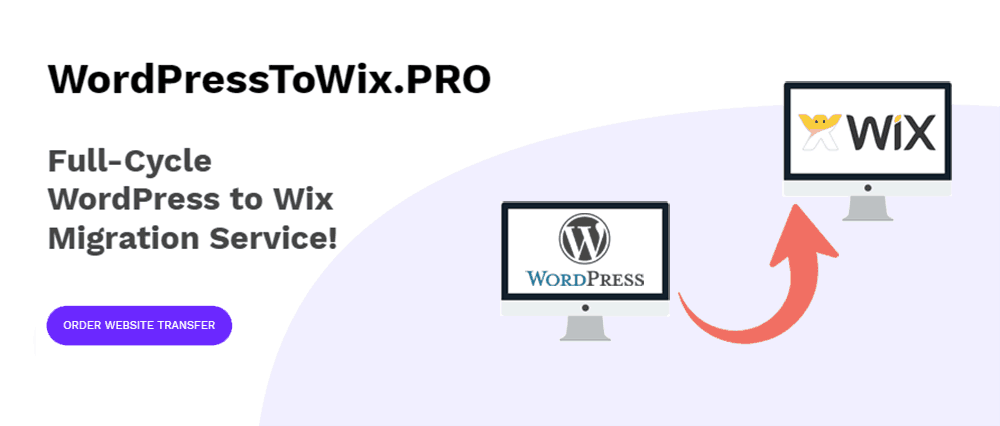 There comes a time when you simply have to pack up and leave. In cases when this leaving is connected to moving your site from WordPress to Wix, you'll find the perfect partner in WordPressToWix.PRO: a service that specializes in these kinds of migrations.
Experts will guide you through the whole process, which itself is completed faster than you would expect, with no fear of losing any of your data. If you have any qualms, you'll quickly forget them by just glancing the testimonies of hundreds of satisfied customers.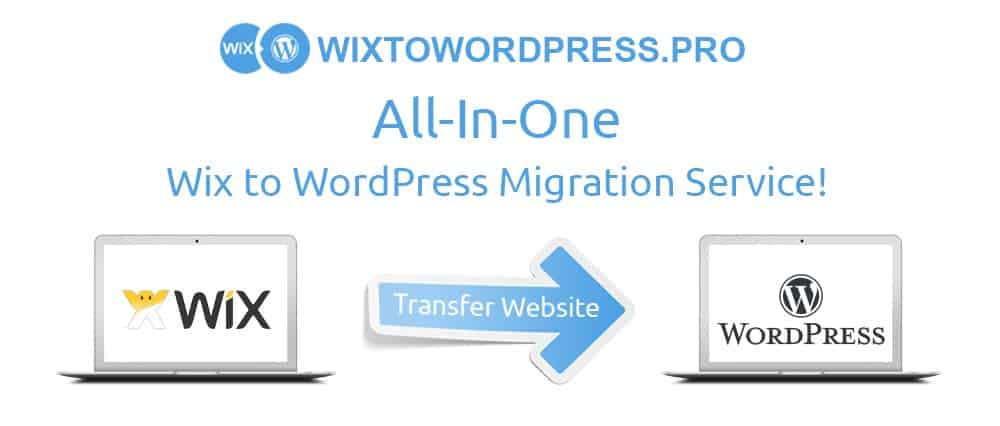 Much like moving your WordPress site to Wix, the opposite can also be done with WixToWordPress.PRO. All previously mentioned features apply here as well – you'll get a fast, quality migration that gets the job done even without your involvement (if you choose not to be involved).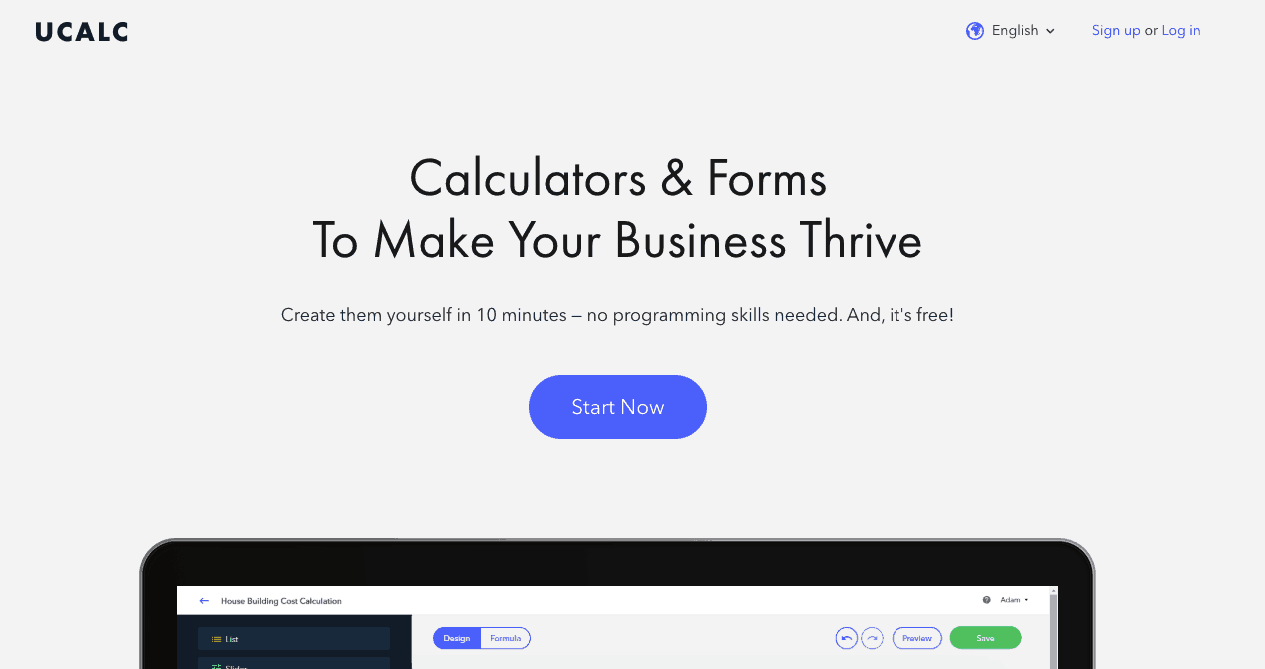 When we think of calculators and calculating the first thing that comes to mind is a simple 9-digit tool, all of us have been using, in one form or another, since our school days. However, when we're talking about calculations on webshops, it's a bit more complicated than that. You'll be calculating costs for your products or services if they contain various parts, all with their own costs. This can widely vary, from a pizza with optional toppings that cost a few cents each, to buying a car with all its additional gear that can run into the hundreds, if not thousands of dollars.
No matter what type of calculations you need to be done, you'll be able to find your solutions with uCalc. With its highly flexible features and field options, it can mold itself around your needs. It was designed with WordPress in mind and can be integrated into any WordPress site. What's more, it has also been featured on SuperbWebsiteBuilders.com as the go-to plugin for adding the calculations on your site!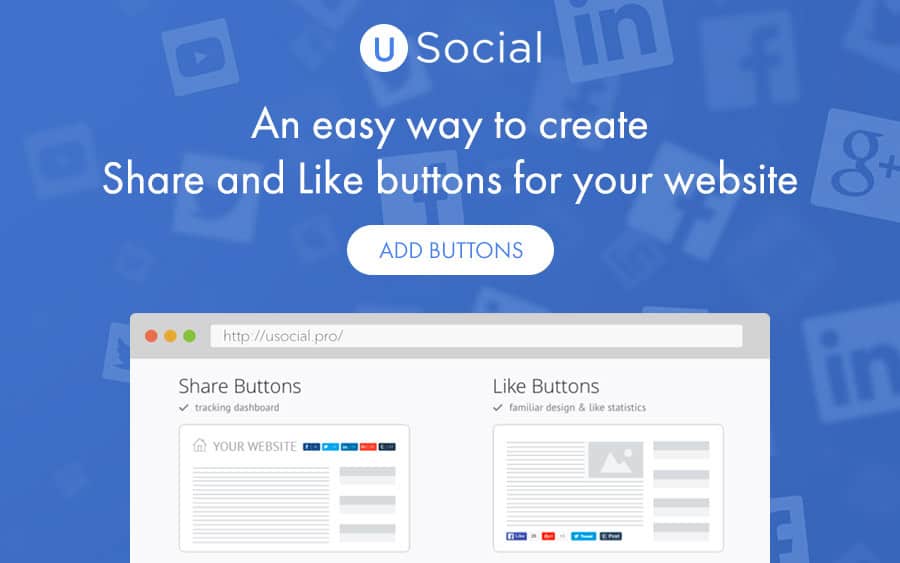 Keeping an active and relevant social media presence is essential for any site hoping to be successful. If you're not satisfied with how your site is represented and need to do something about it, try integrating your site with uSocial. It's a plugin that implements Like and Share buttons to your pages and can be connected to any social media platform – an easy and elegant way to boost your presence.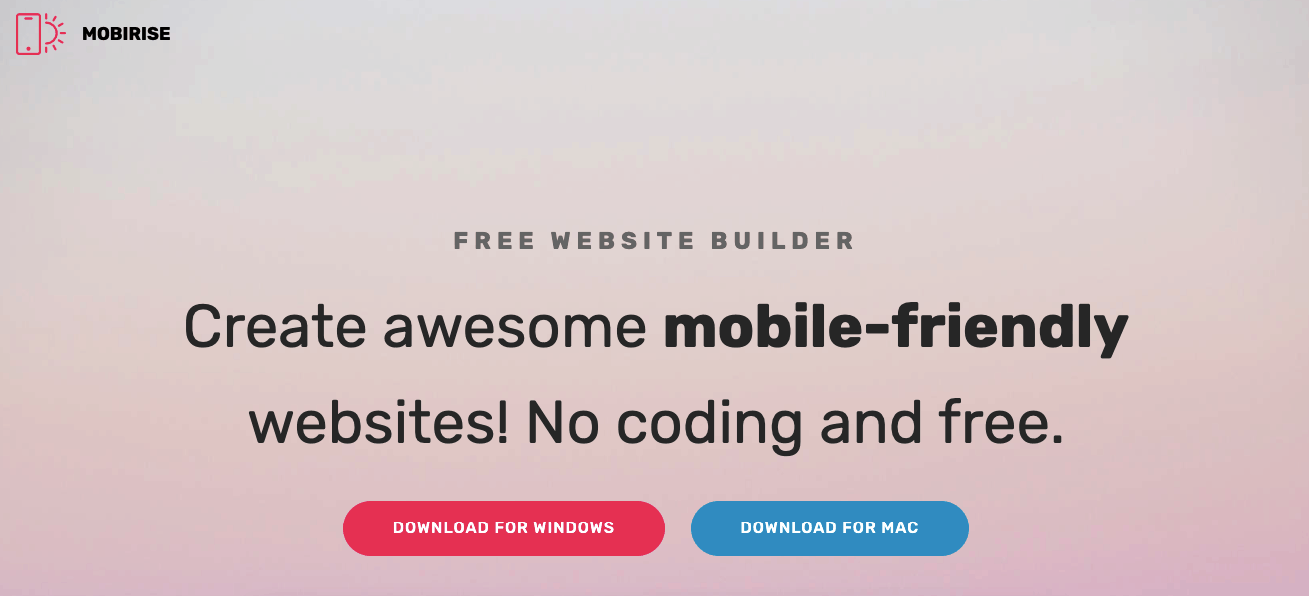 If you aren't happy with the WordPress interface or just need the option to work on your site online, try Mobirise. It's a free website builder that allows you to build websites in your regular OS and then import them into WordPress once you're all done. Everything you'd find in other online website builders can also be found here with a big selling point in over 2000 unique templates based on the latest Bootstrap and AMP pages. Try it and who knows, maybe you'll switch to offline page building permanently in the future.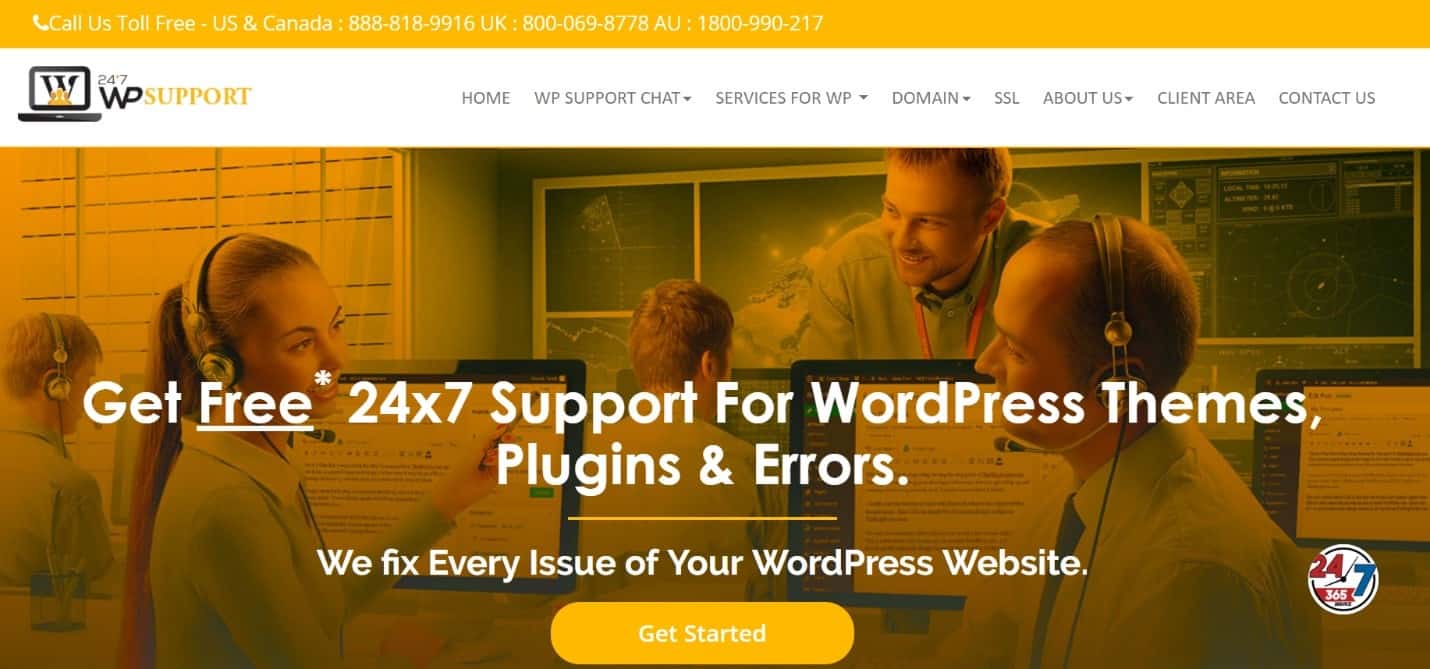 Creating a site and maintaining it are two very different things. With the latter, there are many more things that can wrong, and there is much more at stake too. While you're creating a site, it isn't live, and you can take your time, but once a site is live, every action has consequences, and issues need to be brought to an absolute minimum.
If you find maintenance is too much for you, there is a service like 24×7 WP Support that's here to take that burden from you. Not only do they excel in resolving any and all issues that might arise, but within their service, you can also get WordPress training, dedicated hosting services, domain names, SSL certificates, etc. If there ever was a service that offers you everything you'll need to keep your site up and running once it's gone live, it's this one.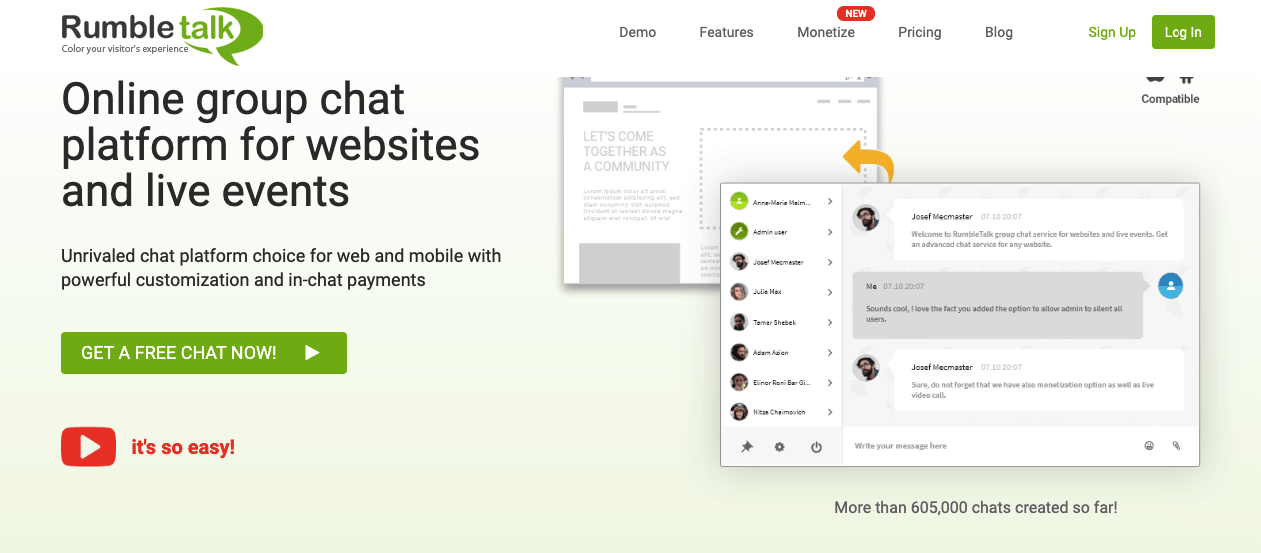 Improving the engagement of your site to your members can be done by giving them a platform to express themselves and interact with each other. The obvious way for doing this is a simple chat added to your site. Ever since the first days of the internet, chats have been a favorite way of communication, and nothing has changed in the following years.
RumbleTalk is a free chat plugin that's by far the most popular of its kind. It won't smother you with endless features, but what it does, it does great – add a chat to your site in a few clicks, simple as that.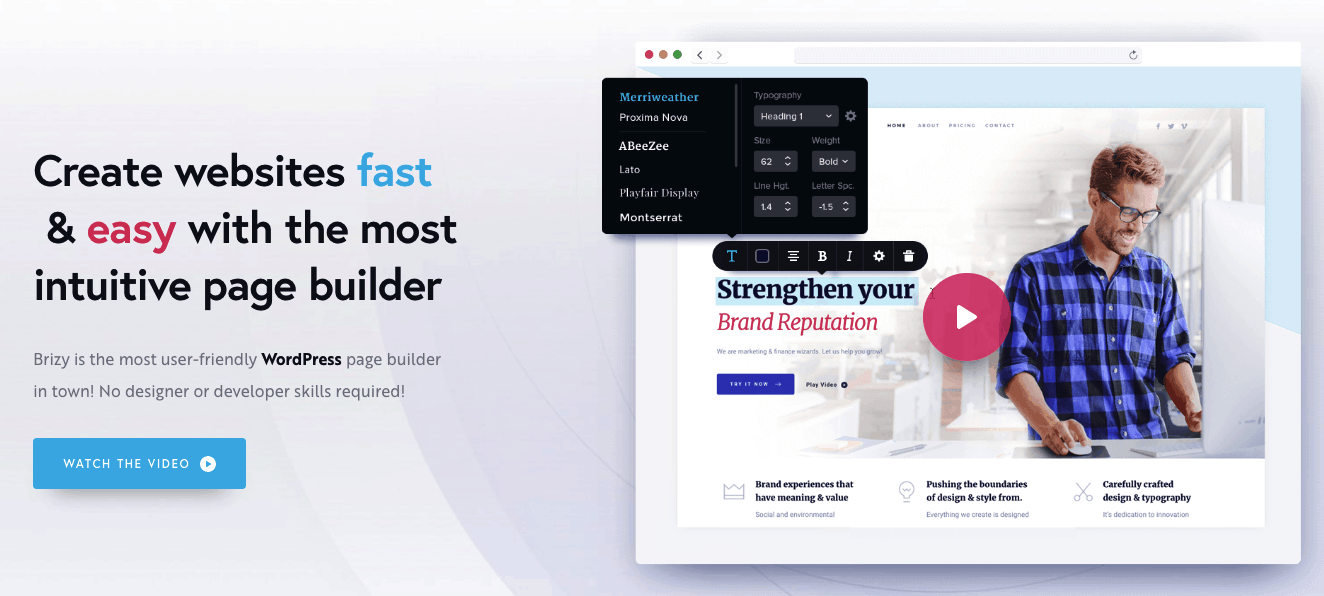 For all of you who want to build a robust site, but maybe don't have all the know-how required, try Brizy. It's a visual page builder that's lauded for its easy use, where practically no coding is required. As you learn about web development, more and more options will open up for you pretty much intuitively.
Brizy is absolutely the perfect option for newcomers to the field but is also robust enough and full of features so that even advanced users will be happy using it.

Years and years of "what fruit are you" type quizzes have left as wary of anything that has a quiz in its name and will be hard-pressed to implement one in a serious site. However, quizzes and surveys, when used properly, can give you invaluable information about your visitors and/or customers. Gathering this data and extrapolating results can enable you to expand your site to better cater to them.
If you're looking for a way to seize this opportunity, you should really try the Quiz Maker plugin. Even with no previous experience, you'll be able to use premade templates along with a drag-and-drop builder and a plethora of customizing features to create quizzes, surveys, forms, and more.
You should check out how to create a survey guide if you want to learn more about how you can better optimize your surveys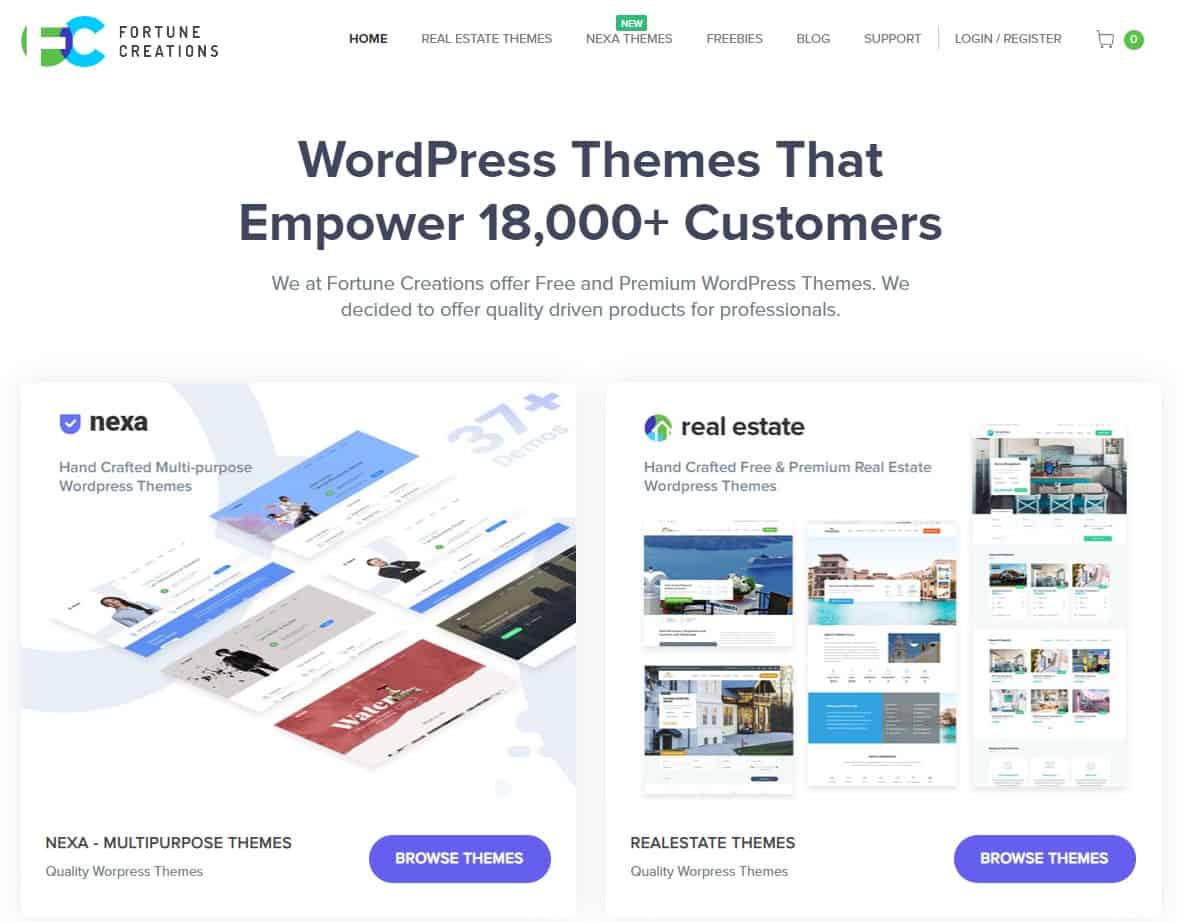 You can get your WordPress themes just about anywhere nowadays, but the important thing to take into account is to try and stay unique. That starts with your visual identity. Fortune Creations will provide you with handcrafted themes (both free and premium) that range from multipurpose to specific. Either way, you go, all of them are beautifully crafted, designed to be fast and SEO friendly.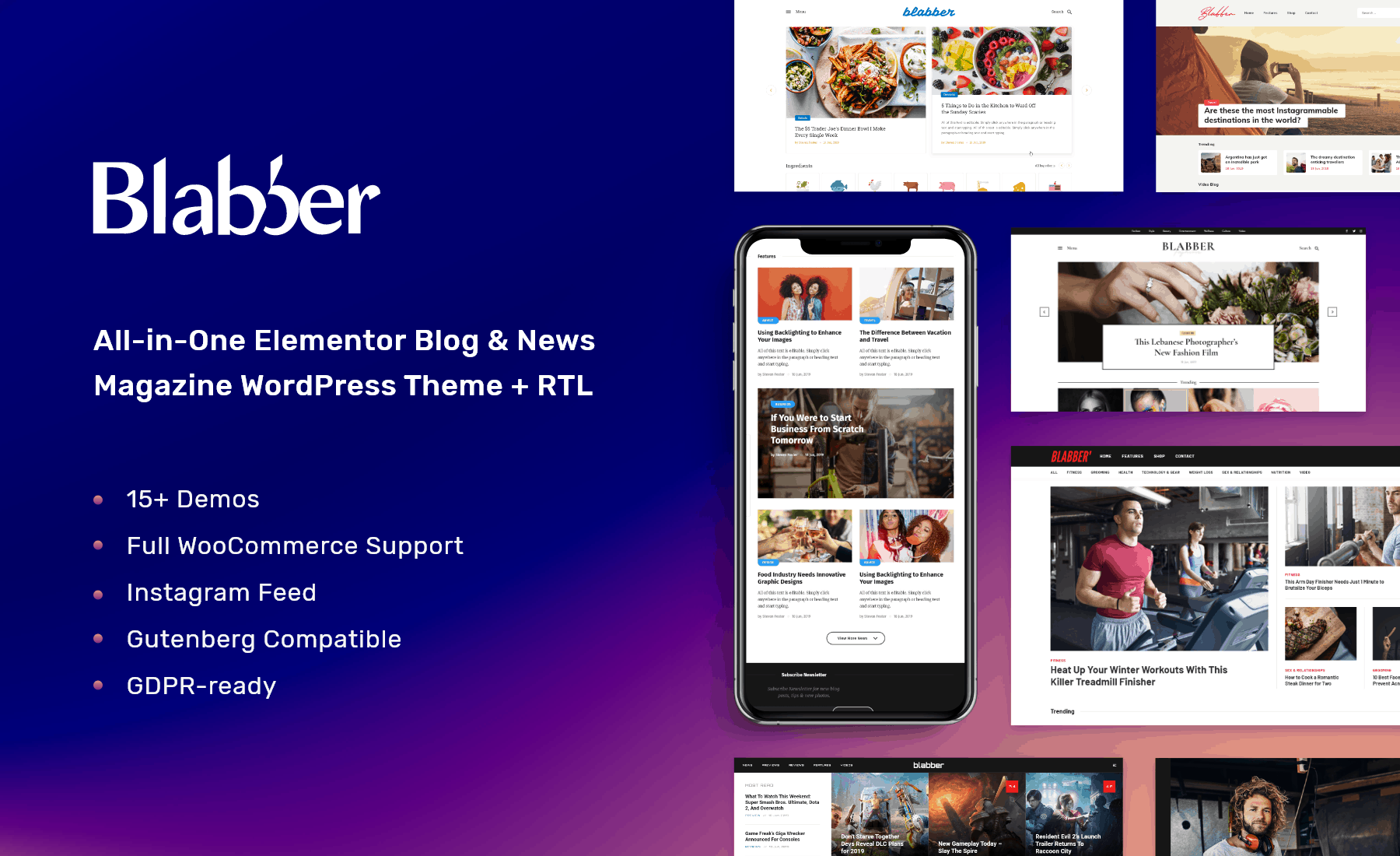 Elementor has already been featured with an add-on further up the list, and now we have another one. Blabber implements themes to the Elementor page builder that takes full advantage of all the features on offer. The added themes are perfect for blogs and news magazines, and you get to check them out fully within the demos before you use them.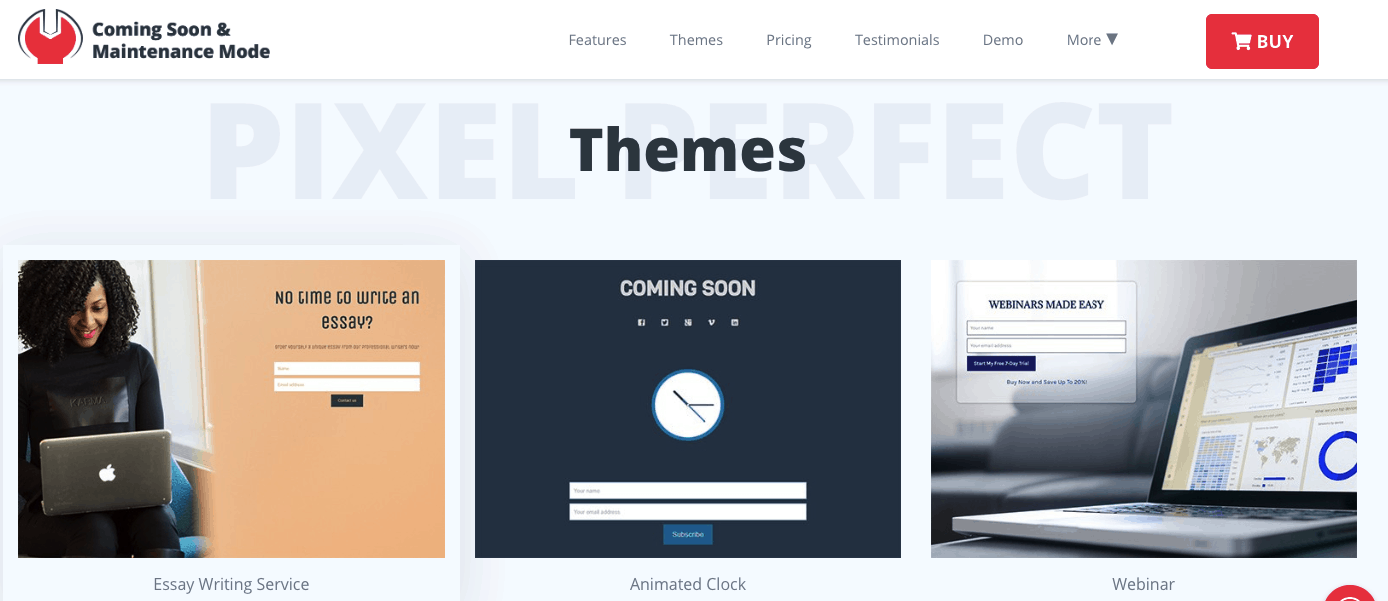 In today's competitive market, it's a good idea to get ahead of the curve and start advertising your site even before you go live. That's precisely why Coming soon pages are so popular – get the domain out there as soon as you can. Furthermore, once you do go live, there will be instances when your site will be down, and those are the moments you'll want to have the perfect maintenance site to keep your visitors interested.
Thankfully both of those are available with Coming Soon and Maintenance mode. You'll get over a hundred premade themes to use along with over a million images to mash them all together for the best results. Even though these types of pages are used when you can't put out content, you'll be able to gather data like emails. In addition, the pages will also work towards your SEO rating, giving you better results in search engines, even though your site isn't fully functioning.
Providing you cover for the often maligned part of a site, if you're using this service, you won't have to give it another thought, they've got you covered.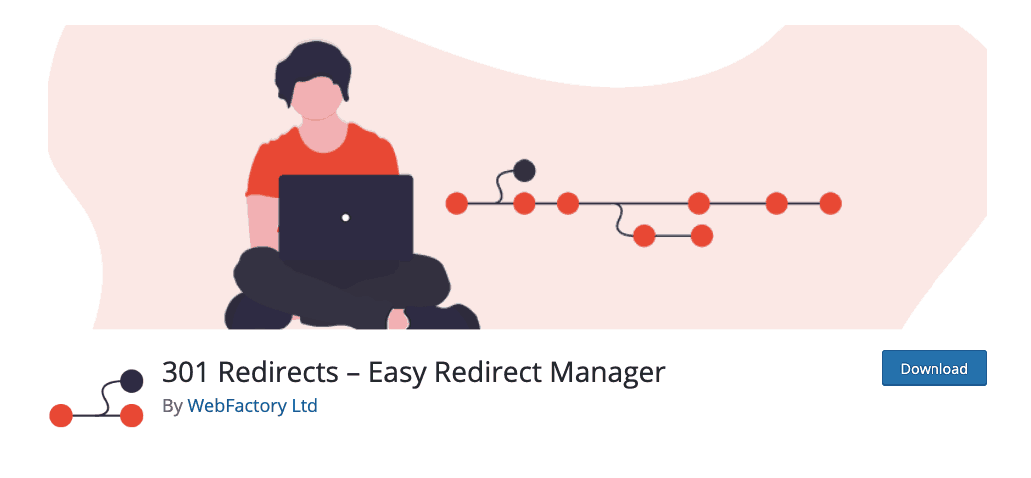 There will be times when you'll have to move data around different URLs. Your content will be tied to the new URLs now, but your visitors may have gotten used to the old ones, or you need the old ones to still feature in search engine results because of their superior SEO rating. These are the times you'll be best off using a 301 redirect.
These redirects will simply re-route traffic from the requested URL to a different destination URL, which means avoiding any downtime and avoiding 404 error pages. The 301 Redirects plugin will provide you with a simple to use way to set up these connections once you need them, giving you a more stable site than ever.
Summary
Everything we've mentioned here can and will, in some way, make your site better than it would be without them. There are so many of these products, but they really do cover everything you'll ever need.
Naturally, there are much, much more of these products out there, and we encourage you to look even further. The ones featured here, however, are the ones we can stand behind because of their features, experience, cost, and ultimately first-hand use. Give any or all of them a try; we're sure you won't be disappointed.