Sometimes people do not have all the information they need before buying a product or service. This can lead to them making the wrong decisions and buying products that don't quite suit their needs.
This benefits your company because it will also mean less work for your customer service team if customers already have most of the information they need on your website.
Here are some tips that can guide you in ensuring your customers make informed buying decisions. And if you decide to learn more about effective CRM management, you can read more about it here.
Highlight the experiences of your existing customers
People often value word-of-mouth recommendations over other forms of marketing. This means that highlighting customer reviews or testimonials on your site can lead to more sales. It can also help new customers to make informed decisions, as reviews and testimonials can provide advice or extra context about your products or services. Additionally, take care of good customer support. With call center outsourcing, for instance, you can enhance your customer service capabilities, providing an easy way to reach your business and help potential customers with their purchase.
For instance, it can be helpful if the former customer of a clothing retailer highlights that their clothes run a little small or if the client of a lawyer talks about what they were hesitant about before enlisting a firm's help.
Here are some examples of websites that do a good job of showing off their previous customers' experiences to help new clients make strong decisions.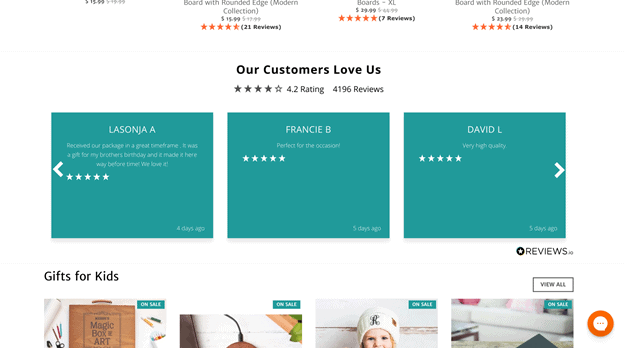 First up is A Gift Personalized, which sells different kinds of celebratory items that range from kitchen utensils to wedding gifts. On their homepage, you will see a section that highlights reviews from previous customers, and you can even see how recently these reviews were left. This is particularly important because people like to see the latest reviews, so they know that the company they're planning to buy from is doing a great job right now.
Including these reviews is a very effective approach because it gives potential customers more reason to buy the products. Take a look at the high number of reviews and the overall star rating that indicates how impressed others are with this brand.
The individual reviews also say a lot about the company. One person even mentions that they received their package ahead of the delivery date, and another highlights how good the quality of the products is. All these are details that are very useful and can be important in helping prospective customers make a decision.
Due to the positive reviews, they read online, they'll more likely be encouraged to purchase your products or services.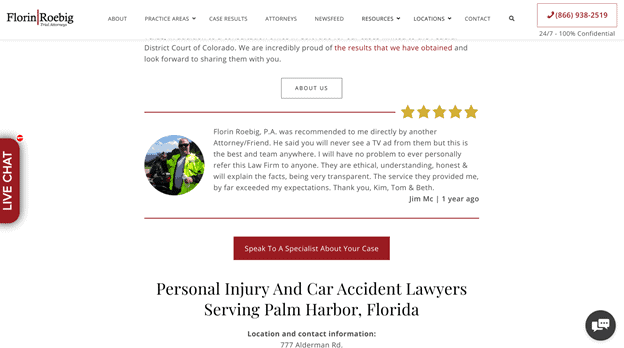 Our second example is from Florin Roebig, an attorney firm providing legal services in practice areas like personal injury, medical malpractice, and labor law.
They have a section on their homepage that shows client experiences. In this example, you can see a former client letting people know how he feels about the services provided by the company. And, it looks like he was a big fan of working with the business. Lengthier testimonials like this are often good for service-based businesses as they give more context and information.
This particular review also shows the headshot of the customer, which humanizes the testimonial and proves to potential clients that there are others just like them who are benefitting from the company's services. The customer also gives the company a 5-star rating, which shows that he was really pleased with them at a glance, and he mentions that he will not hesitate to recommend the firm to other people.
Publishing reviews or testimonials on your site like this is an effective way to show potential customers how credible and trustworthy your brand is. And it can also help them make up their minds on whether or not to shop with you.
Make it easy for customers to find more information
While some customers might be happy to buy from you after seeing your product or service page, others might need more convincing. So, you'll want to make it easy for these people to find more information.
You can do this by showing them where they can download a guide or by providing options for them to get in touch. If it takes too long for people to find information on your website, they might end up leaving before progressing further into your sales funnel.
To give you inspiration, let's take a look at an example of a site that makes it easy for customers to find more information.
Here we have Edith Cowan University (ECU), which offers online courses on subjects like education, cyber security, and counseling.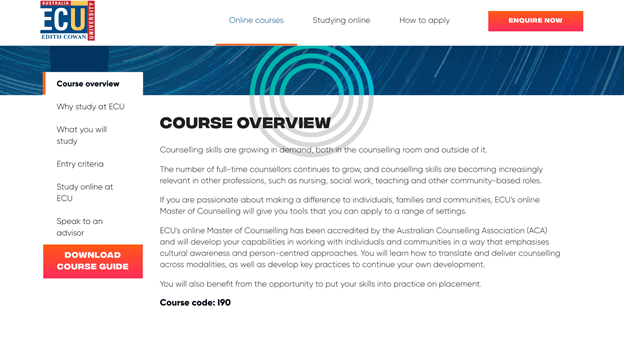 On their Master of Counselling course page, you can see that they make it incredibly easy for prospective students to access or request more information. There is an option for people who want to download a course guide and another option to speak with a course advisor in case someone wants to ask direct questions.
These different options are good for targeting people who are at different stages of the buyer journey, as some might be ready to enroll while others might still be in the consideration stage. It is also a very effective tactic for helping their students to make informed decisions because it allows them to easily find out more about a program before they decide to invest their time and money in it.
If you want to emulate this for your business, you can also offer a guide or ebook that gives prospective customers more information about your product or service, or you could create a live chat option for those who prefer to talk to a representative of the business.
Or perhaps, if your prospects prefer to navigate the site on their own, you can also provide a Frequently Asked Questions (FAQ) section to provide them with the information they need. This can help address your customers' questions and build your business as an authority or expert in the industry you're in.
On the other hand, we also have another example from Sleeknote, a company that helps companies to use creative pop-ups that provide solutions to lead generation and conversion problems. On their contact us page, they make it easy for their customers to get more information about their products by creating a form that allows them to ask any specific questions they have.
As this is a product-oriented company, they know that some customers might be at the stage where they need more convincing to buy a product. So, they've also made a demo video that prospects can watch to see their product in action. And, for customers who have queries or concerns that need to be addressed as soon as possible, they also have a live chat feature.
All of these options make it easier for prospective customers to get much-needed information that will influence their buying decisions.
If you're wondering how you can make it very easy for customers to access the information they need on your website, make sure you think of the options that will best suit your products or services. For some products, it's best to create video tutorials and, for others, an ebook could work well for providing further information. It's also good to create a live chat or call option for those who want to talk to a representative of your company in real-time.
This is especially important for B2B buyers, who will usually want more information fast. All these options are also a calling card for your reliability: If your customer service isn't up to par, what are potential customers going to think of your product? To make a good first impression, you should consider hosting your PBX and chat systems in the cloud, for instance.
Create content for every stage of the buyer journey
It's normal for people at different stages of the buying journey to have different needs, so you need to create content with this in mind. For example, some people might not even know your services exist (and that they need them), while others might just be weighing up their options before making a purchase.
Creating content for different buyer stages can also ensure your customers are as informed as possible. It's a good idea to come up with a content plan that includes examples of the type of content your company should create for every stage of the buyer journey — awareness, consideration, and decision. To do this, you can use the content strategy template from Loganix, which can guide you through creating various types of content for users who are moving through your sales funnel.
Let's look at an example of a piece of content that has been created to target people at the awareness stage of a buyer journey.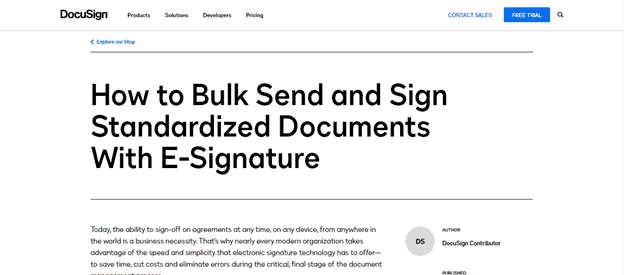 DocuSign is a platform that facilitates the e-signing of documents between various parties. On their website, they have a blog post that explains how people can send out documents to be digitally signed in bulk. They explain the concept of e-signing and highlight how beneficial it can be to have a tool that allows you to get the signatures of multiple parties without needing to meet them face-to-face.
This kind of content can help attract new website visitors who need to sign documents electronically but who might not even be aware that there is a tool that can do that for them. It might not convert a lead immediately, but it will help more people to become interested in their brand and could be the first step towards moving them further through the sales funnel.
If you want to create something similar for your website, remember that, at the awareness stage, people are looking for solutions to a problem. So, you should properly research your customers' pain points and then create content that answers their questions so you can pique their interest and start to prove that your company could provide the answer.
One of the common examples of content that addresses the customers' pain points is blog posts. You can create a blog section on your website where you can publish engaging, informative, and relevant blogs about different topics related to your brand or business. By doing so, you can more likely guide your customers in making sound and informed purchase decisions, which can also benefit your business in the long run.
Make your product descriptions as detailed as possible
A detailed product description can take a lot of the guesswork out of making a purchase. One way to ensure you are creating effective product descriptions is by highlighting the benefits of a product. If your products or services help people save time, then include that in the description. By doing this, you are conveying the value of your products and helping people imagine the advantages they will get from shopping with you.
Another tip is that you should optimize your descriptions for search engines. For example, if your company sells fleece jackets, you'll want to perform keyword research to identify the relevant keywords that are associated with your product. Once you do, include them in your product descriptions to improve your website's ranking on search engines. Keyword Tool has a great guide to carrying out effective keyword research, which will help you with this.
Use high-quality images and videos to show off your products
It is very important to publish high-quality photos and videos on your website, as they can help you showcase the features of a product and how it works. You can also use diagrams or illustrations to highlight the benefits of a product or service so your customers can have all the information they need before making a financial commitment.
Generally, there are many ways to use images and videos to help customers make better purchase decisions. For example, with the advent of modern technology, businesses can do live stream events, product demonstrations, and other popular video marketing trends in the market today.
Here are some examples of websites that do a great job of showing off their products or services through images and videos.
Jira is a product that can be used by teams to manage and track the tasks they perform in the process of building software. On their website, there are images that show just how the product works. These show how teams can distribute tasks and perform other processes such as releasing the product and improving on it after its launch. They also help give prospective customers an insight into how the platform works and what it looks like so they can be sure they are making the right decision if they do decide to make a purchase.
They also use images to highlight features of the product, like the way it arranges to-do lists, as well as finished tasks. And then, they show how the tool includes individual tabs for issues, reports, or backlogs.
These images work well because they help prospective customers visualize how the product works even before buying it. This is something you should be able to replicate for your own business.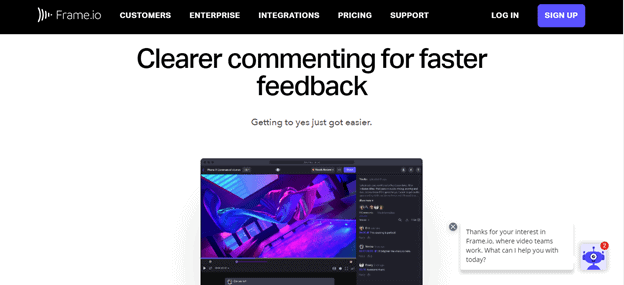 Another example is from Frame, a video management platform that allows people to collaborate on the post-production of raw videos. On their website, they use high-quality and interactive images and videos to show how their tool works on mobile and desktop.
If you scroll further down their service page, you will see a short graphic that highlights how users can leave comments for their team members. They also highlight how people can give approvals on projects and the steps taken to present finished work. I especially like the way they used motion videos to show how their tool works because it really gives potential customers an idea of what the product is capable of.
If you want to try this technique for your business, you'll have to invest in creating motion graphics to showcase your product's features or functions in real-time, just like Frame has done.
You can also work and collaborate with experts such as a reputable video production company in your area to carry out your video marketing efforts. They can assist you and offer insights on how you can better communicate your brand.
Make your values clear, so customers know who they're buying from
Customers are becoming increasingly concerned about the values of the companies they patronize. This means that it is important for you to put your values front and center so customers understand them from the outset.
As a company, some of the values you might want to show off could be integrity, honesty, accountability, and fairness, to mention a few.
For inspiration, here are some examples of companies that make their values very clear to prospective customers who land on their websites.
Squarespace is an all-in-one platform that allows users to build and host professional websites. On their "About Us" page, they talk about their brand values, and they highlight how they always strive to provide high-quality products that can solve customer problems.
They also mention how they believe that everyone should have access to great design and how it motivates them. By mentioning these and other values on their website, they show people that they are committed to providing game-changing products that solve the problems and pain points of their ideal customers. This also allows the company's audience to know more about the brand, and it could be the information that some potential customers need before deciding to buy from the business.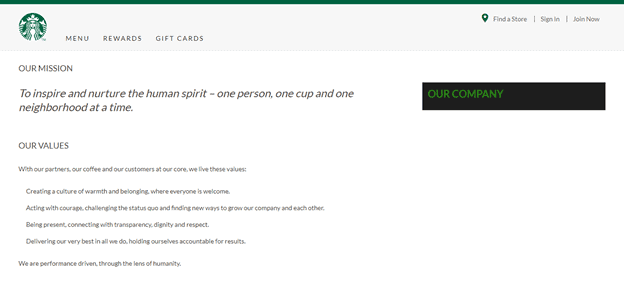 And we also have Starbucks, the world's most popular coffee house chain. You might only know them for their frappuccinos or pumpkin spice lattes, but their mission statement also teaches customers about their brand values.
As a company with a lot of branches, it's important that they have a list of clear values all their stores can adhere to. This helps to ensure customers always have similar and positive experiences, even when they visit different stores. Displaying their values like this can also make potential customers feel more comfortable buying their products since their values indicate that everyone is welcome.
To replicate this for your business, you should identify and list out the values you associate with your brand, then highlight them on your website to assist people in making informed decisions when it comes to whether they want to shop with you.
Create content that answers common customer queries
If you answer common customer queries in your website content, you can reduce the overall number of questions your customer service team gets and ensure that your customers are still informed.
To identify questions you should be answering with your content, you can perform keyword research. This refers to the process of finding out what your ideal customers are typing into search engines. You can identify these using keyword research tools and then allow them to inspire your content.
You can also find relevant questions you should be addressing with your content by looking through customer reviews or listening to the FAQs your team currently receives. Here is an example of a company that implements this tactic by using its content to answer common customer queries.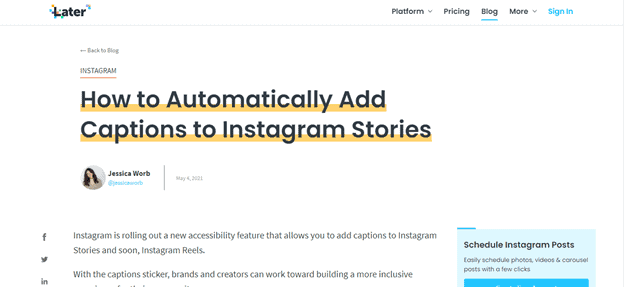 Later is a social media management platform that helps people schedule posts and track results from their content. On their website, they have a blog post that explains how to automatically add captions to Instagram stories.
As a company that facilitates social media management for Instagram, they know that customers will have some questions about how to use some features on the app, so they have created this post to answer this question on how to add automatic captions. They do this with a step-by-step approach and even include images so people can easily understand how to use this feature.
This is a great example of using content to answer common customer queries, and you can do the same for your brand by taking the time to identify the issues that are specific to your target audience and then creating content that provides answers to those questions.
Summary
Customers should be the focus of any business, and providing them with enough information is necessary so they can make the best purchasing decisions.
Some of the ways you can do that are by highlighting the experiences of past customers, creating content for each stage of a buyer's journey, and publishing content that answers common questions asked by your target audience.
Implementing these tips will ensure your customers are armed with the right amount of information before making a purchase.
Author bio:
Adam Steele is COO and co-founder of Loganix, which is an SEO fulfillment partner for digital marketing agencies and professionals. The company provides the SEO services that businesses need to grow and achieve their goals. If you enjoyed this article, you can find more SEO guides and templates on the Loganix blog.