If you want to establish your own website, you will have to overcome a few minor challenges. One of these challenges is maintaining your website up to date and dealing with errors that may occur. It may happen to anybody, including well-known websites, that something does not operate properly at any time while visitors and customers are browsing your website.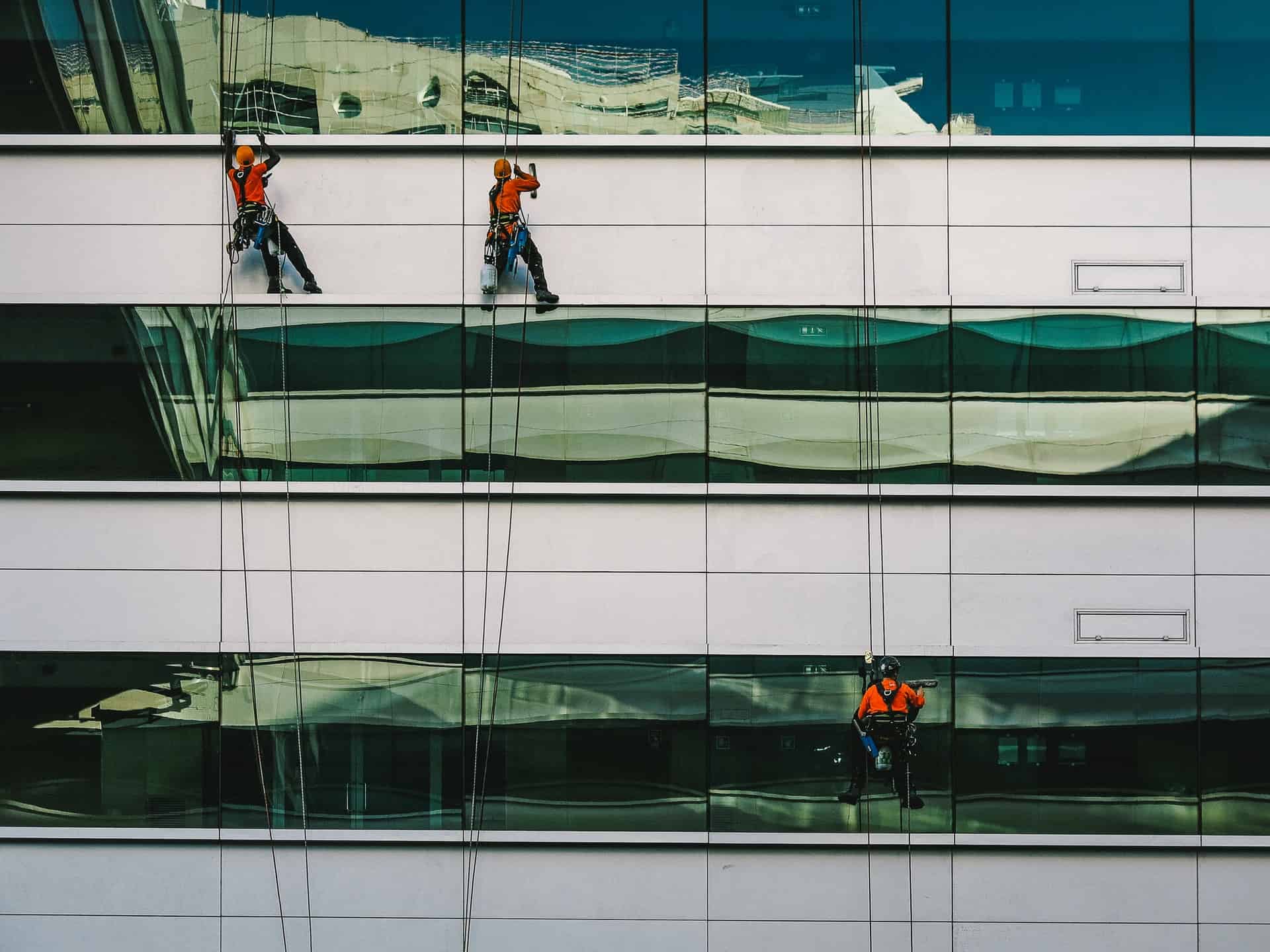 But do not get too worked up over it. There are already a variety of plugins and tools available to assist you in maintaining your website's functionality without requiring any technical experience and coding knowledge. You will showcase to everyone how much you care about the success of your website, business, store, or blog. Also, you will save time. Because of that, we would like to provide you with a full review of a new plugin called WP Maintenance.
What is WP Maintenance?
It is an easy-to-use plugin that lets you focus on multiple areas of your website without your visitors or customer knowing that you are changing it. Your website may be offline or down for maintenance because of some issues and we are confident to say that you will probably want to hide them from the public eye. WP Maintenance is not designed to be used by just one person.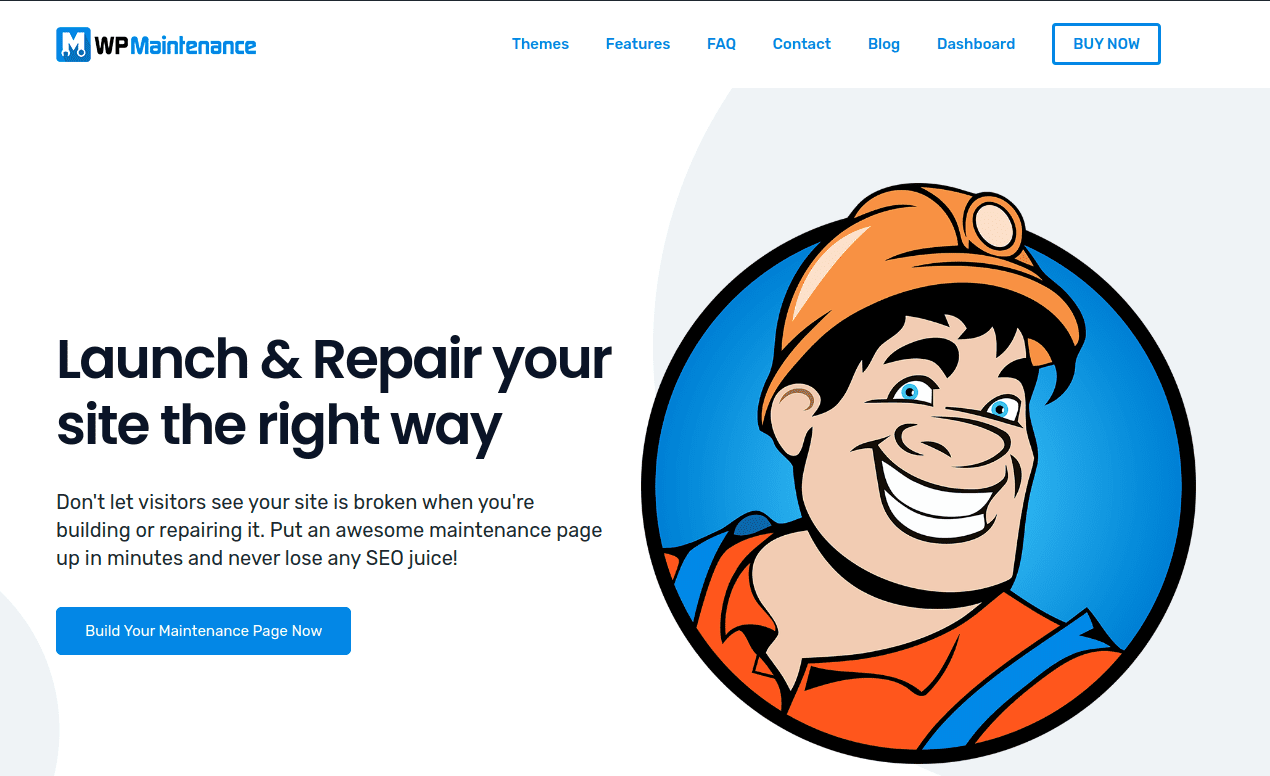 Do not be scared to take risks as a journalist, programmer, producer, internet shop, or small site manager. It is indeed a fantastic pick for developing a wonderful website that will keep your internet users willing to engage with you. To utilize this plugin and have access to innovative features, you do not even need to know how to code.
Paid version vs. Free version
It is important to note that WP Maintenance is available in both free and paid versions. Keep in mind that the paid version will provide you with a variety of additional perks and features that you may use on your website.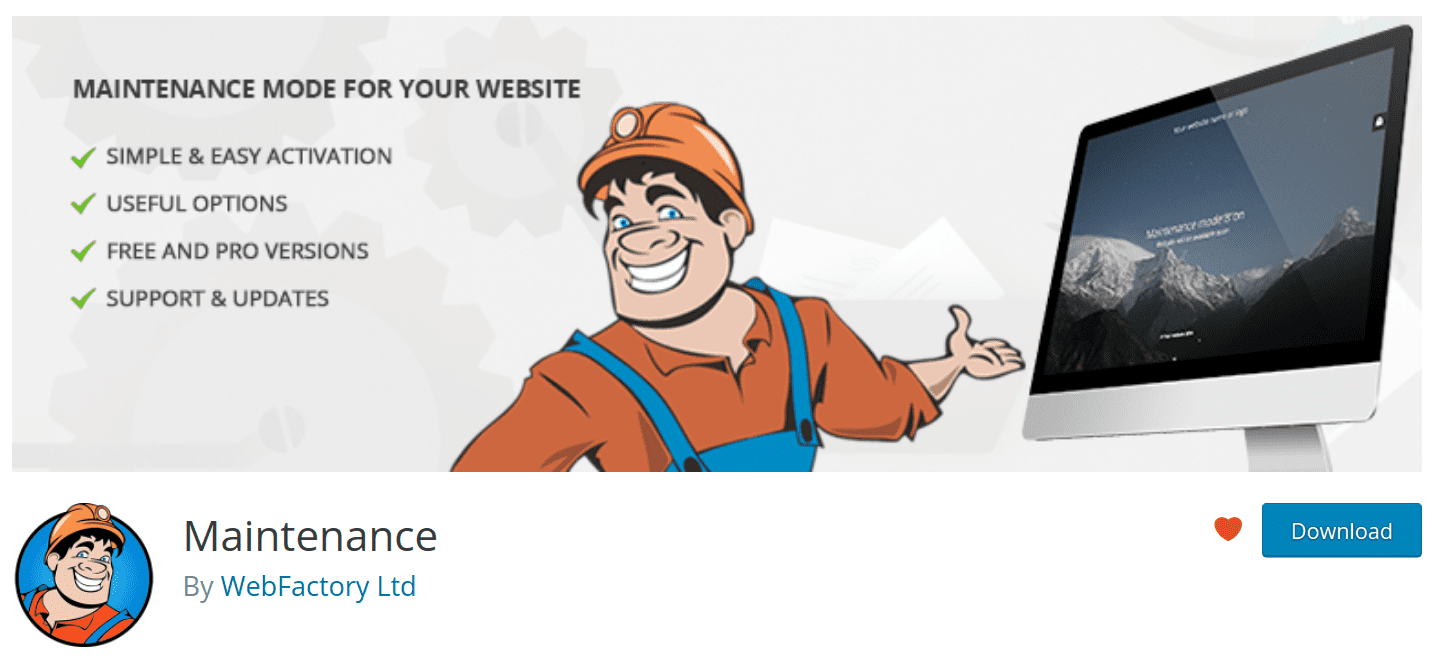 With the Free version, you can find some simpler and basic features that will help you maintain your website. It will provide you with quick access to customizable backgrounds that you may resize as well as fade. Users may also personalize those backgrounds by uploading their logos, trademarks, or anything. They can even alter the header, font, or name to continue making something of your own.
But The paid version is the real deal. It will give you a better idea of what you can accomplish and receive with this plugin. Also, you do not need to have any coding knowledge to make all your dreams for the perfect website come true.
Fully prepared themes for you to use.
Here you can discover fully prepared themes that you can use to create a professional or colorful appearance for your website in the blink of an eye. It all varies on what you really need, desire, or want from your website. There will be a wide range of fully prepared themes available for you.
If you are looking for fully prepared themes that perfectly represent your simple side or want to add little dynamism, from sports and fashion to video games and social networking, there is something for everyone. WP Maintenance will become a one-stop solution for all your WordPress requirements.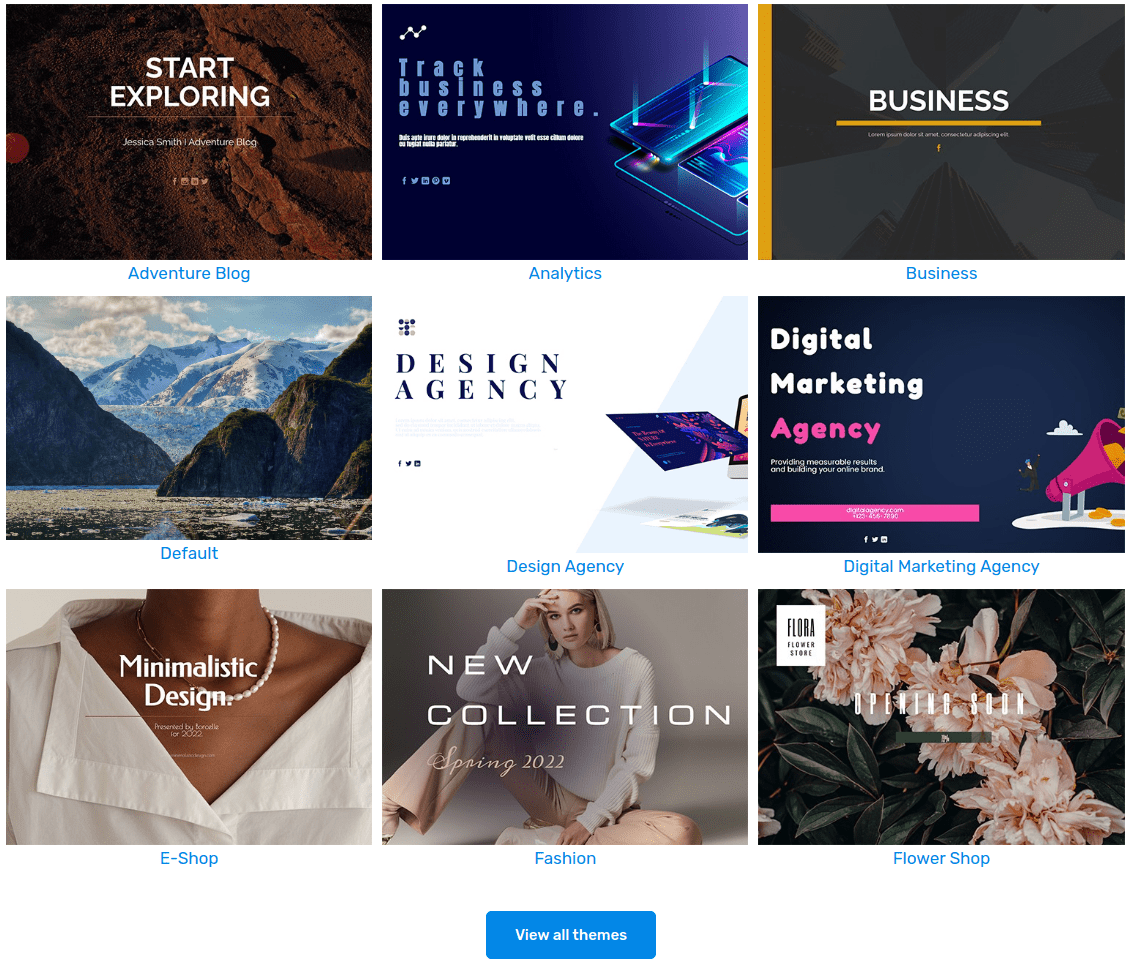 Great customization option for your website.
But that is not all. If the fully prepared themes do not satisfy your needs, you may easily modify themes to meet your requirements. Many themes will come with colors, fonts, and other add-ons that you can use to customize your website.
You will be able to change these elements to fit your requirements and needs. It seems to be challenging to discover amazing and free photos which you can apply right away. Also, it is important to emphasize that you will have access to a large number of images that you can add the same to your website.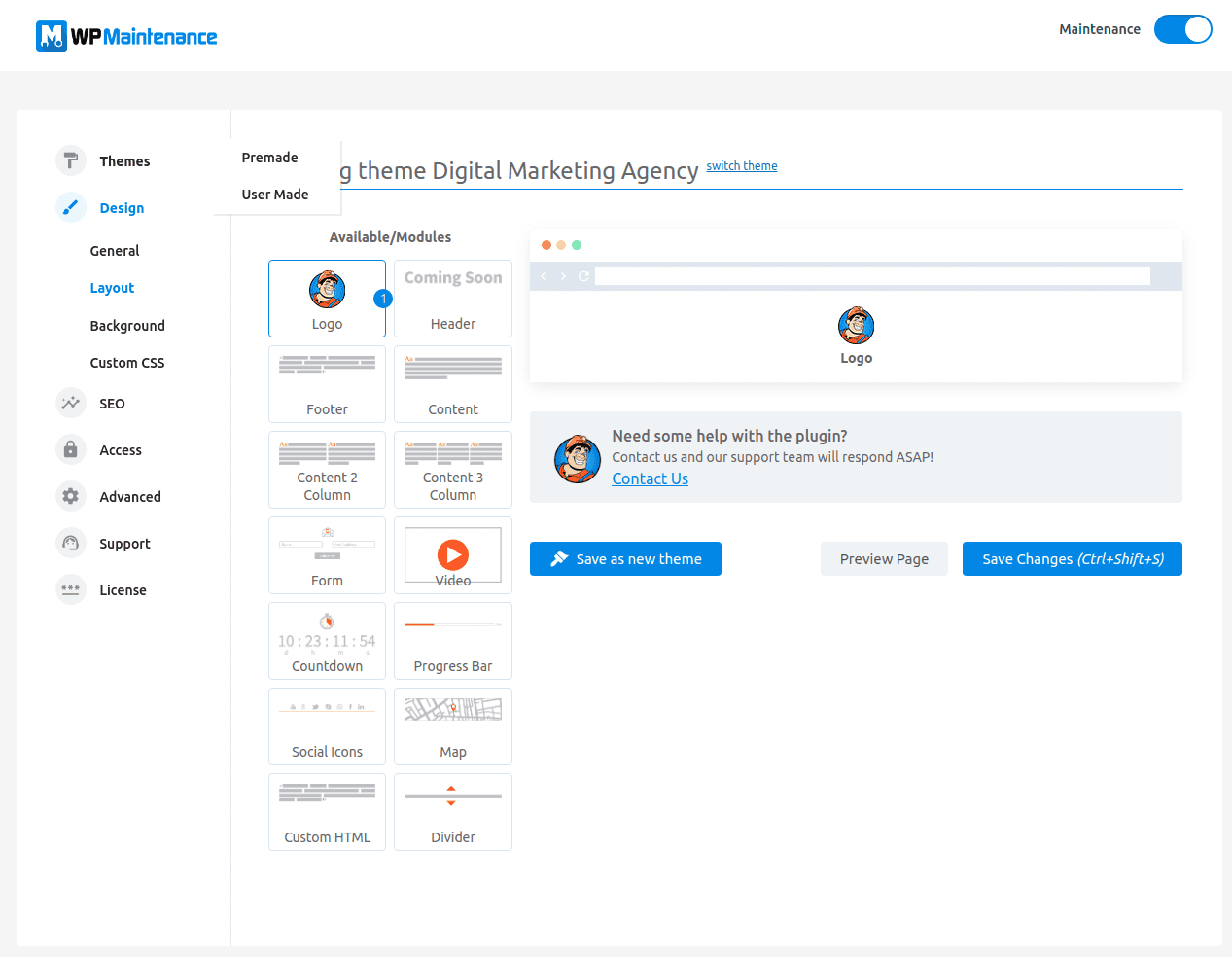 If you are the type of person who likes to start from scratch and upgrade your business, with this plugin you will be able to do just that. You do not like what is on your website? Would you like to add videos of your product or location to make it easier for your visitors to find you? In just a few clicks, add everything you need. Plus, it is great that you will find all things in one place because everything is centralized on the dashboard.
As you can see for yourself this plugin offers you a large number of different features with which you can customize your site yourself, but how can you customize them? A simple drag and drop tool will help you with which you can just add any desired element to your page.
Keep an eye on your SEO and analyze it.
It also includes an SEO setting which further allows you to improve and optimize websites before everything goes public. Because search engine optimization wins every time in the performance of websites, that feature is essential. Everything on your website should be accurately and properly designed and set up for SEO to progress, and even the smallest details are very important.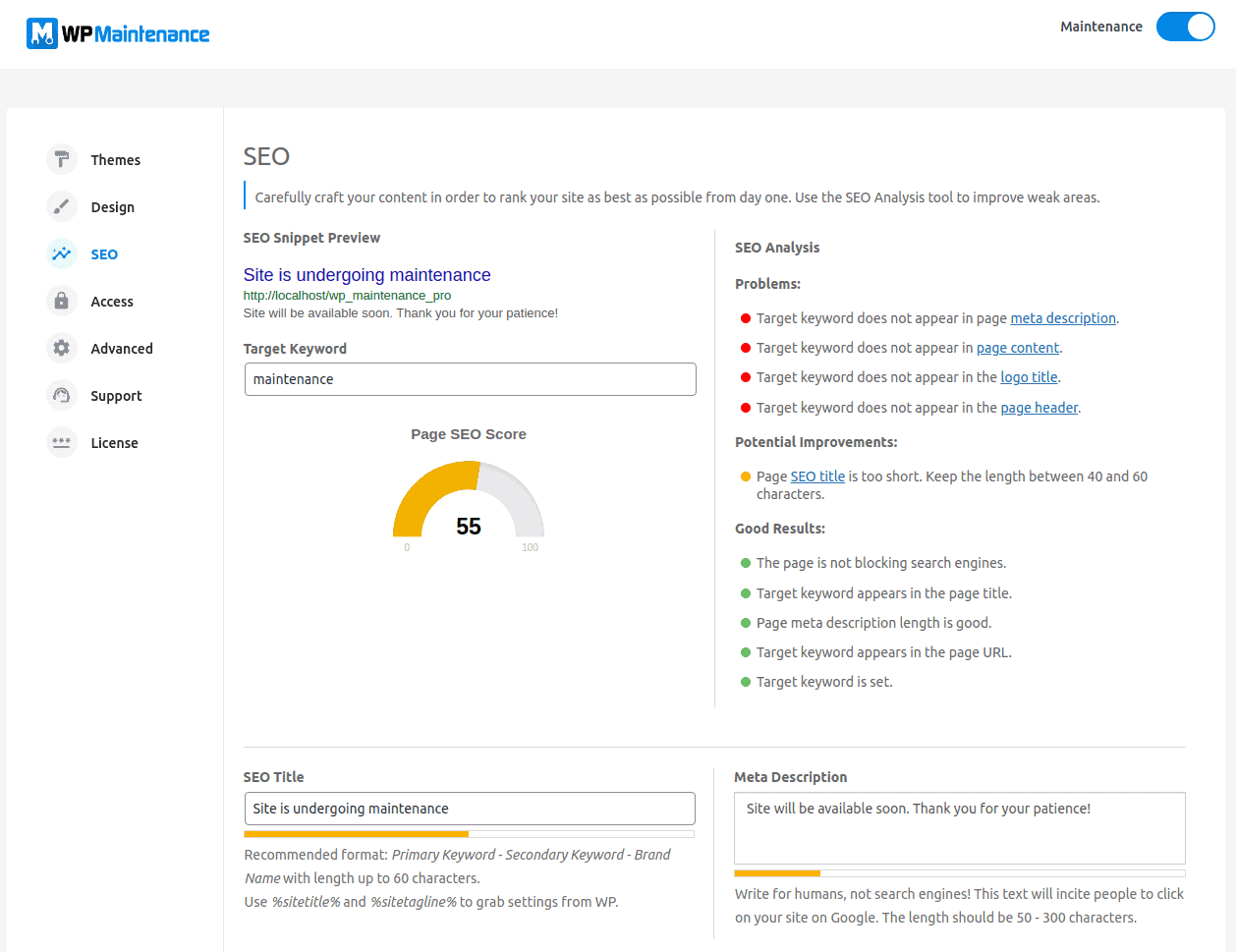 With SEO, you can immediately monitor how well is your website performing as well as how effective it can be when it is established. Simply press on SEO to analyze and examine each website's visibility on search engines, position, and keyword density for presenting a comprehensive SEO evaluation of what would be excellent as well as what is required to improve so your website ranks well right every time.
The Secret Access Link is another useful feature.
Users could also establish hidden access links that limit who has permission for using their websites. This feature is ingenious if you want to give access only to the team you work with to let them see what your site looks like before you publish it. White-labeling features are also available if you choose the team or agency plan.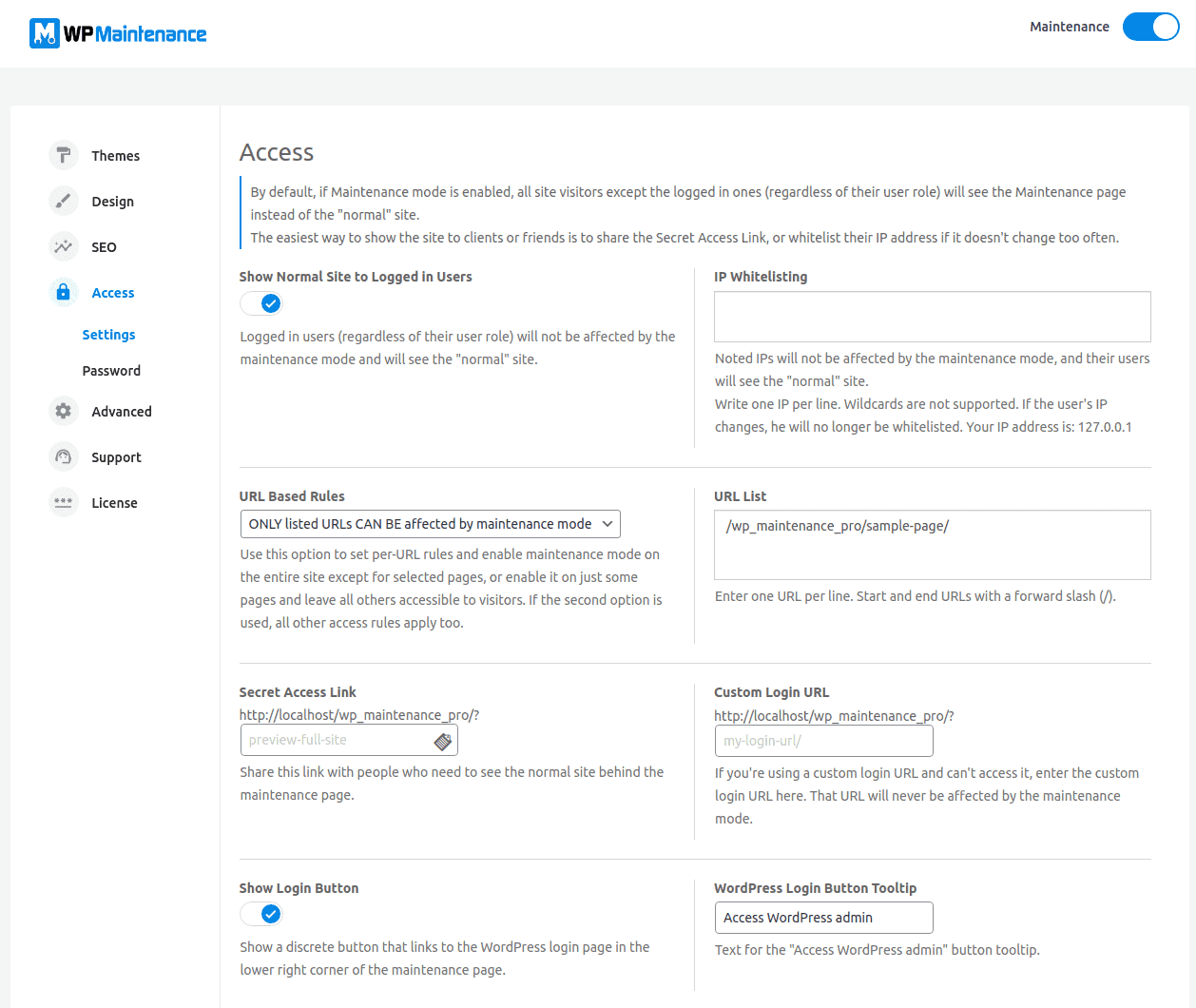 There are some extra beneficial qualities.
There are several specific choices in the advanced settings section. There you may perform a factory reset on default, add extra content, switch WordPress Rest API, require SSL on the maintenance website, and many more. And if at any time you encounter any difficulties or irregularities in the use of the plugin, here you will find customer service that is constantly active.
Alternative options for WP Maintenance
Furthermore, there are two additional WP Maintenance options that you will undoubtedly appreciate. Their names are Under Construction Page and Coming Soon & Maintenance Mode and they are subtly different from WP Maintenance, but they both do the job. With these plugins, you can set up a new front page, coming soon, or a sales page to inform your visitors or customers about current changes or upgrades.
Also, they will allow you to use great but different themes from those shown in WP Maintenance, and their editor is a little different. You might like these themes more, but you will not find out until you see for yourself what they have to offer.
Conclusion
All this is possible thanks to a new plugin called WP Maintenance. With this plugin, you will improve your knowledge and become a professional in the field of maintaining your site in just a few clicks. We are sure you will think at first that you do not need this, but it is worth a try and see for yourself if you really need it. An even better thing is that they also have a free option and for free you can see what makes this plugin special. But keep in mind that it has never been easier to create your own website, thanks to WP Maintenance Mode, which keeps all critical parts in place.