The ultimate goal of running a website on WordPress, whether it is a WooCommerce shop or a simple blog, is to avail your content to as many users as possible. The preliminary action to achieving this is surpassing the language barrier.
If you want a tool that is capable of achieving all this and much more, then look no further than Linguise.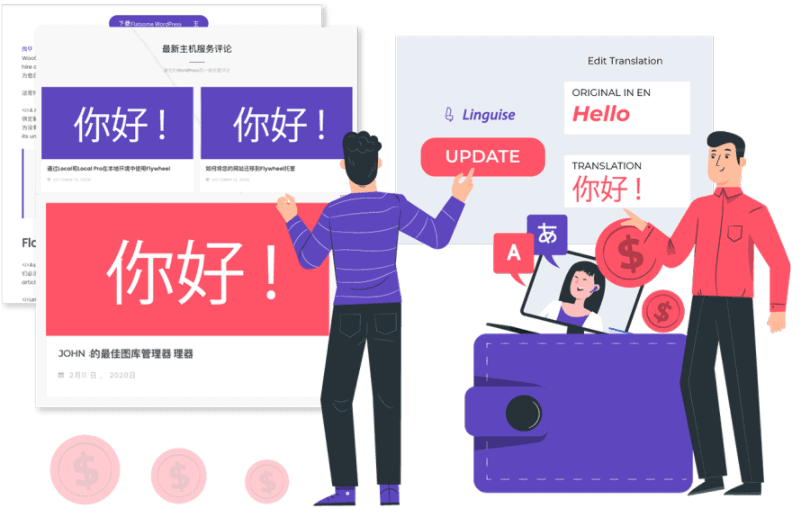 In this article, I will delve into Linguise as a service, how you can use it, and what edge it has over other translation methods and services.
If you would like to skip directly to how you can use Linguise to automate the translation of your website's content, click here.
What is the importance of having multi-lingual translation on your website?
Current websites have a relatively high standard for aspects of user experience for websites such as; content accessibility, speed, and ease of use. On top of this, there are numerous websites out there that offer a similar service to yours. To guarantee the success of your website, you need to go the extra mile to reach an even larger audience. At the center of this is overcoming the language barrier for users that do not speak the default language you created your website in.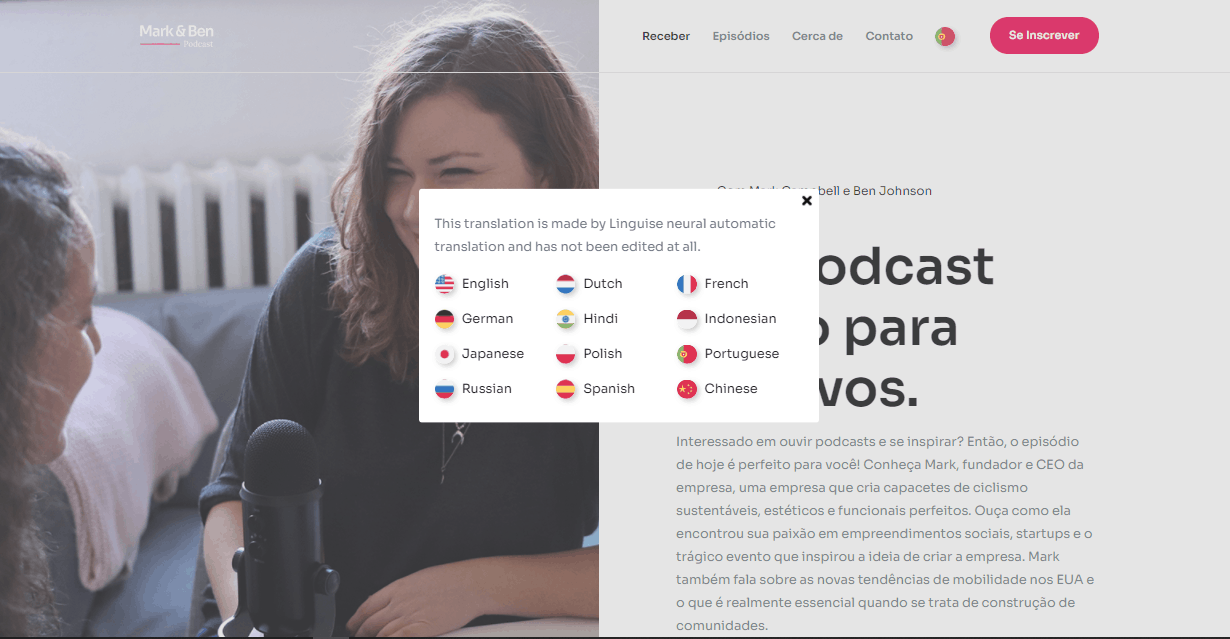 A website presented in a wide variety of languages has the potential to reach a much larger audience and provide a more seamless experience. For this reason, it is becoming increasingly essential to integrate a translation service within your website.
But website translation will not do much for you without a high degree of accuracy, speed and, SEO. So, what service can you utilize to achieve this?
What is Linguise?
Linguise is a neural network-based service (Software as a Service) that automates translation for all content on websites written by you or a content writing service. It is neural in that it incorporates algorithms of machine learning that permit it to mimic the learning actions of the human brain.
Linguise is highly flexible and has over 80 languages into which you can translate your website's content. It is easily and quickly deployable and has a user-friendly interface.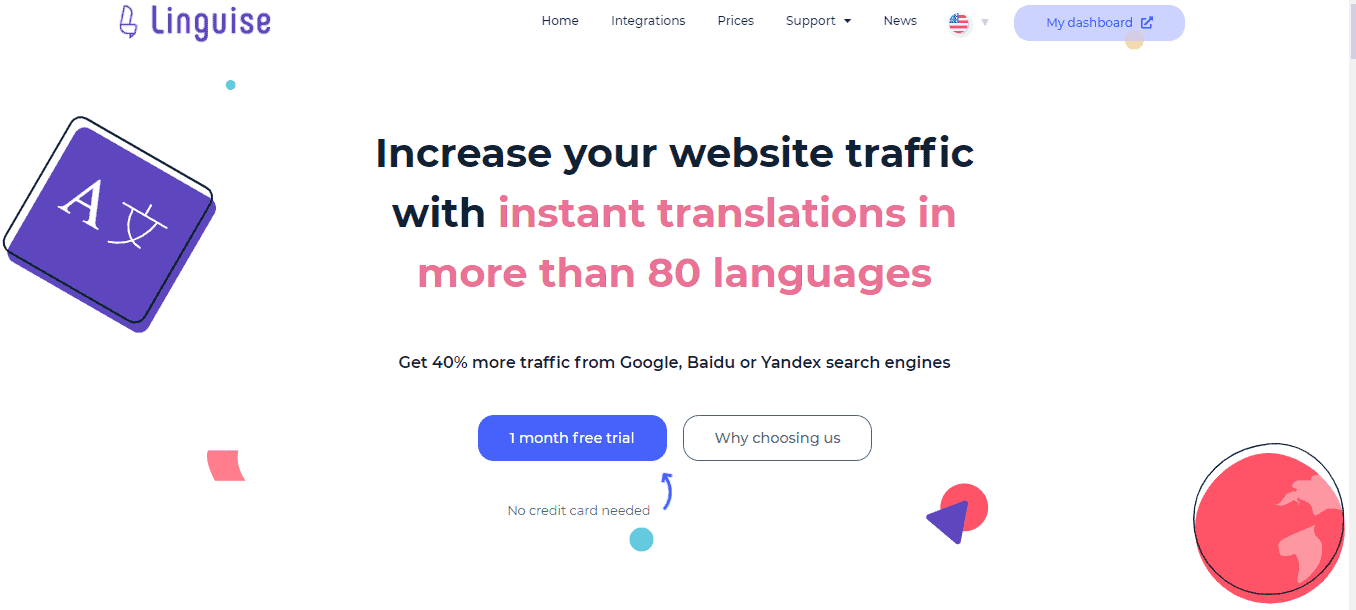 Linguise has the following core attributes:
Cost-effectiveness
A high degree of accuracy
Metadata and sitemap translation for SEO
Flexibility in translation editing and management
Compatibility with all WordPress plugins
Check out Linguise yearly translation service directly here. 
Why is Linguise the best option for translating your website?
Needless to say, there are so many options to translate your WordPress website's content. You might want to go for other translation plugins such as WPML and Polylang, Google Translate, or just plain old human translation. While these solutions can help you achieve your outcome, they bear the following limitations:
No management of translation editing for plugins with Google translate
No SEO translation for different search engines designated for different geographical locations
High cost, low accuracy, and more time consumption for the human translation option

Linguise, on the other hand, offers a solution that retains all the advantages of the above methods without their limitations. Linguise automates translations while offering the option to manage and edit your translation.
The SEO property makes your website's content indexable by search engines. Consequently, it is the best option to translating your website's content.
But we'll get into this later.
How can you set up Linguise on your WP website?
We cannot go back and forth about Linguise without first knowing how you can install and utilize this service.
Getting started
Start by going to the official website, Linguise.com, and fill in your details to create an account.
After you have created the account, navigate to the Add Domain button on the dashboard and click on it.
Generating the domain API key
Your Linguise plugin cannot function without an API key that uniquely identifies your website domain. You'll need it to activate the service.
On the add domain page, add your website's URL, the original language, and other languages you would like your website to be translated to. There are over 80 options for you to choose from!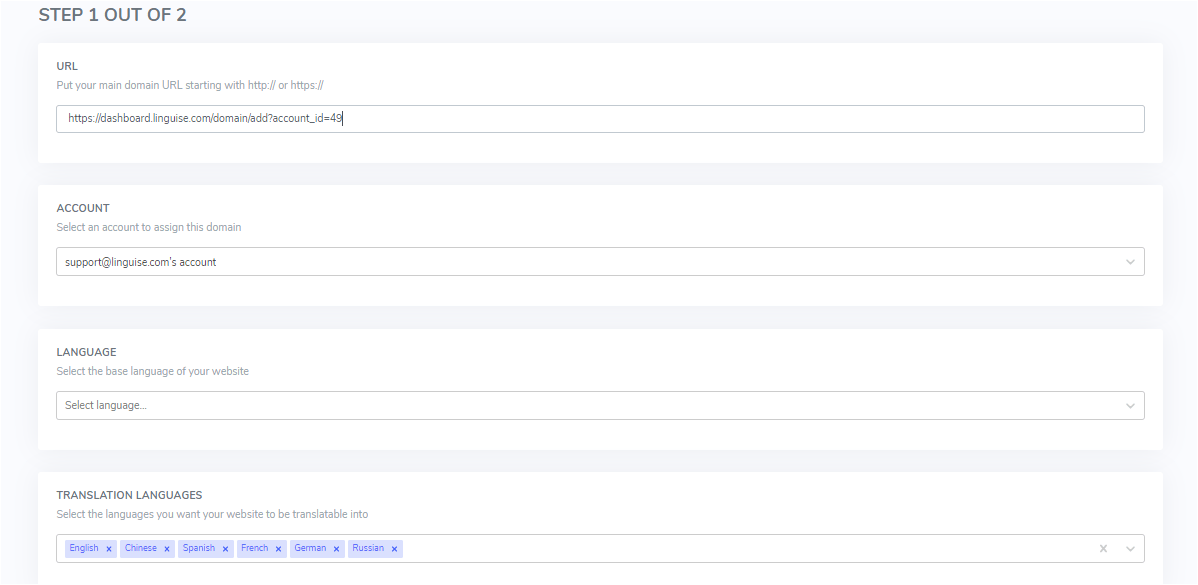 You can also choose whether you want all pages on your website to be translated and then click on Next to generate your API key.
Once you create your account, you are provided with a quota for a free translation of over 400,000 words. Just to be clear, the service is not free forever; after the quota is used up, you start incurring charges.
On the next page, you will find a cryptographically generated key (API Key) which you copy to your clipboard.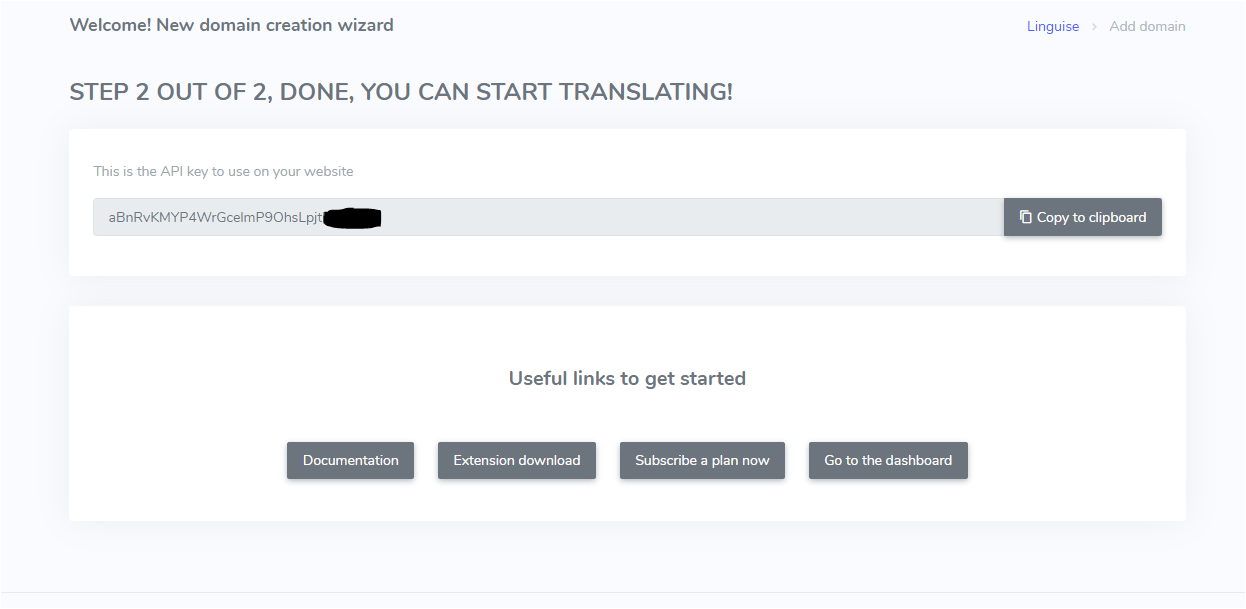 Getting the extension  
Click on the extension download link to download a zip file of the plugin. Go back to your website's dashboard and under Plugins, select Add New > Upload > Choose File.
Select the extension zip file and click Install now > Activate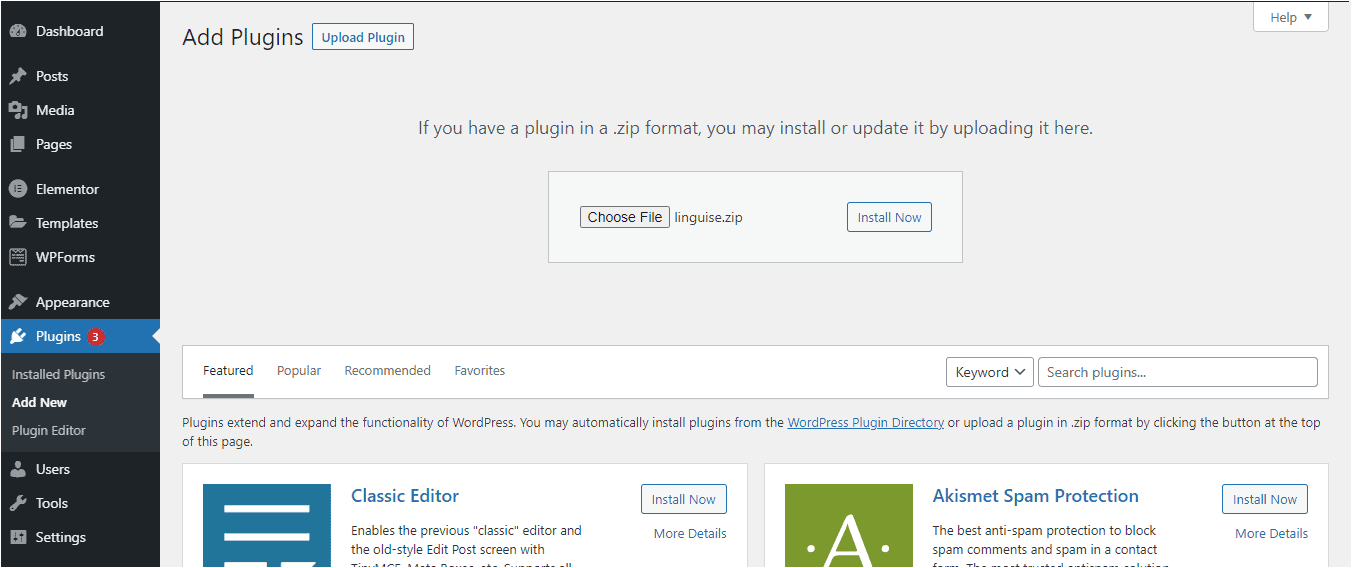 Click on the Linguise icon on the left sidebar menu and paste the domain API key and click on apply. It will automatically retrieve the configuration you set for your domain on the Linguise dashboard.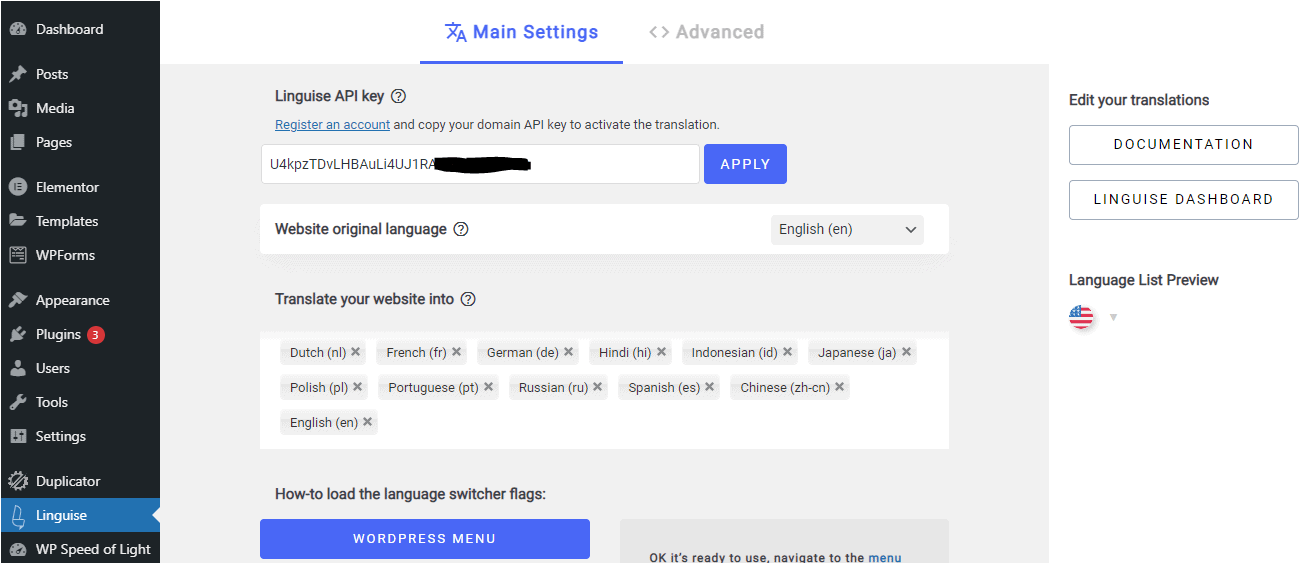 Loading the language switcher
On the left sidebar, go to Appearance > Menu. Check the box that says Linguise Languages > Add to Menu and then save changes, and you're done!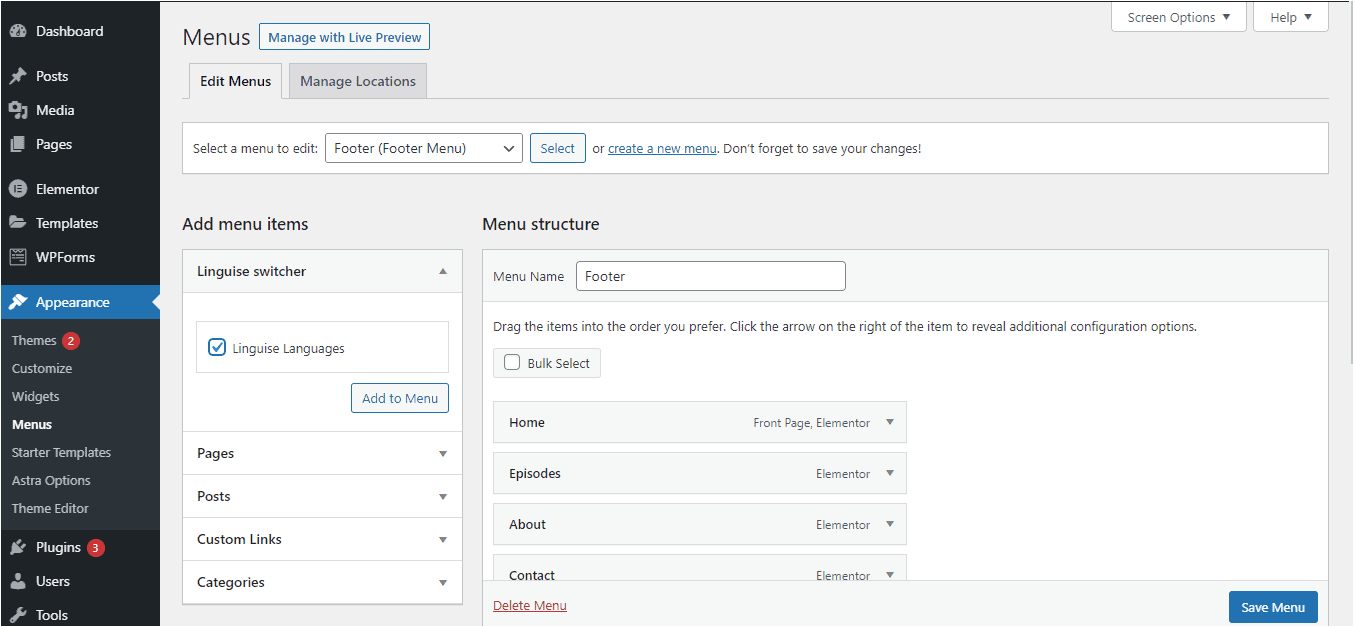 You can now go to your website's homepage and use the language selector to switch between languages.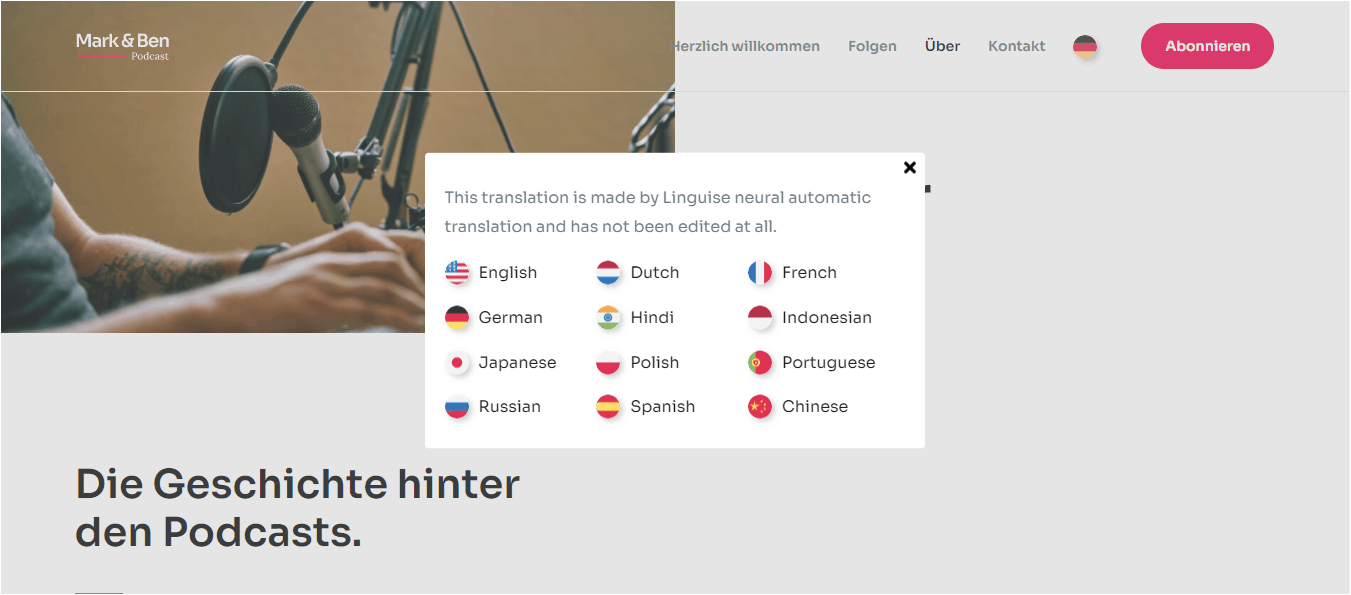 What sets Linguise a level above other translation methods?
I should mention that other methods are capable of achieving your desired outcome. Therefore, this is not a critique of those methods but an insight into the capabilities of Linguise that set it a level above. So we'll start with the basic ones moving up.
Linguise versus human translation
Linguise, being a neural network translation service, is superior to human translation in almost every way. Human translation takes a significantly longer period and costs more per unit of work compared to neural network translation. It also produces a result of much lower quality. Here is a short comparison of the two within the relevant parameters.
| | | |
| --- | --- | --- |
| Parameter | Linguise Translation | Human Translation |
| Set-Up time | Around 15 minutes | Around 2 hours |
| Translation time | Instant | Several hours to days |
| Sample price for 100 pages of 1000 words each. | $165/year | About $8000/year |
Linguise allows revision and management of translated content, thereby retaining a good quality from human translation.
Linguise versus other translation plugins
Linguise offers translated content revision and translation editing management.
While automated translation is undeniably the best approach to translate website content, in some situations, these extensions are bound to make mistakes. An automated translation service is likely to make mistakes on the following:
Cultural references
Technical terms
Long and complex sentences
Puns
For this reason, it is always a good idea to go through the translated text and edit out the mistakes made by the extension.
What sets Linguise apart from other translation services like WPML or TranslatePress is the visual Live Editor. In this feature, you can edit translations directly on your webpage. You can also manage your translations by language. You should only do this in languages you're proficient in.

How do you manage translations for the languages that you don't know?
Invite experts to revise your translated content
Since automated translations are not 100% accurate, you will need to bring in experts to correct the mistakes the extension makes, especially for languages you're not proficient in. Linguise allows you to create accounts for these individuals and manage their access on a language basis.
I'll show you how you can do this.
Go to the members tab and select invite a new member.
Add the email of these members, select their roles (admin, manager, or translator), the websites they are tasked to manage, and the languages they are responsible for managing. Managers have access to all languages and rules, while translators are limited to specific languages at the front end.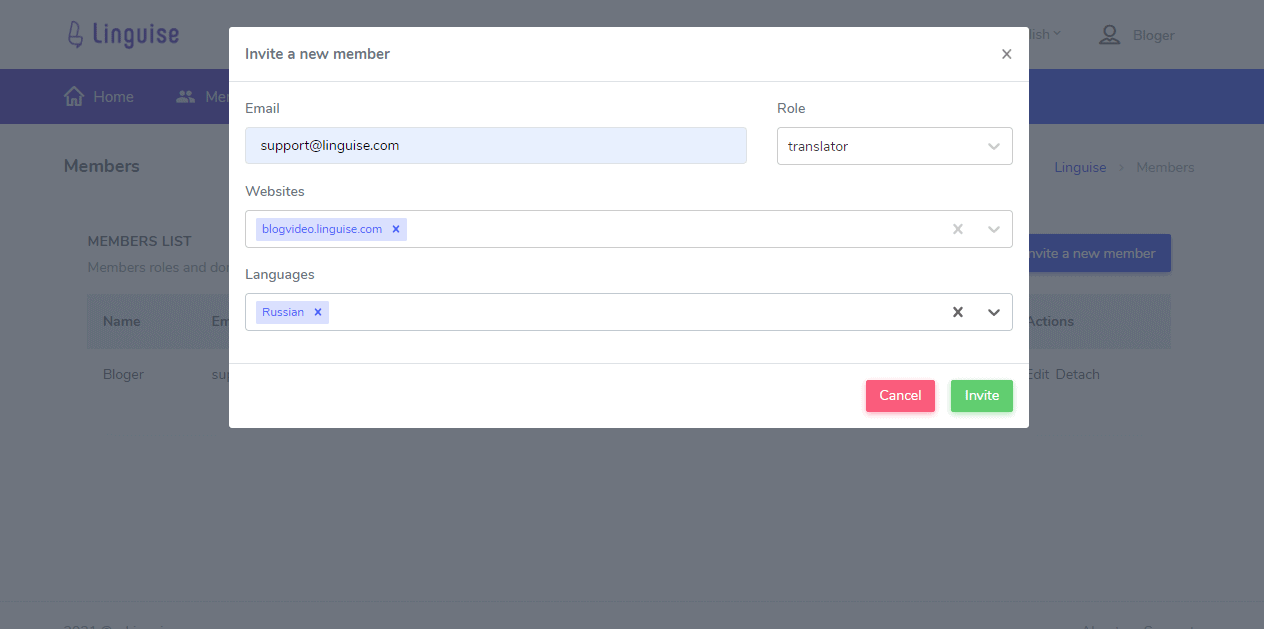 Linguise versus Google Translate
If you're a Google Chrome user, you have probably come across Google Translate offering to automatically translate content on a website that is in a foreign language. This tool is free and relatively useful, but it has numerous limitations.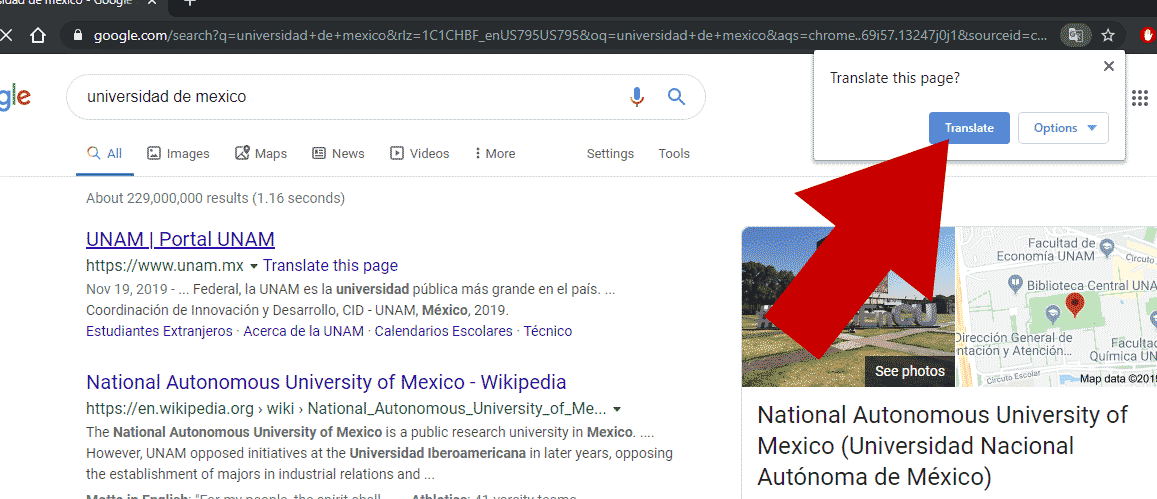 A poor quality translation that potentially takes away the context of your content, preventing users from fully understanding the translation. I'm quite sure you've experienced this often.
Your website cannot be indexed by search engines as multilingual pages because it remains in the original language you created it in (no new URL is created)
This tool does not give you the liberty to manage and modify its translations.
Linguise covers all these limitations via the live editor feature while allowing you to invite experts to modify machine translations.
How does Linguise ensure your website content is search engine optimized?
As a website owner, one of your principal goals is for your website to be highly ranked by search engines both in the original and translated languages. This can be quite challenging for international users who use different search engines which rank websites differently. The bottom line is search engines rank websites differently depending on browser language and geographical locations.
When installed, Linguise automatically translates all the metadata on your website that is relevant for SEO (including titles and descriptions). This plugin further adds alternative URLs to inform web crawlers (search engine robots) of the languages in which your pages exist so that they can be ranked. You can translate your sitemap in the languages you have selected, and I will show you how with an SEO plugin (it works with any SEO plugin like Yoast too).
Translate your website's sitemap automatically:
On your WP admin dashboard, go to WP Meta SEO > Sitemaps
Copy the XML link and click on open.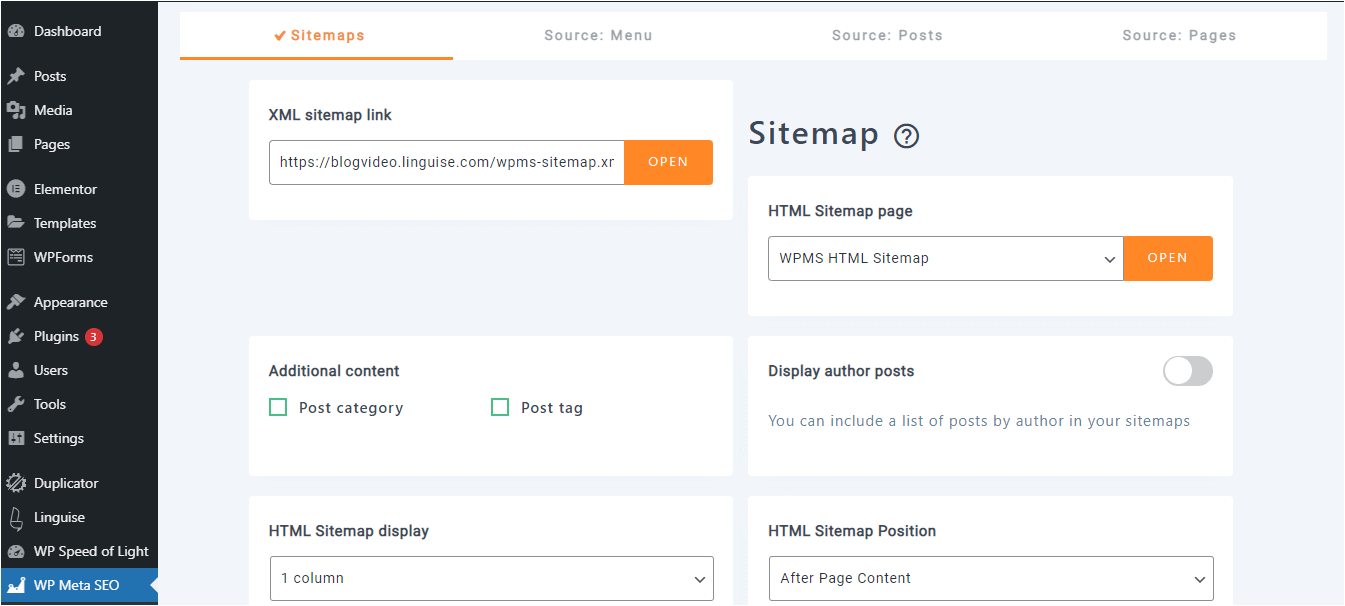 Paste the next link on the page and add the language prefix (es/gr/fr) to the XML link on the search box and press the enter key.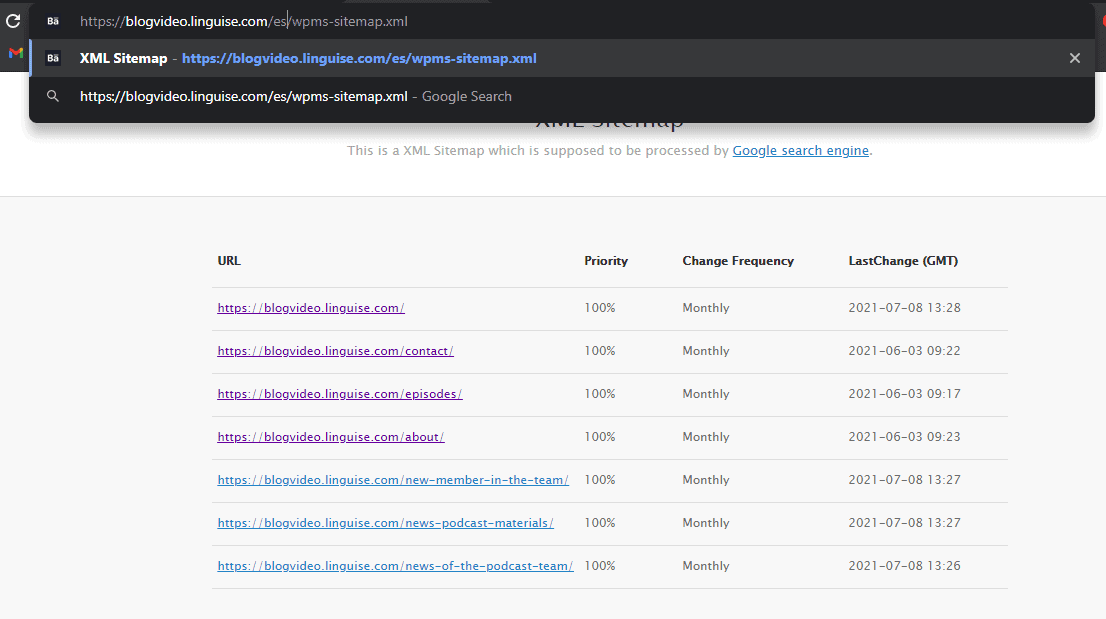 You can take a look at how well Linguise optimizes translations for JoomUnited in a French location.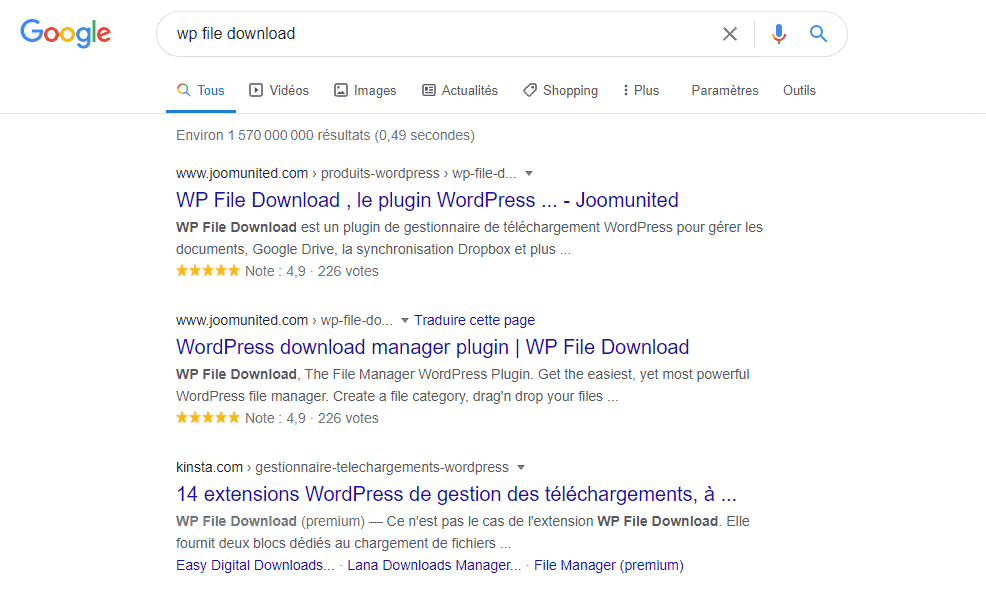 More from Linguise…
Customizable language selector
It is always important to maintain your UI identity. With Linguise, it will be no different as you can easily and seamlessly integrate it with your design. You can add the language selector at any point of your webpage using a simple shortcode.
And there are many display options to choose from, popup type, flag shape and size, shadow, text color…
Theme and plugin compatibility 
Linguise is compatible with all WordPress themes and plugins. There is no need to install additional extensions for it to work on certain themes and plugins. It, therefore, can translate every plugin and theme on WordPress. That's not all; it also translates the invisible elements of these plugins.
Linguise displays the statistics of how the different translations are performing on a sleek, modern well-crafted dashboard that is very appealing. This will allow you to know which languages you should promote and which ones require some work.
As an owner of a WP website, Linguise is your first step toward exploring an international audience. It is well-crafted to enable you to reach your international audience at scale with minimal input and outstanding results. Making your website international is a great step towards its success, and Linguise provides a reliable way to do it.