To run a successful business (regardless of its nature), it's important to promote growth from within.
Combine that with the digitalization of all processes across the board, and it's no surprise that there's a dramatic spike in the use of Learning Management Systems or LMS for short.
What Is an LMS?
An LMS is software that enables you to set up a learning process from top to bottom, within your company, school, gym, etc. It gives you the tools to create a training program, deliver it and track the progress of those involved (most prominently supervising goals reached/failed).
The way LMS is set up mostly benefits the person in charge of the training because of the sheer scope of data you can output and receive through direct feedback and various analyses. As we've already said, the same set of tools that will be at your disposal can be applied to a host of environments with an LMS offering the framework or template, leaving you to fill in the "blanks".
Because of the high demand for LMS software, we've scoured the web to bring you the five top solutions you can go with. Without further ado, let's count them down.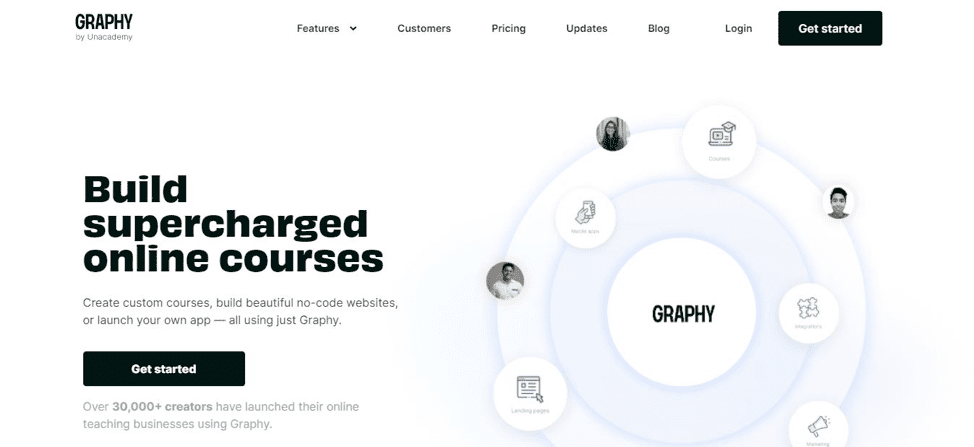 Graphy is an LMS solution that gives you the chance to relay your content in a variety of ways. The best thing about it is that the devs have recognized that not all those who prepare these lessons are tech-savvy and have created easy-to-follow setup wizards that guide you through every step-by-step process. This ensures virtually anybody will be able to use it without too much fuss, making Graphy a go-to choice for users with vastly different backgrounds.
One of the most popular ways of educating online nowadays is with live classes. They provide you with an excellent way for instant, mutual interactions between the one giving the course and those following. With Graphy, you can create a live class in just a couple of clicks, making it the perfect solution for people who are novices to working with a computer but still have content to present.
Maybe you're not looking for a live video class but instead, need to implement media files into your scheduled classes – not a problem. Every significant media file is supported, and there's a special emphasis on multimedia presentation because we've all become accustomed to receiving content through visual means. It isn't all about videos.
You'll have many ways to share your courses, including webinars, audio, e-books, pdf, etc.
You can even implement certificates for those who finish your courses, which are crucial if running an education-based business.
The content you're publishing can be presented in many ways through the courses you're creating. For example, you can use the unique feature of dripping content on a predefined schedule to your advantage. It lets you create a schedule based on either the joining date of an attendee or a fixed date of your choosing. All classes that follow are added based on that schedule, making it very easy for anyone attending to follow up and prepare for things still to come.
Speaking of publishing and visual presentation, Graphy enables you to create both websites and mobile apps in a way that's easy to understand (we've already touched on the many step-by-step wizards). You can then white-label, which in itself is a promotional opportunity. While your newly appointed staff is learning the ropes, they're also getting to know your brand, which they'll relay to your customers.

The size of every business varies, and if you're running a larger company that includes numerous departments or teams that handle a specific aspect of the overall business, it's very easy to separate them by assigning custom roles. Giving individual roles to your marketing, sales, and accounting managers makes organizing your staff easier and ensures there'll be no overlapping between the departments.
It's also important to know you can monetize your courses. If you're holding instructions individually or as part of a business (either as an instructor or owner/admin), you'll be able to implement payment options. International payment gateways like Stripe and PayPal are supported (which is most important), along with numerous local options with support for the user's currency in all options.
You can also set up fast one-click checkouts, free trials, coupons, etc. Naturally, all these transactions can be easily tracked from the backend enabling you to always be on top of your finances.
Features:
Multimedia course
Branded website & mobile app
Integrated payment gateways
Marketing & sales tools
Community & engagement
Most secure platform
Considering the scope and scale of everything Graphy puts at your disposal, it's easy to see why it's one of the best and most favored solutions today.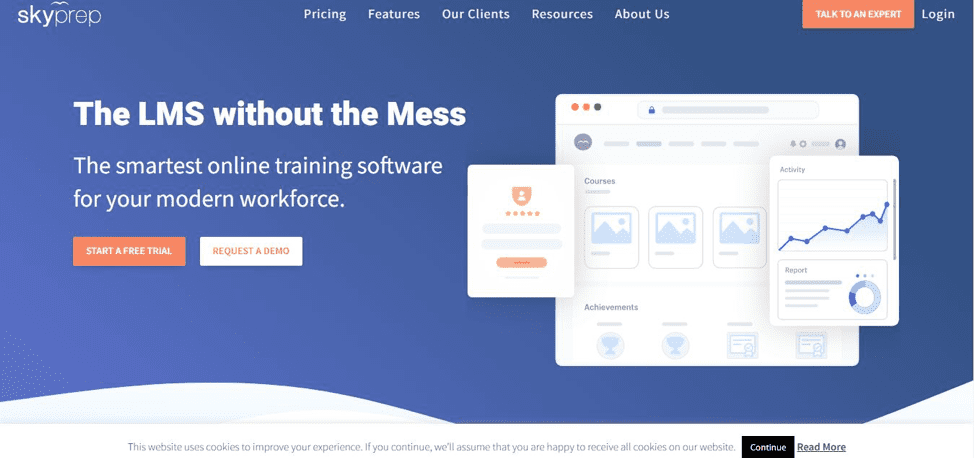 SkyPrep is best used for new employees who need to get a hold of the company structure and workflow. It's flexible enough to the point where you can write courses directly into the app, removing the need to use any additional software other than SkyPrep. As you would expect, it supports all relevant media files and embedded content from sites like YouTube or Vimeo and allows for the use of visual aids like charts and spreadsheets.
The process of creating courses is designed with managers in mind making them easy to set up, which is crucial if you have to create multiple unrelated courses in a short amount of time. Reports are available at every stage of the course process, so you can keep track of all the attendees at all times. You can white label the whole frontend to put your logos, images, icons, and color scheme to top it all off. On the negative side, the entire app is very single-minded to the corporate aspect, failing to provide enough features for other potential users like educators.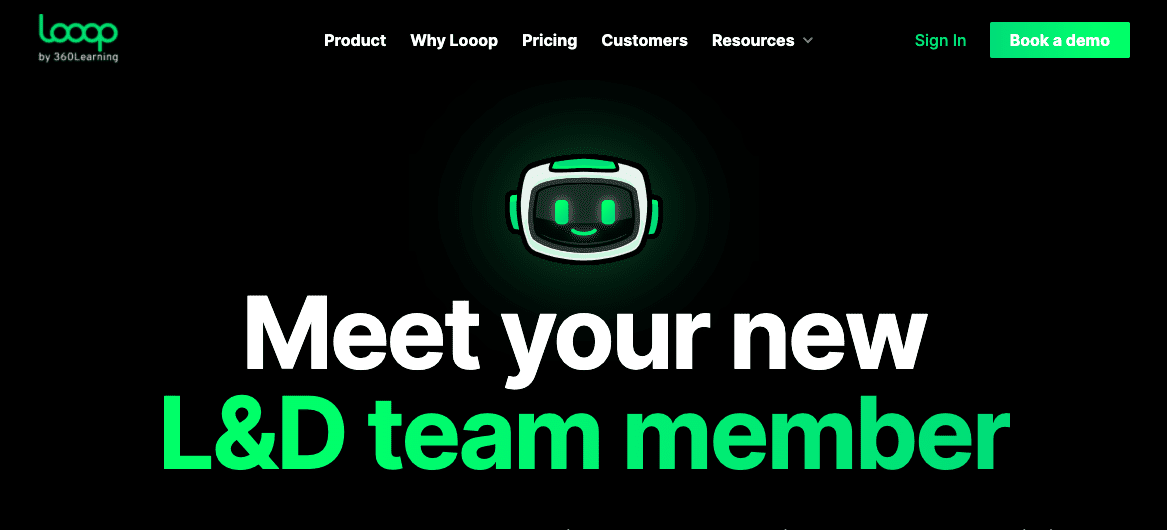 For those of you starting a new business and looking to grow with your staff as a group, Looop could be an interesting solution. It's straightforward to get started creating courses with clear benchmarks that are easily tracked. You can even take advantage of automated content delivery by mail, official chat, or mobile app.
The main selling feature is the resource builder, where anyone can contribute and build up the shared database that everyone can then use. That being said, the core app is rather barebones, instead of relying on integrations for things others have developed within their software like interactive calendars, chat, cloud drives, etc. Looop, on the other hand, simply integrates existing 3rd party apps like Google calendar, Microsoft Teams, Microsoft OneDrive, etc.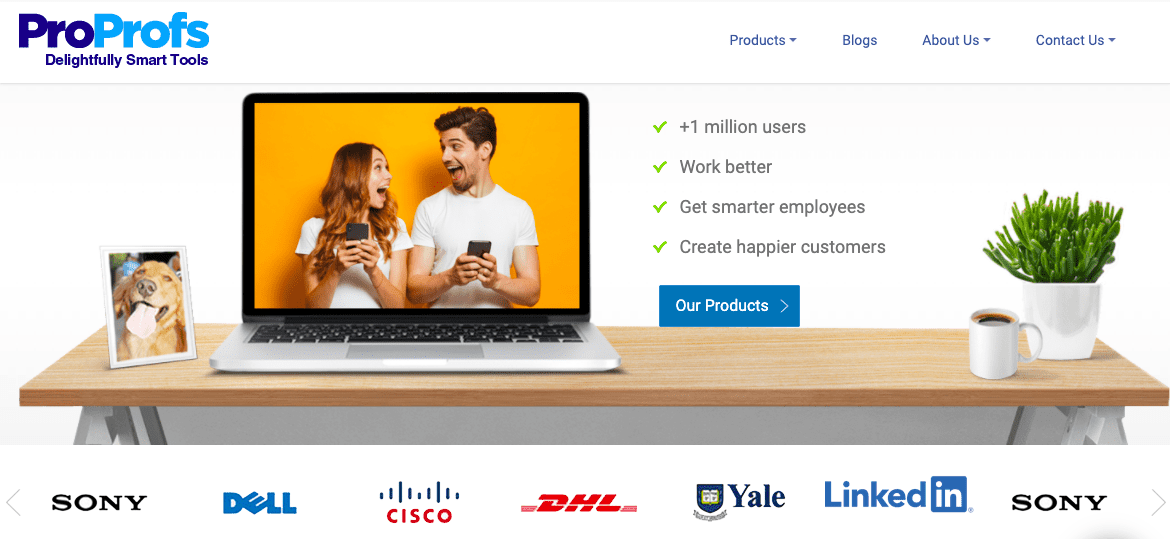 If you're looking to create a course in just a couple of minutes, ProProfs is the way you can do it. This budget solution offers streamlined creation tools for your virtual classrooms that can range to thousands, including content upload (managed by the admin), content transfer (between users – can be disabled), shared dashboards with assignments, announcements, goals, etc.
The main selling point of this app is the extensive library of over 100 customizable templates you can use to realize your ideas quickly. Through content sharing within classrooms, it's easy to create a remote community that functions similarly to an actual class. The downside to the simplicity is the lack of features compared to other solutions, primarily centered around rudimentary course creation options.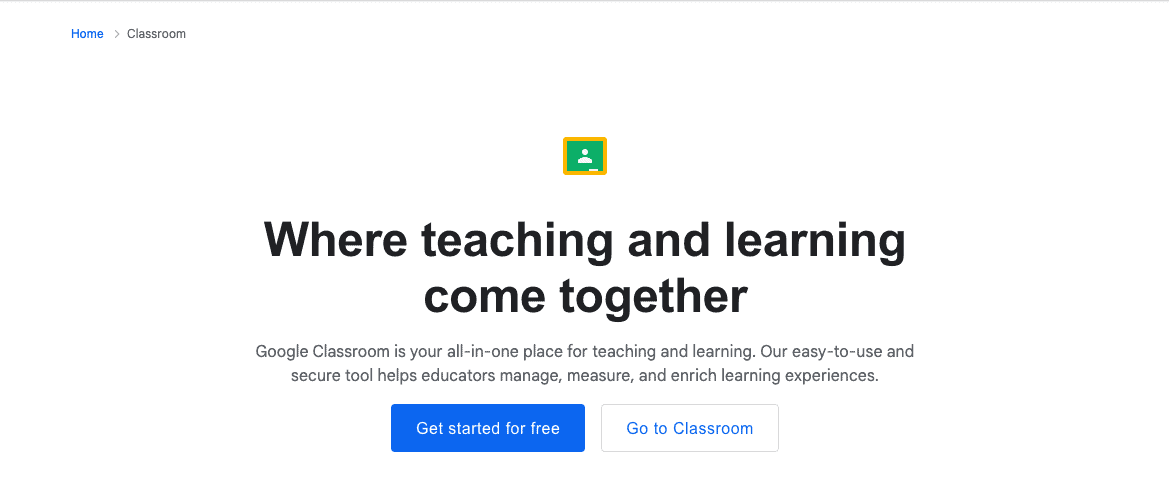 Anything with Google in its name always deserves at least a mention. As the name suggests, the Google Classroom was designed with teachers in mind. A course can be designed around any subject, and it can reap the benefits of all other Google services which are seamlessly integrated (for example, YouTube videos). Since most of us use Gmail and everything that comes with it, sharing content among teachers and students (in every direction) is extremely easy because everyone is already familiar with the UI.
Support is also Google-based, meaning there are ample channels you can use to get potential issues resolved. The main drawback is the nature of the platform centered around educators and the familiarity when using the app, with business use being nonexistent because of the lack of many advanced features found elsewhere.
Summary
Considering all the above, there's an LMS for just about any situation you and your business may find yourself in. However, one solution can cover practically any of those situations by itself, and that's Graphy, the complete option you can go with. Whether you're creating a one-day crash course for your sales reps going in the field for the first time tomorrow, need to create a math course for your gifted students, or are looking to create a whole company wide-learning database, Graphy has you covered.