Blogs are informal and unstructured communication tools companies use to build brand awareness and SEO. They engage future and current customers of the business. Companies use blog platforms that suit their specific businesses to increase website traffic and convert them to sales leads. The most popular and relevant blogging platform is WordPress. It is easy to install, cost-effective, and SEO-friendly. WordPress plugin allows customization of your website. Its intuitive backend interface has easy labels and navigation even for beginners. Another WordPress blog perk is that users can integrate them into the website effortlessly. However, one must keep certain things in mind while doing that. We have prepared some tips to help you nail the integration process and make the blog run smoothly.
Integrate WordPress blog into the website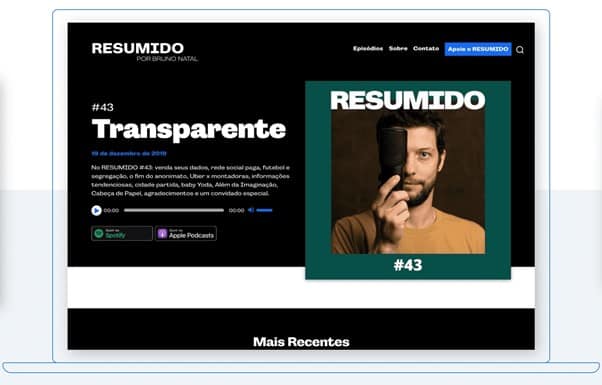 Below we will show you the simplest method of creating a blog with WordPress through step-by-step instructions.
Step 1: Open a blog site in WordPress with your preferred name. With this, your blog site is ready, and you can now populate it with articles. But you need to integrate it into your website.
Step 2: Go to your site, create a new subdirectory, and name it blog. Now you have a subdirectory, but it is empty.
Step 3: Download the framework from WordPress and upload all the files into the subdirectory. Now, install and set up WordPress in the blog's directory.
Step 4: If you want the recent blog post to appear on the homepage of your website, you need to add the code snippet that you obtain from WordPress. You have to insert it at the beginning of the homepage. And that is it. Now use the WordPress blog templates free and blog away. Be consistent in the timings of your blog posts, as it plays a crucial role in SEO ranking.
According to statistics, more than 43% of websites on the Internet use WordPress these days. So, if some things remain unclear, the WordPress developer team and users worldwide have created numerous videos on how to work with the platform. They cover all possible topics. Your inquiry is likely to have already been solved. With WordPress tutorials, one can tackle technical issues at various stages of installation and maintenance.
Why integrate a blog into a website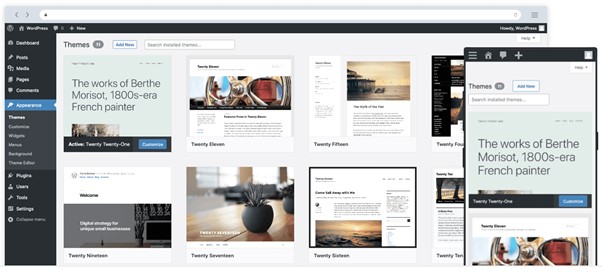 People treat your blog as a space where you write about your opinions and thoughts about a subject. But when you integrate it into a website, it promotes you as a specialist in your topic. When you incorporate a WordPress blog into the website, you change from being a personal writer to a professional who is an expert in your niche.
A professional website allows you to make yourself available as a thought leader to potential customers. It will enable you to showcase your background and work so that, if a customer is looking for a person like you, they know they can hire your services. Moreover, a professional website allows you to build a reader base from scratch.
Once you have a reader base, it becomes a two-way communication, in other words, a dialogue. You get to interact with the subscribers and get their feedback in real-time. It can improve the quality and depth of your writing as you know what requirements you have to meet. Content remains king. With a necessary level of expertise wrapped in a catchy informative text, you earn users' attention and get a higher SEO ranking. As a result, your website will appear more often in search results. Content marketing is a long way to success, requiring high quality and quantity. However, it is fundamental for other types of marketing solutions. Having launched a full-fledged blog, you can also explore how to start doing personalized video marketing or work with influencers.
Here is the best part. You can earn by selling physical or digital products. You can also monetize your content and eventually find a business. Blogging can bring a lot of money. All this is possible because of a website's scalability and broad reach. So, it is time to switch to a professional website using WordPress if you have a personal blog.
Spice up the blog content
Add videos to build the blog site
Insert videos as content onto your website as they are getting increasingly popular. Website users typically find various instructional guides and self-made tutorials in video format extremely helpful. Videos can help increase interest and engagement with your newly-launched blog site. It is easy if you are wondering how to screen record on a Mac computer. To record your screen, use QuickTime Player or Screenshot Toolbar, both of which are in-built. These built-in processes allow you to switch on the internal microphone of your Mac so you can add narration. You can even use third-party recording apps if you are not comfortable with the Mac in-built apps.
Add articles to build the blog site

It helps to post articles regularly to build your site and rank it. People typically use Google Docs to write and store pieces, especially if a team of writers is involved. The advantage of using Google Docs is that you do not have to give the writers access to your dashboard. But you would still need to move those drafts to WordPress.
Your worries about how to Instantly Upload Google Docs to WordPress are easy to remove with blog plugins for WordPress or third-party apps that automate the importation process. Instead of manually formatting hundreds of lines in the post, you can add them to your site using these tools. Please make sure they are compatible with your WordPress theme.
Benefits of a WordPress blog
WordPress was initially created for blogging. It has evolved to include many SEO tools and plugins to rank high in all search engines. Therefore, with the right strategy and implementing some best practices, a WordPress blog can draw in thousands of readers worldwide and monetize it.
Creating a blog with WordPress gives you everything you need for a satisfying blogging experience. It has an easy interface, an author area, and a subscription box. Plus, it also gives you the look and feel of a modern website, not to mention the flexibility to shuffle around things as required.
WordPress website is an open and free source the global community supports. People themselves make appropriate changes and keep it secure and updated. This work makes it easy for you to reach out to other users in the community and jump-start if you get stuck. And it works with all kinds of businesses, be they start-ups or big conglomerates.
Finally, the best part about a WordPress blog is that it is free and has no strings or fees attached. You can go to the WordPress website to download the software for free. Find a good hosting service and host it somewhere using either a managed or a self-hosting method.
Factors to consider for effective WordPress integration
Gutenberg editor: If you write tons of articles using the Classic Editor, consider moving to the Gutenberg editor because it cuts formatting issues. Headers and paragraphs are placed neatly into blocks. And there are no line breaks.
Classic Editor: If you prefer to use the Classic Editor, copy and paste the article in the blank post. Then copy the content from this vacant post and paste it into another empty post. Thus, you can get rid of the line breaks. Then you can copy and paste this onto the original post.
Social media: Consider adding social media plugins when you create a blog with WordPress so you can share your blog posts on these platforms. They are effective avenues where your customers can find information about you. And you can also get new customer visits through referrals.
WordPress blog themes: When you integrate the WordPress blog into your website, you will notice that it looks different and does not match the rest of the site. Choose a suitable WordPress theme. Make sure it fits well with your website. Alternatively, you can also go for a highly customizable theme. Pay attention to your choice because, quite often, your blog will be the first touchpoint between potential customers and your business. Therefore, the theme you select will determine their first impression of your activity.
Add menus: Now that you have integrated the WordPress blog onto your website, your visitors, customers, and subscribers should not feel disillusioned. They should think that it is part of your old website. For that, you should add menu items on your site. Keep them uniform for a smooth user experience.
Choose the right hosting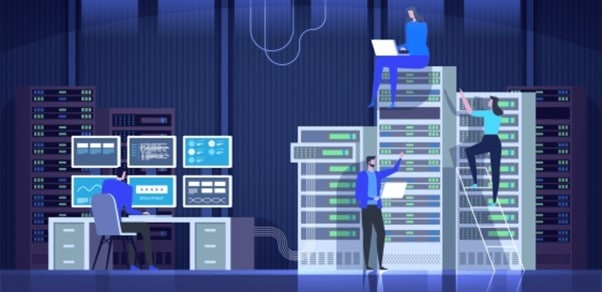 What is managed hosting?
Managed hosting is specific to WordPress, with a few features that contain, speed up, and secure your website. It is responsible for keeping your site running off your shoulders by managing it for you. Having managed hosting does not require you to have many technical skills.
A managed-hosting site is a hands-off option, as your hosting provider will look after your site. It allows you to focus on creating blogs, promoting them, and other functions only you can perform. However, what you get regarding the features would depend on the service provider.
Some of the tasks of the service provider include:
Takes care of updates
Creates frequent backups
Scans your site
Deals with security threats
Handles performance optimization
Checks the speed of the site
Configures your server
Managed WordPress hosting is a must if you are new to blogging and website management. However, it can be expensive since the service provider is dedicated and responsible for running your site. So, they charge you more for that dedication. Each service provider charges different rates.
Managed WordPress hosting takes away the joy of making critical website decisions and learning the ropes as you go along. But it can save you tons of time, and you have access to help when you need it.
What is self-hosting?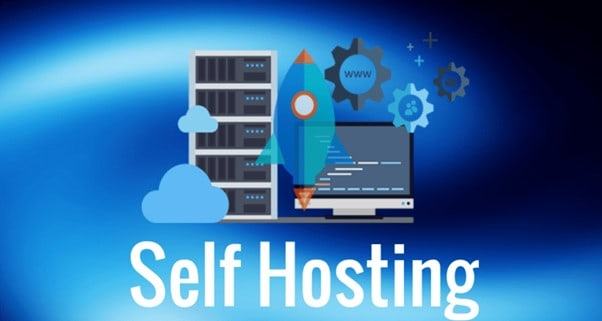 Self-hosting is using the service of a service provider to obtain the server space and domain name to run your website. You can control the website 100% as you own your physical server. When you go for self-hosting, the setting up and security of the site are your responsibility.
With self-hosting, you can have any design you want, appealing to creative people because the website becomes a blank canvas. You can build your site to suit your marketing goals. With the help of open-source plugins and software, you can make it do what you want.
Some of the benefits of a self-hosted website include the following:
It gives you a full range of flexibility
You can customize it to your taste
Limitless options for design features
The custom domain name
The satisfaction that comes from building your website
The opportunity to learn web development
It is cheaper because you are not paying anyone to make your site
The pricing range of self-hosted websites is vast, as you can choose from business plans to personal plans and anything in between. It varies depending on the service provider. Furthermore, you can rank better as you have ultimate control over search engine optimization tools.
Self-hosting makes your website more customized, personalized, and secure. And if your host company goes bankrupt, you can still maintain your data. Once you get the hang of it, you will find that developing and managing a website is easy. After all, with the availability of WordPress blog templates free, self-hosting is not such a challenging task.
Web hosting service provider
At this point, it is worthwhile to note a few pointers about web hosting. To integrate a WordPress blog into the website, you need to buy a hosting service to get it running. Hosting service is also called website hosting or web hosting. It maintains, serves, and houses files for your website. You can choose a hosting plan that meets your professional requirements.
A web host is the landlord of your blog to whom you pay a fixed monthly or annual rent. This monthly or yearly fee keeps your blog alive on the net. You are getting some space on its server in exchange for the fees paid to the web host. The server is a massive computer set connecting your website to the internet.
You will find many reputed web hosting providers with various features and services in the market. You need to make sure that you are using a service provider with a user-friendly interface, especially if you are new to this field. That should be your most important criterion.
Check out their customer service and thoroughly analyze the mode of communication. Ideally, you would want to go for a service provider with 24/7 chat-based customer support so you can contact them any time of the day or night. You never know when your site will crash.
Choose your domain name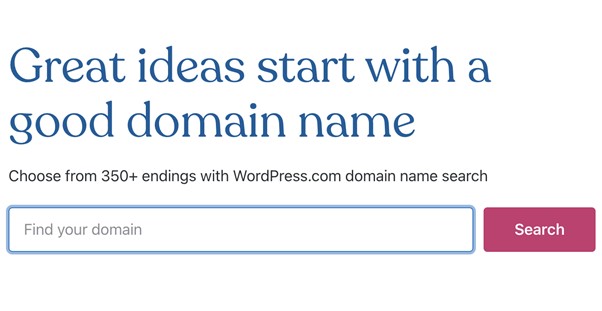 Once you purchase your hosting web service, it is time to choose a domain name for your website. A domain is internet-specific and refers to how a company's network resources are organized and how the internet is structured. In general, it is a logical set of computers.
The domain name is the part of the internet's infrastructure that provides an address to a web server on the net. Any name in an email address that comes after the @ sign is called the domain name. The domain name is the website address used to type in the browser's search bar.
To book a domain name that you find good, you need to go to the homepage of your web hosting service provider's website. Log in using your credentials, i.e., your username, password, etc. Then you search for the domain name to see if it is available. If it is not, search for similar-sounding domain names. If appropriate, include some keywords in the domain name which can benefit your SEO ranking.
If you have found a domain name and are satisfied with it, you can register it, after which you own the name and can use it for your website. Make sure the name is not too long because sharing a long link is cumbersome. Try and get a .com URL as opposed to .net or anything else. And finally, make your domain name unique.
Recommendations for a smooth blogging
Use a team of writers
Have an effective editorial calendar
Consistently produce quality content blogs
Promote your blogs by sharing
SEO your blogs
Try to build backlinks by focusing on insightful materials and elaborating a thought-through content strategy
Conclusion
Integrating a WordPress blog into a website may look daunting and overwhelming. However, it can be gratifying. WordPress has proven its fame as a comfortable blogging platform. Since any search engine values high-quality materials on topics that concern users, Start looking for the right service provider and domain name. And it gets easier and better as you go along. Starting a business with minimum resources is possible. A lot of information is free. Don't ignore WordPress tutorials and additional perks, such as a premium theme or SEO plugin.
For example, look into the guidelines on the WordPress website and keep in mind the recommendations listed above. With a blog that provides fresh content, your company can become a thought leader in the industry, not to mention the increase in website traffic that can lead to sales for your business.
Author:
Deborah Wilson is a freelance copywriter, a technology aficionado, and a digital nomad. She loves connecting businesses to audiences by explaining complicated topics in plain language.