When it comes to websites the primary way people travel through them is via links. And just like other modes of travel (like highways or rail), appropriate signage can help visitors navigate more easily.
Having a quick and easy way to see if the link is unique and leads outside of your website can be quite necessary depending on your website type. This is especially applied if you have affiliate links on your website.
Even if you don't have any affiliate links it would be prudent to notify your user if they're leaving to a third-party website.
The best way to notify your visitors that some of your links are special is through unique external link icons. So in this article, we'll go over the process of how to place eternal link icons in WordPress.
Find and download an external links plugin
As with most plugin tutorials the first step is to find an appropriate plugin for your task. When it comes to website connectivity and links in general there's no better plugin than WP Links. It handles all of your external and internal links with ease, and it comes packed with extra features. These features will help you customize your links for a unique website linking experience. The installation process is simple, as is with most WordPress plugins. All you have to do is go to your 'Plugins' tab and click on the 'Add New' and find WP Links. After you've installed the plugin it should appear on your plugin menu for your WordPress site as shown in the example.

From then on you'll be able to fully customize your external and internal links on your website.
Apply the settings for the external links
Before you start setting up your unique link settings it's important to apply them to your external links. WP Links has simplified the process by making the 'Apply these settings button'. By having this button as a checkmark this plugin guarantees that you won't accidentally create your perfect rulesets and then forget to apply them. In the pictures, you can notice how this button acts as both an applier and a gateway to the plugin.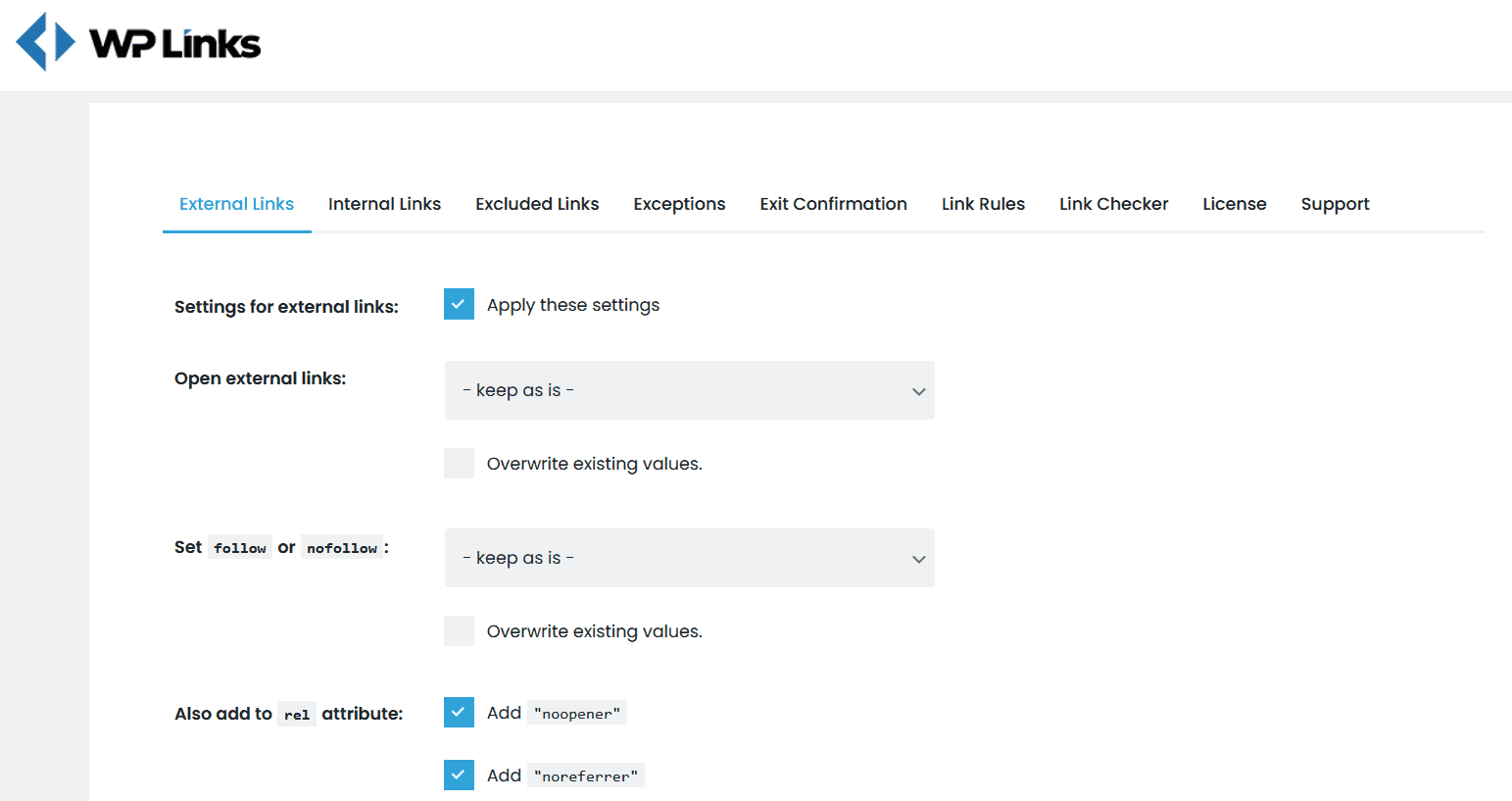 Choose your icon type
After you've applied the settings you desire you should go to the bottom of the page and choose what type of icon you want for your external links. Your choices are between Images, Dashicons, and Font Awesome. These are terrific image resources that can help you accentuate your links. It's important to note that if you want to use colored icons you need to make sure they fit your website's theme. For example, if you just opened a diving club and your website is filled with blue backgrounds, accent colors, etc. having blue link icons might be confusing or outright invisible.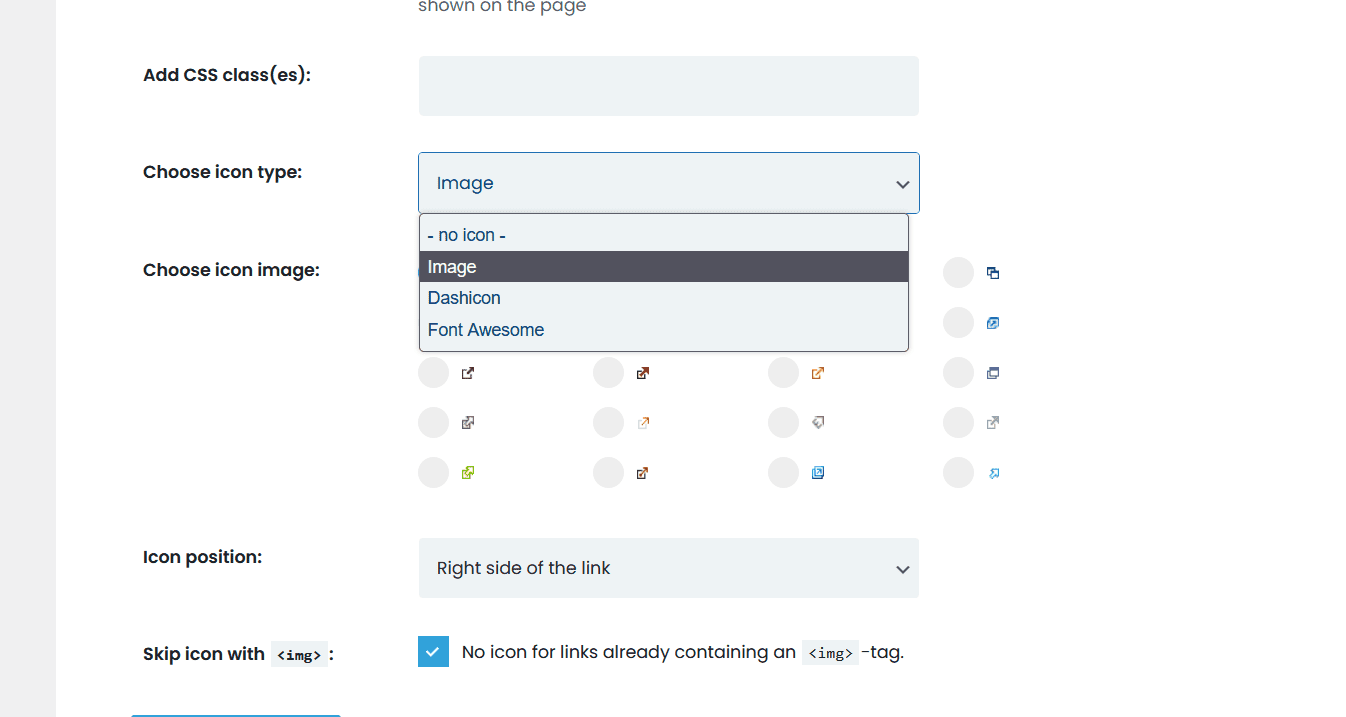 In this menu, you can also choose the position of your icon, but that's a personal preference rather than a problem of functionality. If you're looking for more detailed icons, Dashicon or Font Awesome options might suit you more. With a wide variety of icons, these options can provide context for your visitors before they even click on the links.
Should your visitors follow the links?
Another feature of WP Links worth mentioning is the 'follow' or 'nofollow' rule. This setting dictates if users follow the link they opened or not. This can be quite important depending on the type of website you have. After all, if you're running a blog users might get annoyed if they get switched away from the posts they were reading. Oftentimes users open multiple links of interest while reading their primary source.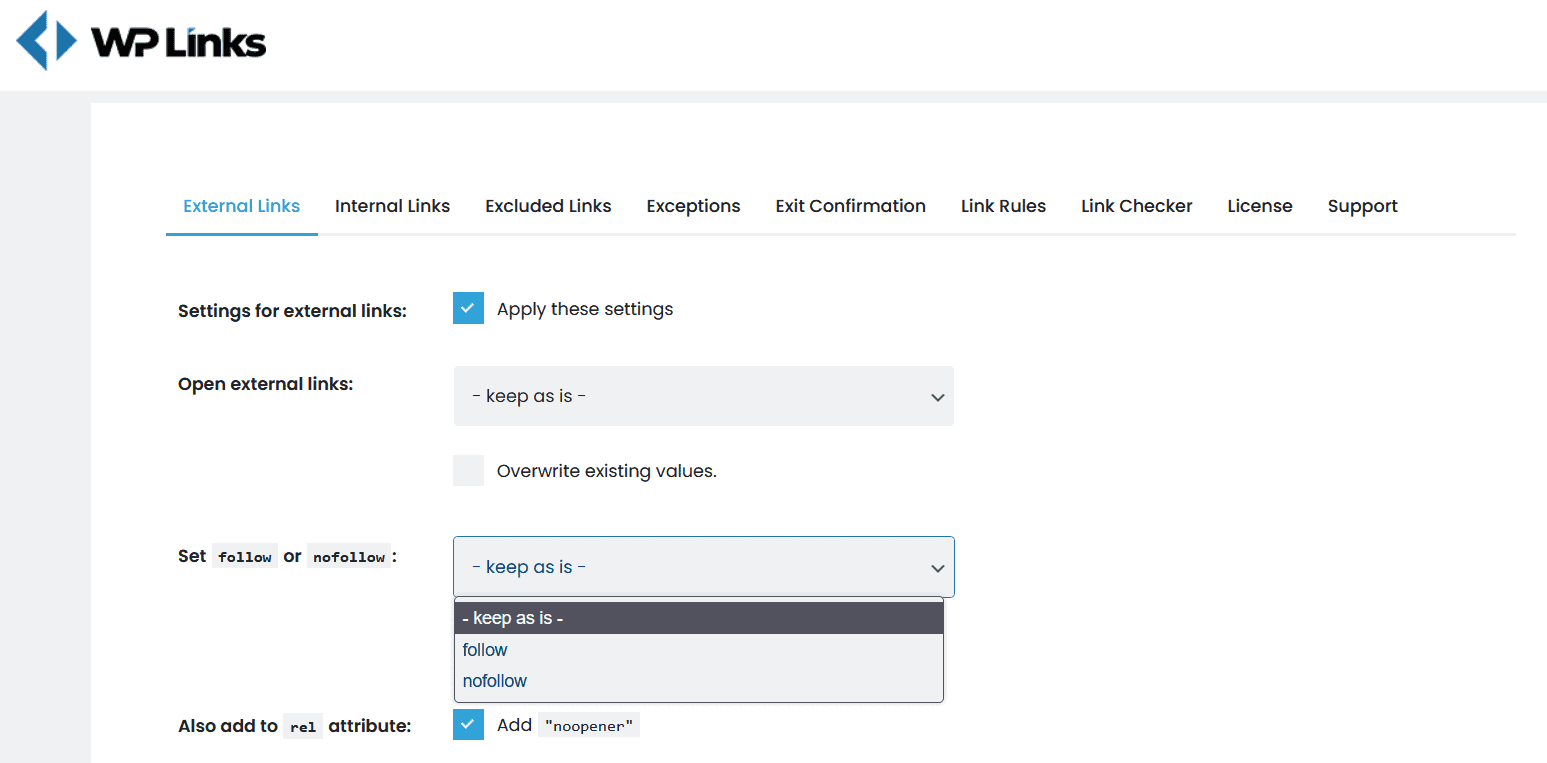 Thus getting distracted by following the popup could be found annoying. That being said the only strict rule you should follow when it comes to these settings is 'listen to your audience'. It all depends on how your audience and visitors perceive your website. And from there you can adjust your settings accordingly.
Set up unique rules on how to open external links
Complementary to the follow rule is the open links rule. It dictates how external links behave when users click on them. The links can open in a new tab, simply follow from the same tab, or even open in a new window. By using this setting in tandem with icons you could automatically indicate to your viewers how a link will behave. For example, a red icon could indicate an external link that opens in a new tab and leads to a third-party website.
Exit confirmations
It's important to note that WP Links also offers an Exit Confirmation feature. This provides you an extra layer of legal security, as it informs visitors that they're leaving your website. If you're dealing with a lot of third-party links this feature is a must. And it can also be notified through unique icons.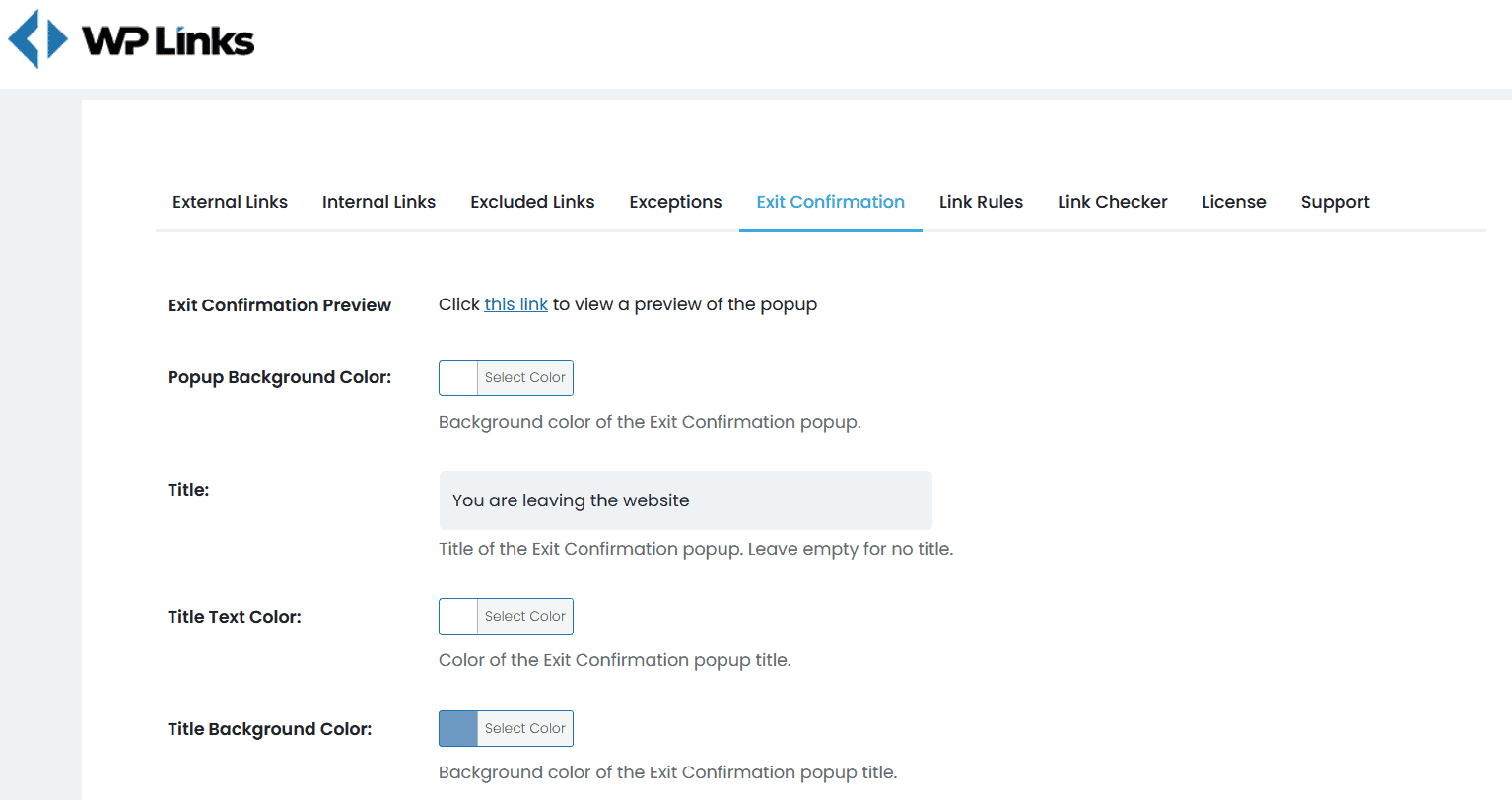 Link Rules
And if you need to additional adjustments for some truly unique links WP Links offers the Link Rules tab. There you can create rule exceptions for any link on your website. All you have to do is enter a keyword that's in the link and set up the updated link rules. This means that you can set up global rules that work on your every link while creating special rules and icons for sponsored links or guest posts.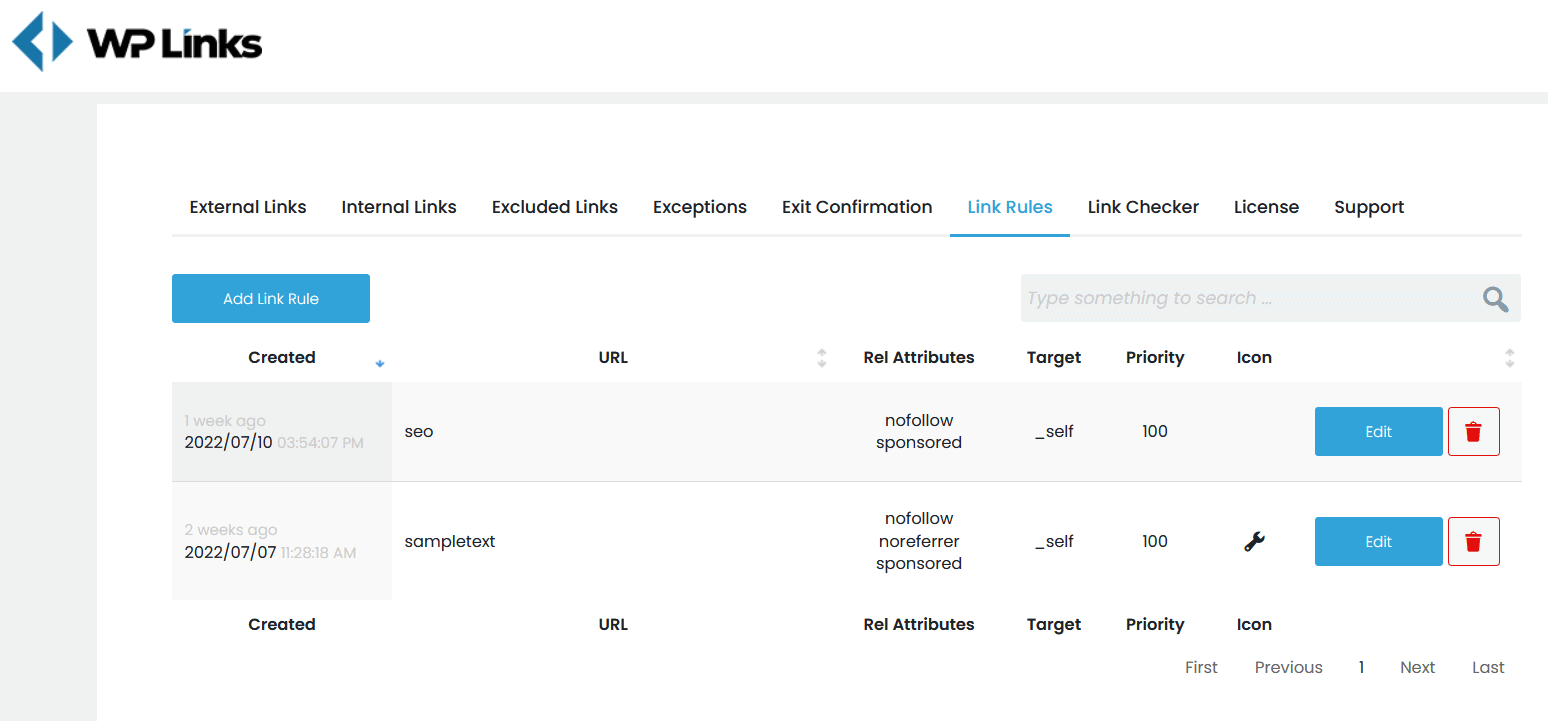 In conclusion, external link icons can be especially useful if you're dealing with a multitude of various external links. They can indicate to your viewers what type of link it is and what rules it follows. Having an indicator that the user would leave your website could be hand as some visitors prefer to finish reading the post, blog, or article before they go on to click off of the website. Creating unique rulesets and icons for external links is a must on WordPress websites. Therefore it's imperative you use the best plugin available for such a task. And the plugin that takes the top spot for it is WP Links.