No matter the niche you work in, data visualization is important. It is proven that people tend to remember information presented nicely and effectively. No one wants to read long forms of text anymore. That is why you will need tools to create beautiful charts, diagrams, and flow chart.
Here are some of the best online chart tools to help you stand out at your next meeting.
If you have a WordPress website and you're looking to integrate it with Google Sheets, wpDataTables is your perfect match! This plugin empowers you to effortlessly manage data and create fully customizable tables and charts.
Who says that working with tables has to be boring? Tables, charts, and data management have never been easier than with the wpDataTables plugin and its Google Sheets integration. Setting up integration is a breeze, even for users with limited technical skills. You also get an intuitive setup wizard that guides you through the entire process step by step.
What sets this Google Sheets Integration WordPress plugin apart from the rest is its extensive library of resources aimed to help you manage everything easily.
Once you integrate wpDataTables with Google Sheets, the real-time data synchronization is impressive. Any changes you make in Google Sheets are instantly available on your WordPress website. You also have full control over your data, making sure that only authorized users can see it and make changes. You can even skip certain columns or add new ones and edit the data at any point.
The true power of wpDataTables lies in the combination of basic and advanced features it offers, and how easy it is to take advantage of both. You can create charts using Creation Wizard and also group similar rows.
With an impressive number of add-ons and a fantastic feature-to-cost ratio, it's no wonder that wpDataTables is one of the favorite Google Sheets Integration WordPress plugins.
Key Features:
Conditional formatting
Customizable tables
Advanced filtering
Making dynamic SQL Queries with placeholders
Row Grouping
Pre-filtering tables through URL
Calculating totals for columns
Scrollable
Editor input types
Allowing users to see and edit only their own data
Price:
Annual subscription: Starting from $55 for one domain.
Lifetime: Starting from $210 for one domain.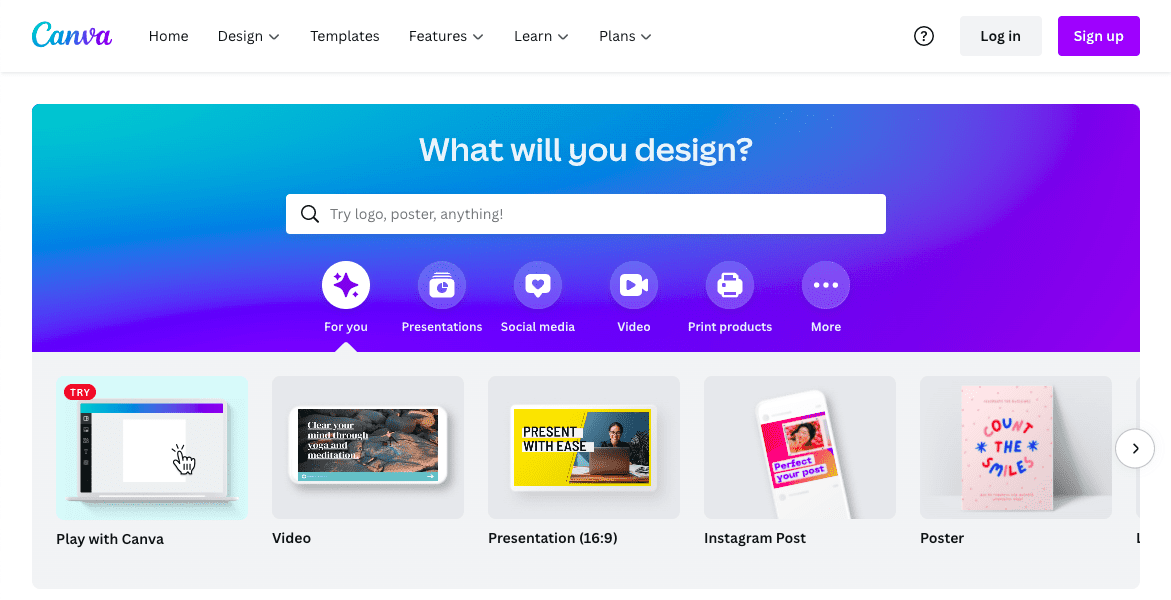 Most of you know Canva as a platform to create beautiful designs for social media posts. But you can also make nice charts and diagrams. The best thing is that the platform has many pleasant templates that you can use for free.
If you want to create visually-appealing charts, you should definitely choose Canva. Design options that you get are among the best, and it is easy to create an eye-catching chart. But keep in mind that the Canva is primarily a design tool. So if you are looking for something efficient and interactive, you should better avoid it.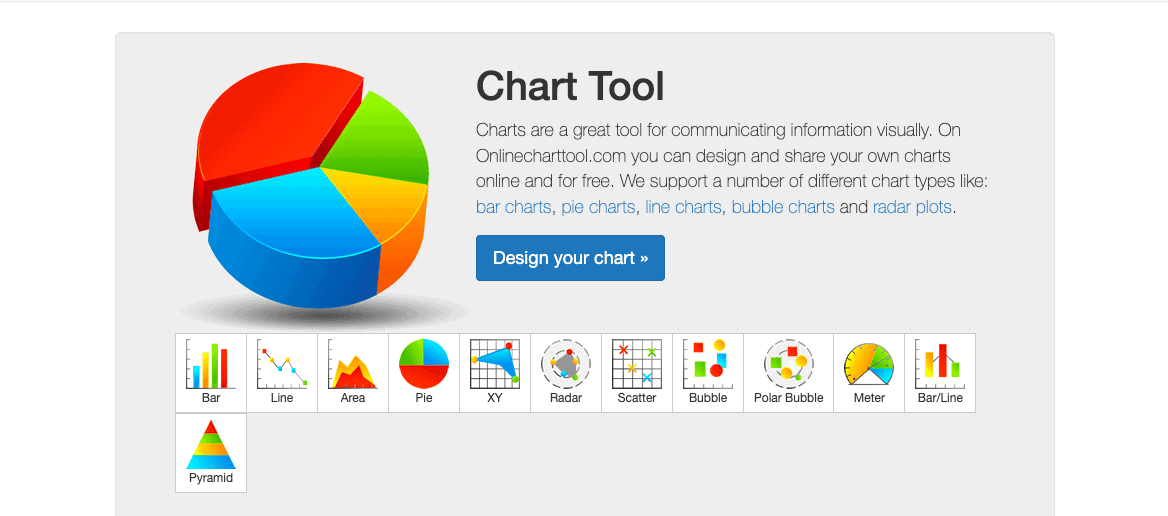 Online Charts is a very easy-to-use online chart tool.
If you are looking for a chart tool that is easy to use and very simple, then Online Charts is for you. Charts that you can create are simple in terms of design. You can create various types of graphs – bar, line, area, pie, XY, radar, scatter, bubble, meter, polar bubble, pyramid, or bar/line.
You can also choose your colors and design, direction, and shape. After that, you should enter your data, choose labels and fonts and preview the chart. Because the platform is simple, you do not have any additional options (such as team features, links, etc.). But if you need to create a simple chart, and if you do not use chart tools every day, Online Charts should do a job.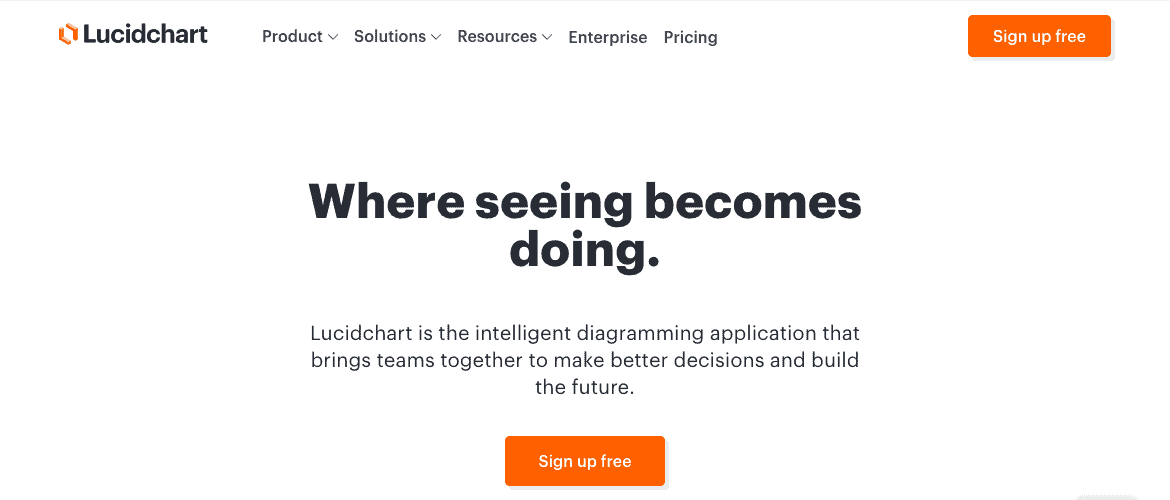 Lucidchart is one of the best online chart tools.
With this platform, you can create charts, diagrams and create other types of data visualization. Lucidchart helps you to design clear diagrams that are interactive. You can use their feature to include links and explain a topic better. Lucidchart has a team feature that can help you and your team members track progress and stay aligned with each other.
You get three editable documents, 100 templates, basic integrations, and collaborations with a free plan. All of this is enough if you do not use chart tools every day. If you are looking for more features, you can choose an Individual plan ($7,95 per month), Team plan (starting at $9 per month per user with a minimum of three users), or Enterprise plan.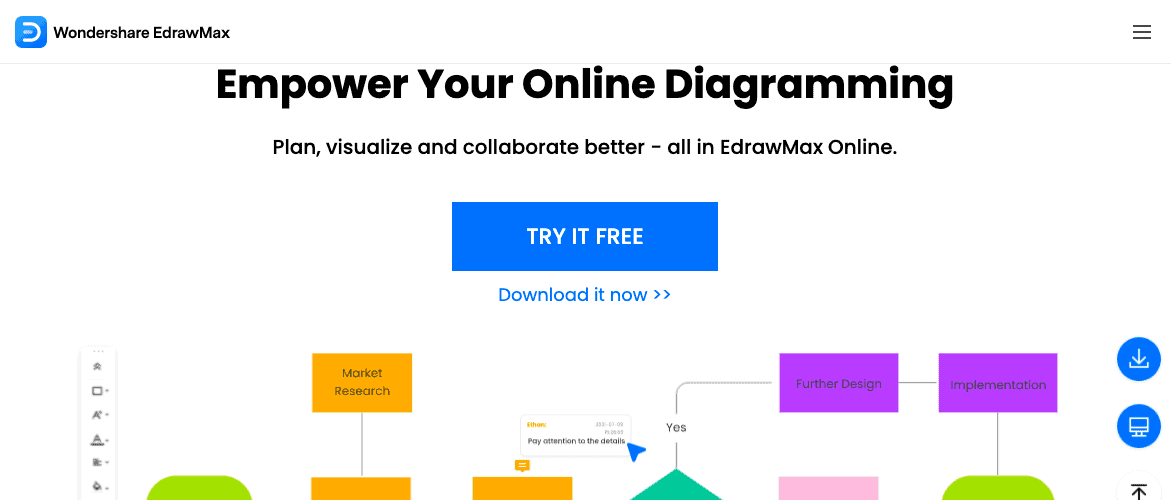 Edraw is the best online chart tool for teams.
Edraw has everything you and your team need to create effective charts. You can create a workspace, and your team members and you can create charts together. You have various chart types at your disposal – Gantt chart, Diagrams, Infographics, Interactive charts. Users can choose from more than 1500 templates and 26,000 symbols.
Their social media share feature lets you easily export and share your diagrams with your audience.
Pricing: Edraw Max Online is moving to a subscription-based model. Currently, you have three main plans at your disposal: Individual, Team & Business, and Education. Each plan then has a sub-plan, and the prices go from $99 per year to $245 per year.
Make sure you check their website to learn more about each plan.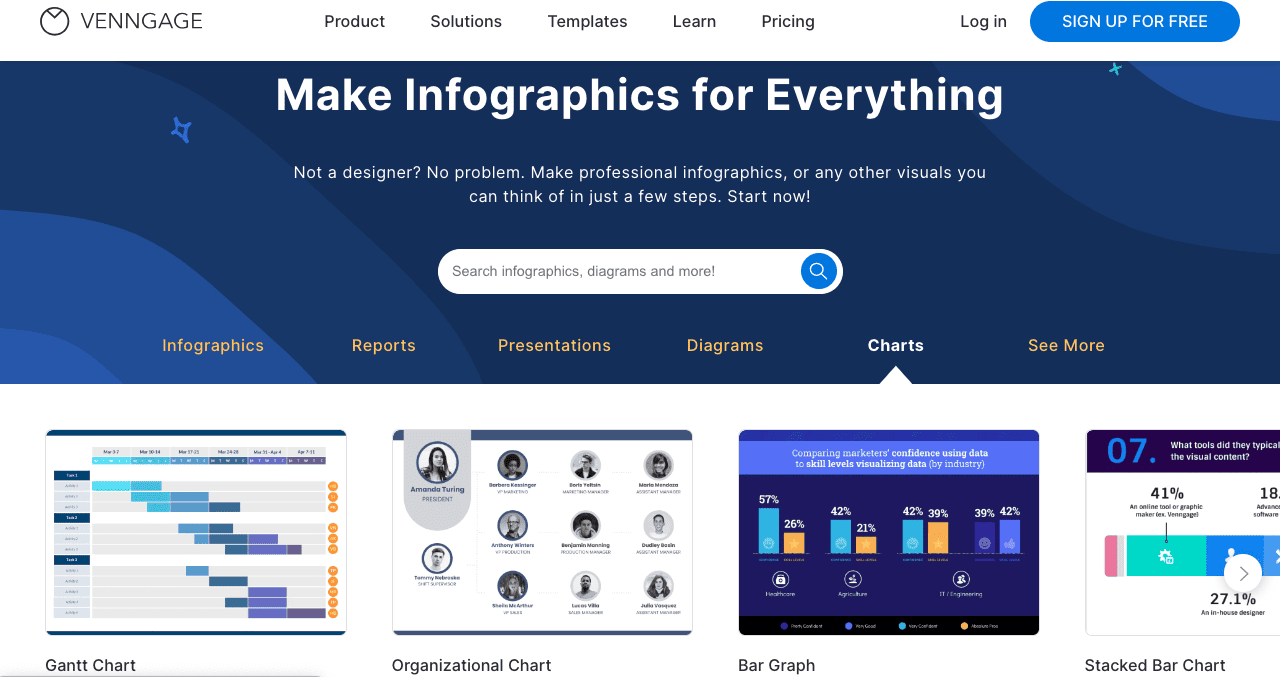 Venngage is a user-friendly platform for creating charts and a wide variety of visuals. Whether you're looking to illustrate data trends, share insights, or enhance your presentations, Venngage provides a range of tools and templates to simplify the process. From charts and graphs to infographics, Venngage helps you transform raw data into visually engaging content, making it a valuable resource for professionals, educators, and communicators alike.
With an intuitive drag-and-drop interface, a rich library of customizable templates, and a wide range of design elements, Venngage makes it easy to convey your message effectively.
Venngage offers both free and paid plans. Premium plans provide additional features such as access to a broader range of templates, collaboration features, team management tools, and priority support. Individual plan starts from $10 per month and business plan starts from $24.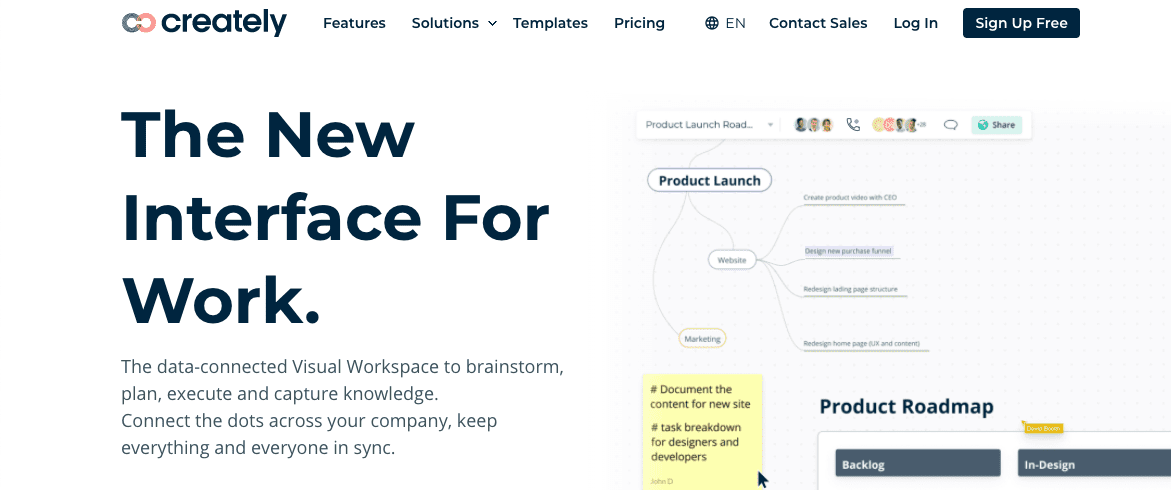 Creately is a chart tool used by many companies.
This chart, diagram tool, and digital workspace allow you and your team members to plan and create charts together. It comes with 1000 various templates and an infinite number of canvases. But the best thing is that you can meet online with your team and work on your project with them.
You can integrate Creately with any platform, and it will adapt to your workflow quickly. When it comes to Creately's diagram tools, you can make a simple sketch or create very complex diagrams. Their design solutions are sorted based on the industry.
Pricing: Creately has a free plan that comes with a limited number of tools that you can use. The cheapest plan is Personal (as low as $4 per month). You also can choose a Team plan ($4,75 per month per user) or an Enterprise plan (custom pricing).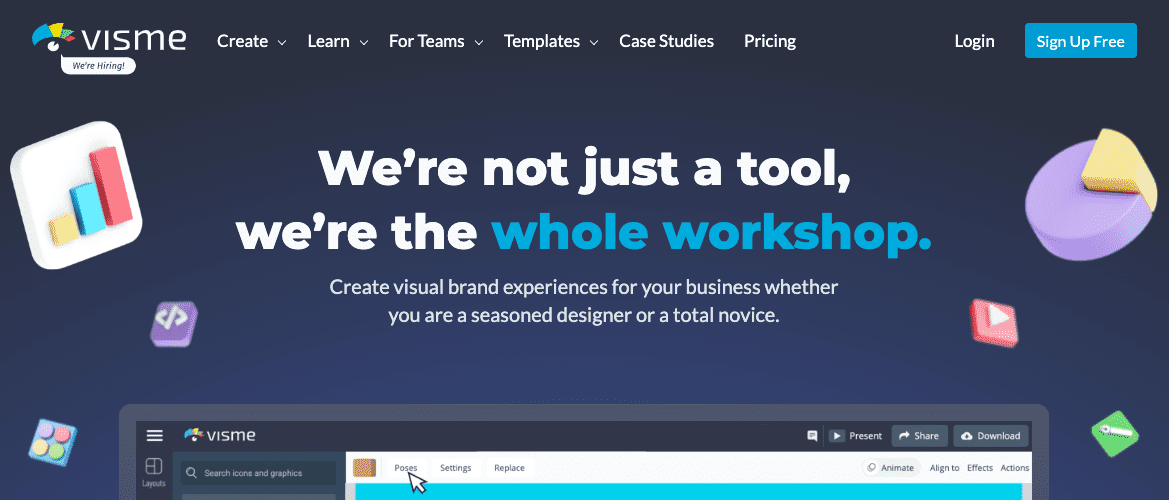 Visme is an online tool for infographics and presentations.
Even though it is an online chart tool, Visme is mainly used to create infographics and presentations. It helps you create engaging charts and infographics that will engage your audience. You can choose from various infographics and chart templates, and Visme allows you to edit the content that is already on the template.
The platform has additional features which can help you create social media posts, short videos and animations, and other branded documents.
Pricing: Their basic plan is free, and you can use it as long as you want to. The personal plan is $12.25 per month, the Business plan is $24.75 per month, while the Enterprise plan has custom pricing.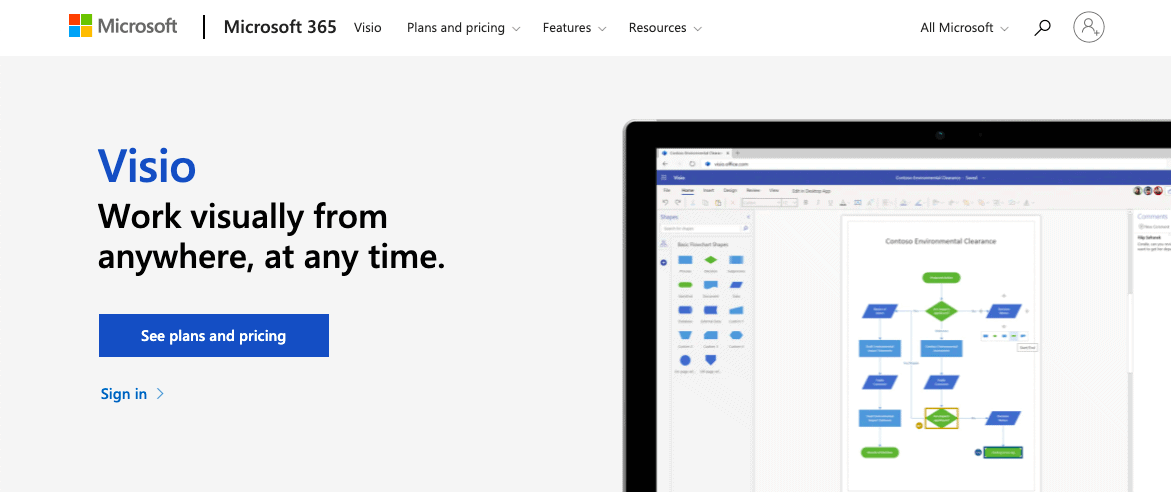 Microsoft Visio is easy to use online chart tool.
Microsoft Visio has a user-friendly interface, and you can easily create charts, diagrams, flowcharts, floor plans, and much more. The platform also has a collaboration feature that lets you invite your team members to work on the graph with you in real-time.
You can work on the app or online, but it is not important because you will have the same experience. You can choose from various pre-built templates for charts, flowcharts, diagrams, etc. Their Narrator, Accessibility Checker, and high-contrast support make Visio available to everyone.
Pricing: Visio comes with two plans, Plan 1 and Plan 2. Plan 1 will cost you $5 per month, while Plan 2 costs $15 per month.
Conclusion
There are many available online chart tools on the internet, and it is hard to pick the best one for you and your team. They all come with various features and possibilities. Take a look at them all and choose the one that will best meet your needs.
Offering an upfront exploration of its dynamic capabilities, the Grafana demo stands out as a notable example. It vividly showcases the strength of online chart tools by smoothly converting unprocessed data into valuable understandings, allowing users to easily construct perceptive charts and enhance the practice of data visualization.