When managing a site, you'll come across a situation where you'll need to use a page as a placeholder for the real thing. The two instances where this is more than evident are when the site is still being built – the popular "coming soon" or "under construction" page and when the site is down for maintenance. These times are delicate because you're in danger of not gaining traction or losing the traffic you've already accumulated since no content can be accessed.
More specifically, plugins are designed especially for creating fresh and engaging pages that can be used to generate hype or lessen the frustration of not being able to access any content.
We've decided to highlight three of these plugins that will easily cover all your needs for a placeholder page.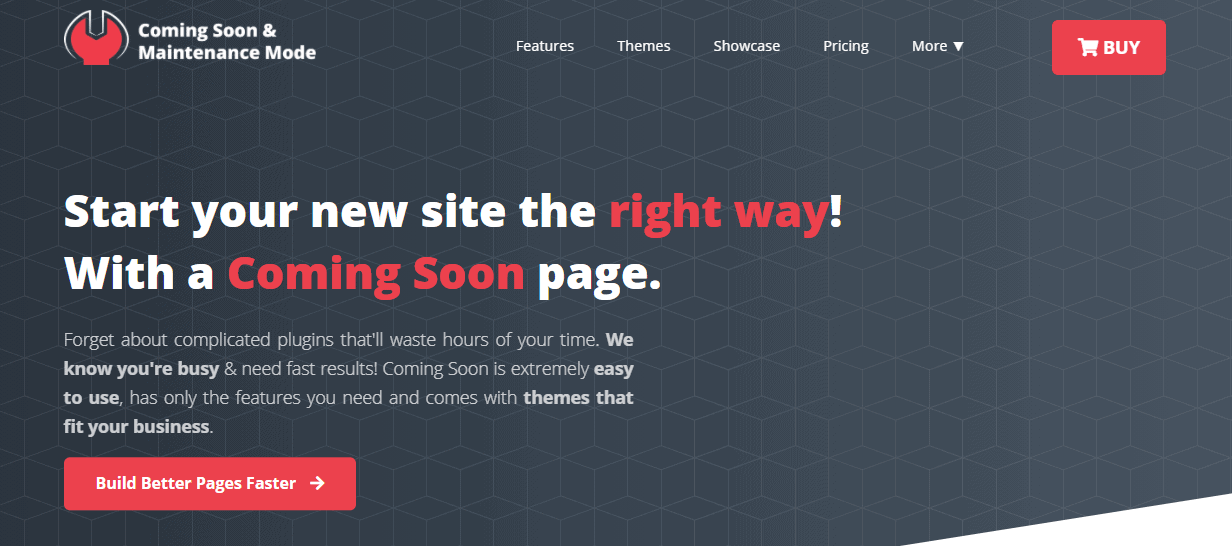 This plugin can be characterized as a jack of all trades – you'll be able to find a little bit of everything here. There are a couple of things that stand out, though, like the image repository and themes, along with rebranding options and SEO functions.
The images run with an integration to the Unsplash database, and the only word to describe them is striking. All are professionally made, high-res, and cover a wide variety of niches – it would be hard not to cover so much with their number being over two million and counting. You would think it's difficult to find what you're looking for with so many options to choose from, but it's surprisingly easy. The search options recognize everything and will rarely bring up something you weren't looking for – just look at our search for "night sky" – there's only one image that can be considered out of place, and even that's borderline.

For those looking for more accessible solutions, i.e., something that's "plug & play", we have the premade themes. Within the plugin, you'll find access to 200 to choose from, all neatly grouped according to several defining factors. They're all so expertly made that you could use them by just inserting your text into the template and publishing them as-is; however, each is fully customizable and lets you make something truly unique. These changes are done in real-time through a robust editor that lets you play with all the elements that will ultimately be present on the page, like layouts, letter fonts and sizes, color schemes, etc. It's all very similar to visual editors that are so popular nowadays, so there really shouldn't be any problems when using it even for those with limited experience.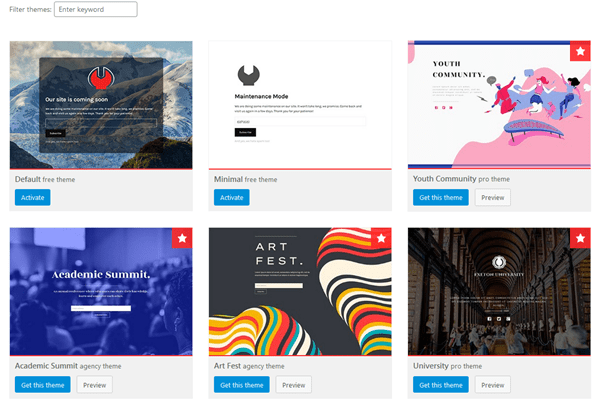 As we've mentioned, the themes are sorted into groups, so it's quite easy to find exactly what you're looking for, even though the database is quite extensive. Even the way they're sorted is intuitive. We could say they're divided by function, but since they all share the same function – a placeholder for the real deal, that seems to be an understatement. Instead, let's say all the themes are divided by, well…themes. It might sound unusual, but there are various design choices that go into every theme, and each is made with the overall site in mind.
For example, a theme for a youth group page is colorful and vibrant, whereas a theme for a high-end watch webshop is slick and dark, with straight lines. There are as many possibilities as there are choices, and as each is designed with a purpose in mind, each brings something new to the table. Sometimes it's abstract images, sometimes it's nature panoramas, and sometimes it's comical sketches – basically, anything goes.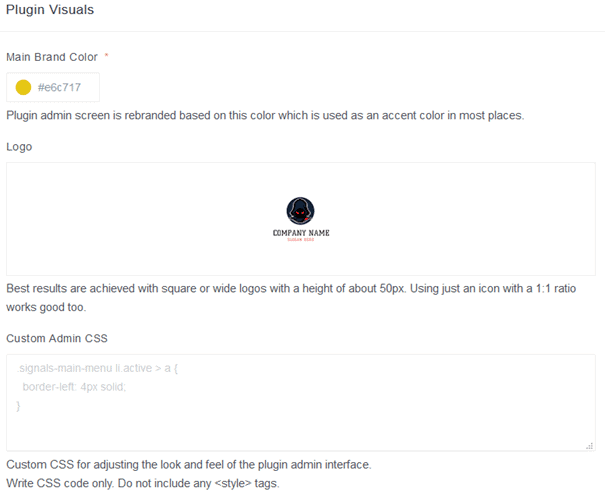 In the words of many TV sellers – but that's not all folks! You can expand all those images and themes by white labeling everything. The term "white label" refers to replacing any insignia of the plugin and/or its creators with ones you choose yourself. You'll still be aware of everything from the backend, but as far as your frontend users are concerned, the only thing on your page(s) will be your brand.
This function adds a whole new dimension to combining your brand with your theme and including your logo in things such as shapes, color schemes, images, etc. All changes are done through an independent dashboard you'll use to manage all the sites where the plugin is active (in one place). Other functions include managing licenses, activating or deactivating the coming soon and/or maintenance page for each site, etc. Having everything in one place without having to skip from site to site will make your life endlessly easier.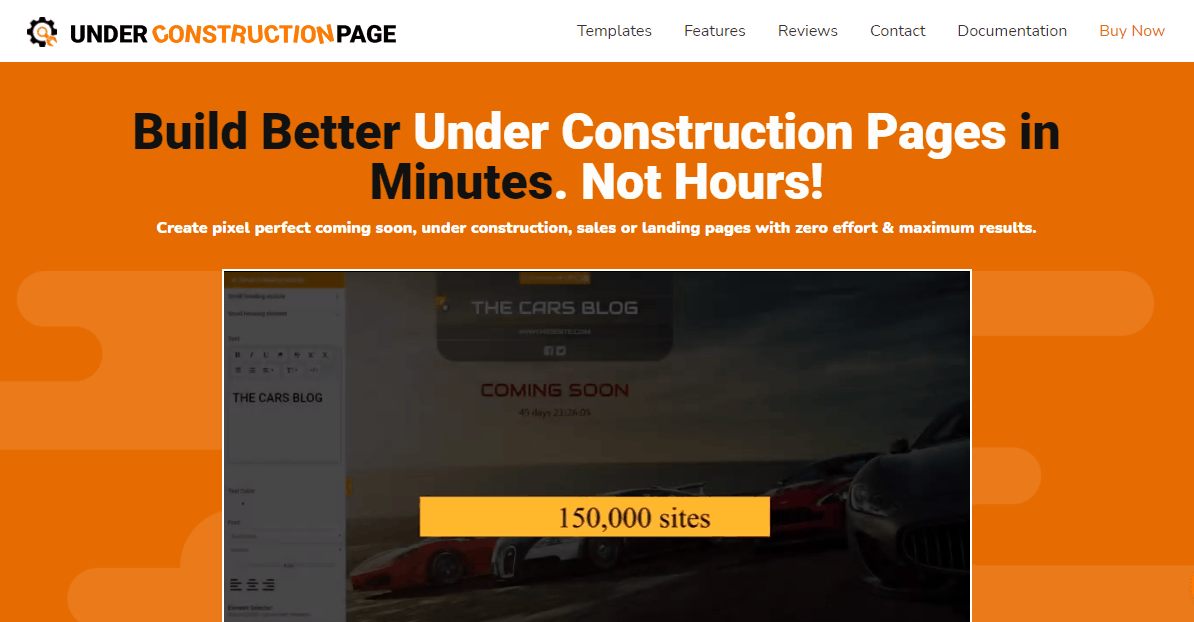 The UnderConstructionPage plugin is one of the best tools you could use to create a "coming soon" or maintenance page for your site. By creating the "coming soon" page as your placeholder, you're generating buzz for your content even before it's published, and having something to redirect your visitors to when the site's down is crucial to keep your traffic from dipping. This plugin will have you covered on both ends.
At the same time, the most important and the most interesting thing about UnderConstructionPage is the robust editor you'll have at your disposal to create the perfect page. It's built on a drag-and-drop system, with the changes taking effect in real-time as you're adding, removing, or modifying elements on a page.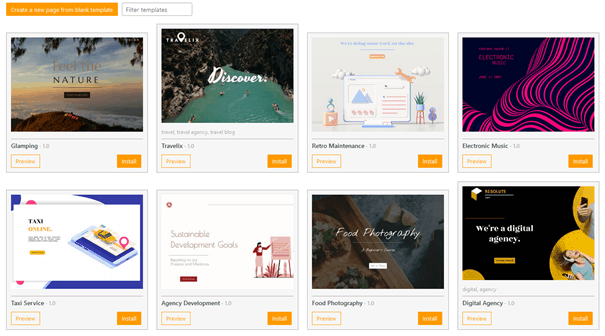 Before unleashing your inner designer, it's a good idea to check out one of the many prebuilt themes that come with the plugin and act as templates you can lightly modify to relay your message or completely customize to get something new altogether. The featured themes are all professionally done, with every element on them there for a purpose. For easier navigation, the themes are divided into groups ranging from sport and fashion to animation and many more. The themes look so good you could use most of them as they are and not miss a beat, especially if there is one that closely correlates with the content you're working with. Alternatively, there's always the option to build your page from scratch if you prefer.
Once you've picked a theme to use as a template, or once you've started creating your own, you'll quickly get a sense of how much the editor can offer. It all starts relatively banal, addressing things like the template name, page title and description, background, etc. Apart from the background selection, which is obviously seen from the frontend, everything else is in place to make your life easier on the backend (with sorting, (de)activating, etc.) for you or your admin/moderator.
After you're done with the basic stuff, you get to truly edit the content on the page. Everything is done through blocks, making it compatible with the default WordPress editor (Gutenberg), which uses the same editing method. This uniformity ensures that once you get the hang of working with WordPress in general, you'll be used to working with the same tools within the plugin.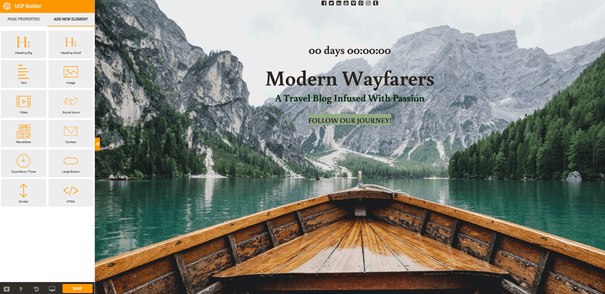 There's a host of blocks to go through when building your perfect page, consisting of headings, text, images, videos, social media icons, etc., with each having more or less complex editing options that can take them far from their original form and subsequently make them a better fit for your page overall.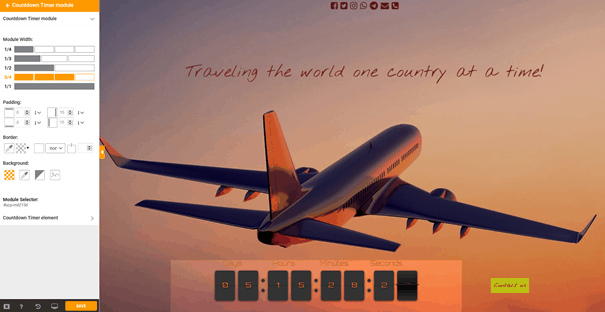 Once you're through with editing and the page is ready, it's added to the themes repository, where you can activate it at any time. You'll be able to create as many pages as you want, with all of them being quickly accessible in the same place. All of them can be previewed on the spot or further edited if you need to make additional changes.

The last thing you'll be doing is activating the page, which can be done through the settings tab, or the button added on top of your dashboard in the menu bar. Furthermore, if you have other people working on the site with you, you'll need to whitelist their accounts to enable them access beyond the placeholder page.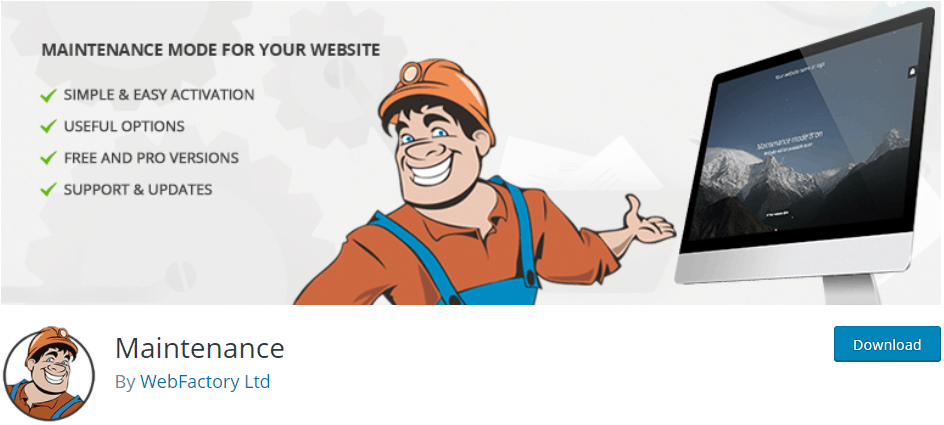 Unlike the two previously mentioned plugins for which it's easily seen on every corner why they're premium solutions, with the Maintenance plugin, there's a different premise altogether. It can be considered a budget solution since it's free to use. However, as you would expect, the tools you'll have at your disposal aren't as robust as with other paid plugins. That being said, it's still a very good choice for starting out or for smaller sites that operate on a limited budget.
The core of what you have to work with is encompassed within the "design" section. Here you'll be able to make all the necessary actions that will ultimately result in a maintenance page, so let's break it down.
Firstly, we have the general tab that's focused on text attributes. You'll get to modify all the crucial stuff like text size, color, and font. Depending on the image you're using for a background, these options will be important because, while you always want your page to look good, it has to serve its function – to inform your visitor on what's going on. Therefore, putting default black text on top of a dark background is counterproductive.
Outside of the regular text you'll get to edit; there are also added options for any links you'll feature on the page, consisting of color and hover color options. Again, they might be considered basic options, but that doesn't make them any less important.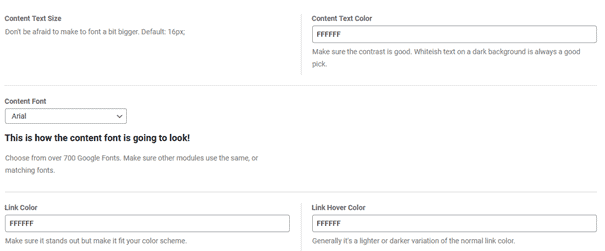 Moving on to something more interesting – the layout. This will be, for all intents and purposes, your editor. The window is divided into two sections – on the left, you'll have blocks you get to add to the page. Once you drop the block on the page, an editor will appear in a pop-up window allowing you to edit the block. For a content block, you'll get to add text; for a countdown timer, it's the end time, and so on for every block. Put all of this together, and it adds up to a very fast and simple way of creating a page accessible to all users regardless of prior knowledge and experience. Keep in mind that the changes aren't done in real-time, so you'll need to preview the page each time you modify something.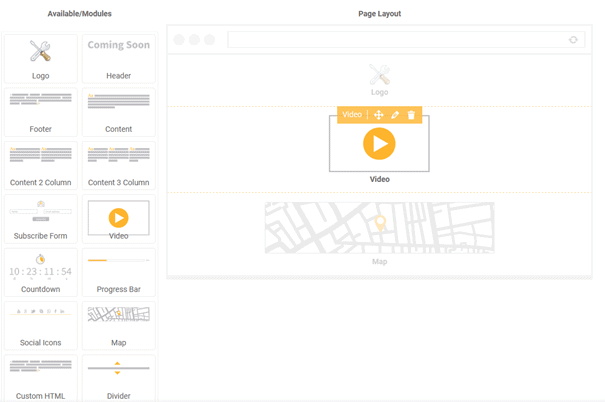 Finally, we get to the background, which is deemed so important it gets its own section. While we do agree about the impact a right image or video can have, there isn't very much you can do with the material itself. Choosing whether your background will be an image or video is the first and most certainly biggest choice needed to be made. If you go with the video, that's it; no more action is required, or in fact, possible. On the other hand, going with an image lets you modify the size, position filter, and background color (visible before the image is loaded).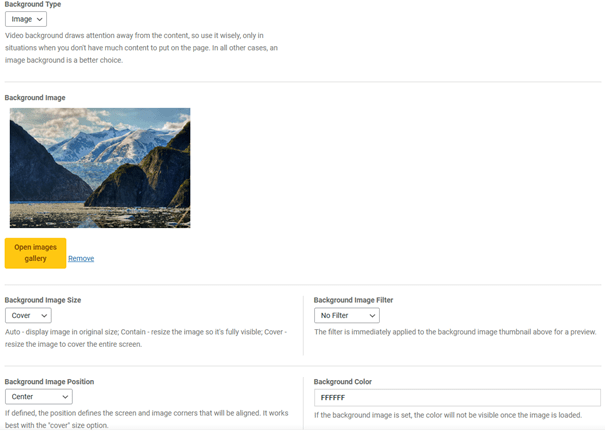 As you can see, there's ample to work with, even if it's not on the same level as some premium options. For all of those that need a quick solution to a problem they don't expect will become a mainstay in the future, they can grab the Maintenance plugin, quickly patch everything up, forget about it, and then do the same thing again when the need arises, all without having to spend a cent.
The final thing worth noting is enabling certain members to access the site regardless of the state it's in. They'll be able to circumvent the page everybody else is seeing and access the raw content to do any work that needs to be done.
Final Thoughts
We've established that it's paramount for a site to have the option of falling back on a placeholder in case of an emergency. The use of plugins is perfect because it makes the whole process much less painful – you get to make professional-grade pages with even just a basic understanding of the ins and outs of working in WordPress.
The three plugin solutions we've highlighted present the cream of the crop, with each of them having something extra that stands out.
Whether it's the price tag, editing options, or a large image and theme collection, there's something for every site to grasp. As you grow comfortable with each of the plugins, you'll ultimately find out that even the main features we've mentioned get expanded upon thoroughly, meaning you get even more out of the plugin than you've bargained for.