If you're working from home and not using cloud storage, you should seriously consider it. It makes everyone's job so much easier as you no longer need to be at your workplace to access necessary files. It also makes sharing files and collaborating on projects simpler than ever.
There are plenty of services offering cloud storage, and they all focus on slightly different things. Some of them you can get for free, but in that case, the storage is usually minimal, and there are not a lot of features to work with.
Considering there are so many services to chose from, we compiled a list of the best ones. Some of them focus on security, some on making teamwork easier, and some are simply affordable. So, keep on reading and find the one that's best for you.
Best Cloud Storage Services
1. Google Drive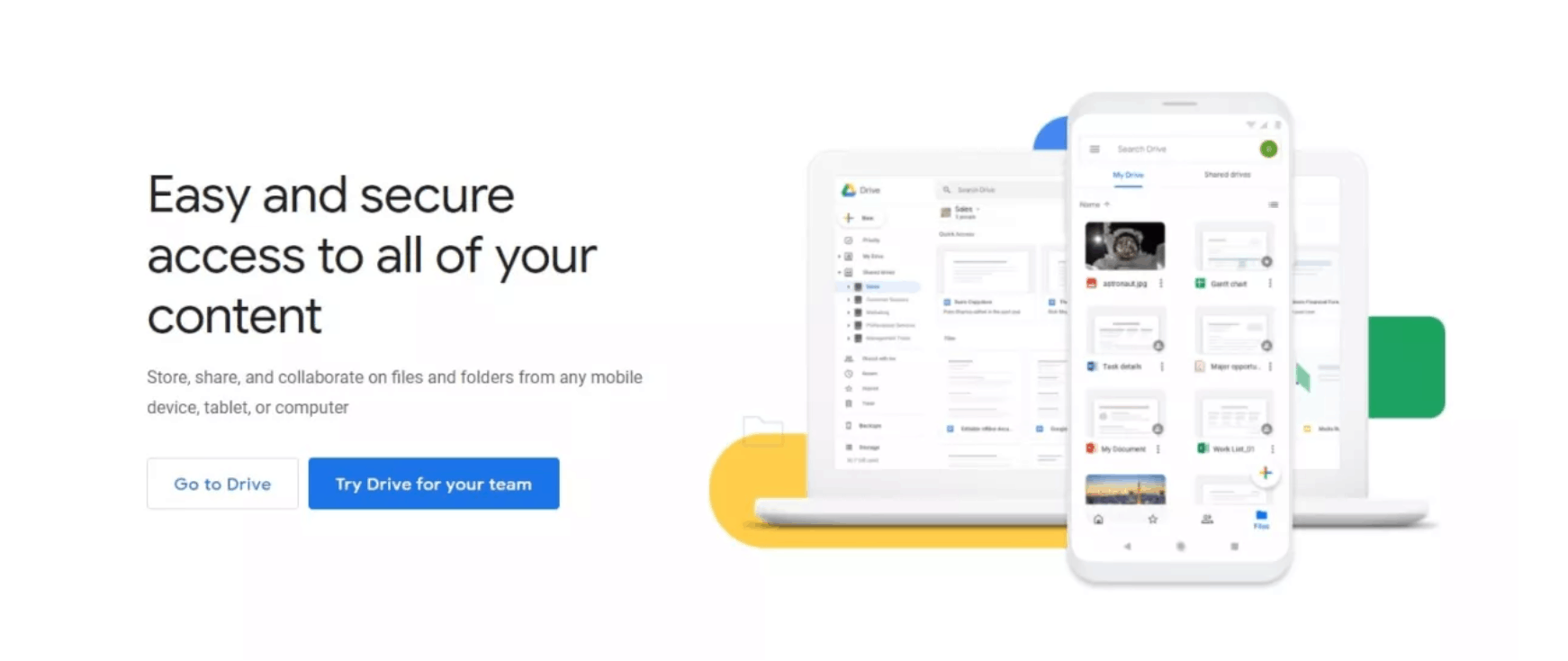 Much like any other service offered by Google, Google Drive is immensely popular and widely loved. Since its initial release in 2012, it has improved a lot, so if you happen to be one of those that didn't enjoy it back then, do give it another chance. Generally speaking, Google Drive has a good balance between simplicity and functionality. Its interface is intuitive and fully responsive. Any files stored on it, such as your docs, sheets, slides, etc., are also editable straight from the interface, which is a big plus as it saves a lot of time in the long run.
Google Drive also comes with some handy features like advanced search, offline access, and syncing across all Google platforms.
There's an option to backup all of your files to make sure you never lose anything important. Google Drive allows the user to store up to 15GB of data with the free plan when it comes to the storage itself. For business use, there's an upgrade to Google One (includes a handful of Google's tools and services) that starts at $1.99 per month and goes up to $299 per month.
Pros:
Easy to sync everything
Free for personal use
Simple to use
Cons:
Very tightly knit with the Google ecosystem
No options for end-to-end encryption
2. pCloud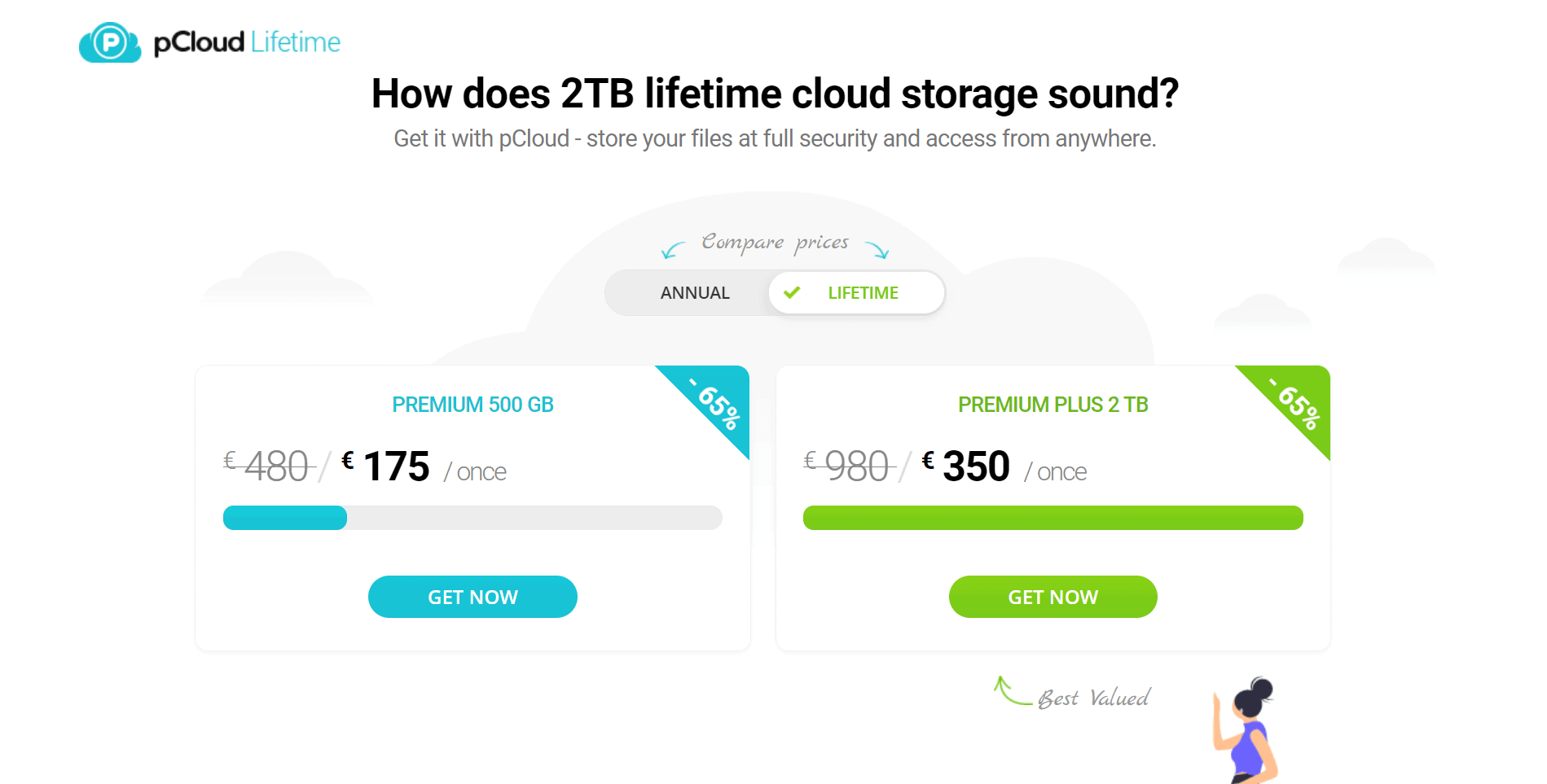 One of the things that genuinely make pCloud stand out is that it offers lifetime access to its product after a purchase, which is very hard to come by these days. It comes with a 30-day recycle bin history, so there's an option to restore files. When it comes to uploading files, it can be done remotely if you have a URL; plus, there seems to be no size limit for your uploads. Any size file can be safely stored on pCloud.
A new feature introduced in 2020 is the ability to choose where the files are to be stored. Any user can choose between America and Europe.
Unlike Google Drive, which lacks security features, with pCloud, you can make sure every single file is under maximum protection. However, this will cost an additional $4.99 per month, but it does give you the option to secure anything with a password.
The Premium plan costs €175 and comes with 500GB of storage, while the Premium Plus offers two additional TB at the cost of €350. This may seem like a lot of money at first, but considering it's a one-time purchase for lifetime access, it's actually a pretty good deal.
Pros:
The free tier has 10GB of storage
It's affordable, all things considered
Has extra security and protection options
Cons:
There are no collaboration tools
The price is a large sum of money to pay at once
3. Icedrive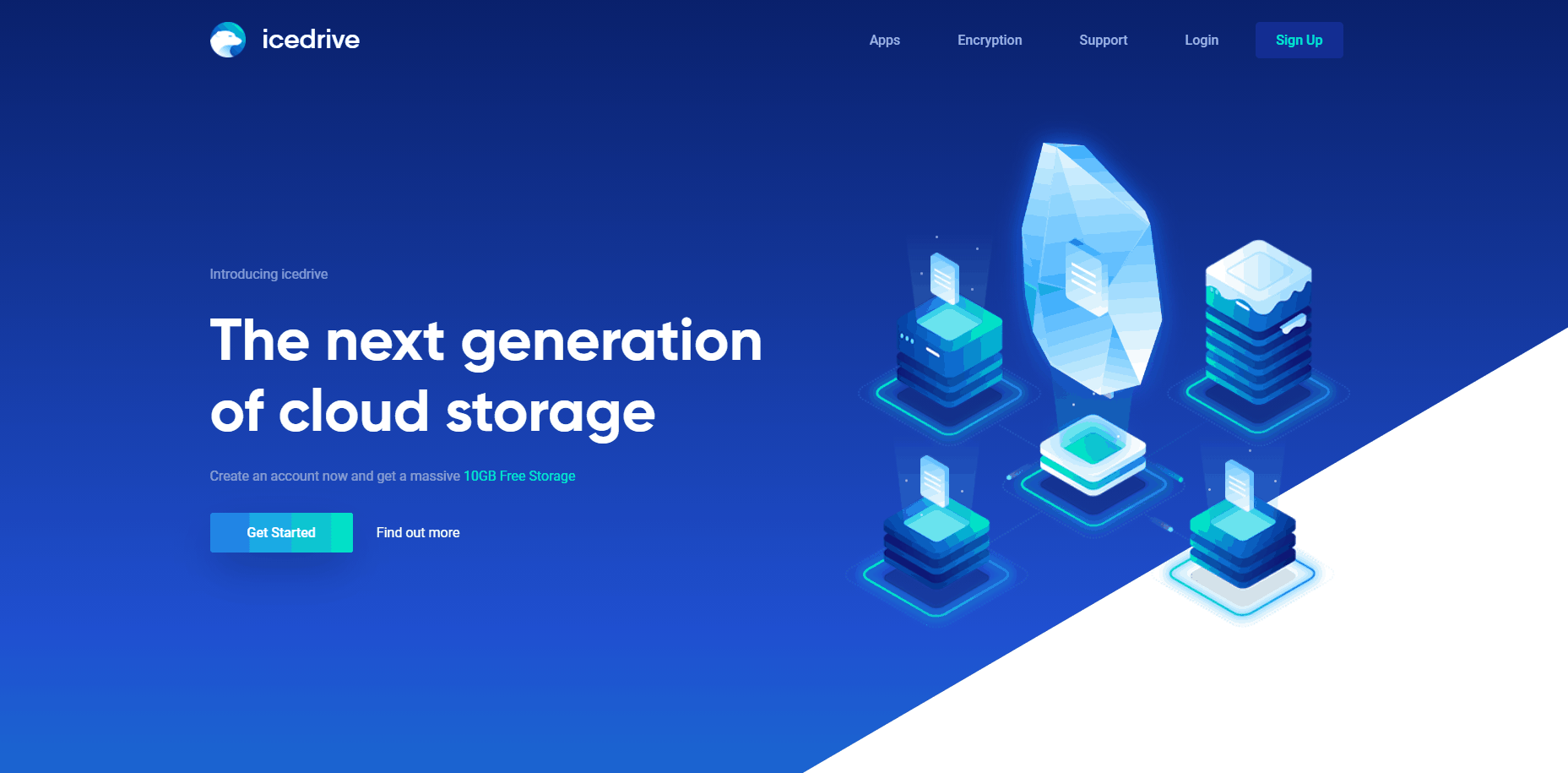 This service is a bit new to the market and has only been in the business for a few years now. Still, it takes a slightly different and fresh approach to the whole cloud storage story. Icedrive can function almost like an actual standard drive on your PC, meaning that you can move, access, and update your files as if they were actually stored on your computer but without taking up any space. However, this is a Windows-only feature. If you happen to own a Mac or a Linux machine, this is not a function you can access. But, there are some other solutions for those operating systems, and Icedrive can still function in a similar manner alongside them.
If what you're after is strong security and encryption for your cloud storage, then this service might be for you. Icedrive implements Twofish encryption on all of its servers, making sure all of your files and data are encrypted and secure both on your end and when they reach potential clients.
The free plan offers 10GB of storage which is pretty standard for services like these. With the paid plans, you can get up to 5TB of storage, depending on which plan you opt for (from 150GB of storage in the Lite plan priced at $20 a year to 5TB of storage in the PRO + plan priced at $15 per month). There are also lifetime plans that can make deals even cheaper.
Pros:
On the affordable side
Strong security features
Cons:
Like with pCloud, there are really no collaboration features
Some features are only available for Windows
4. Dropbox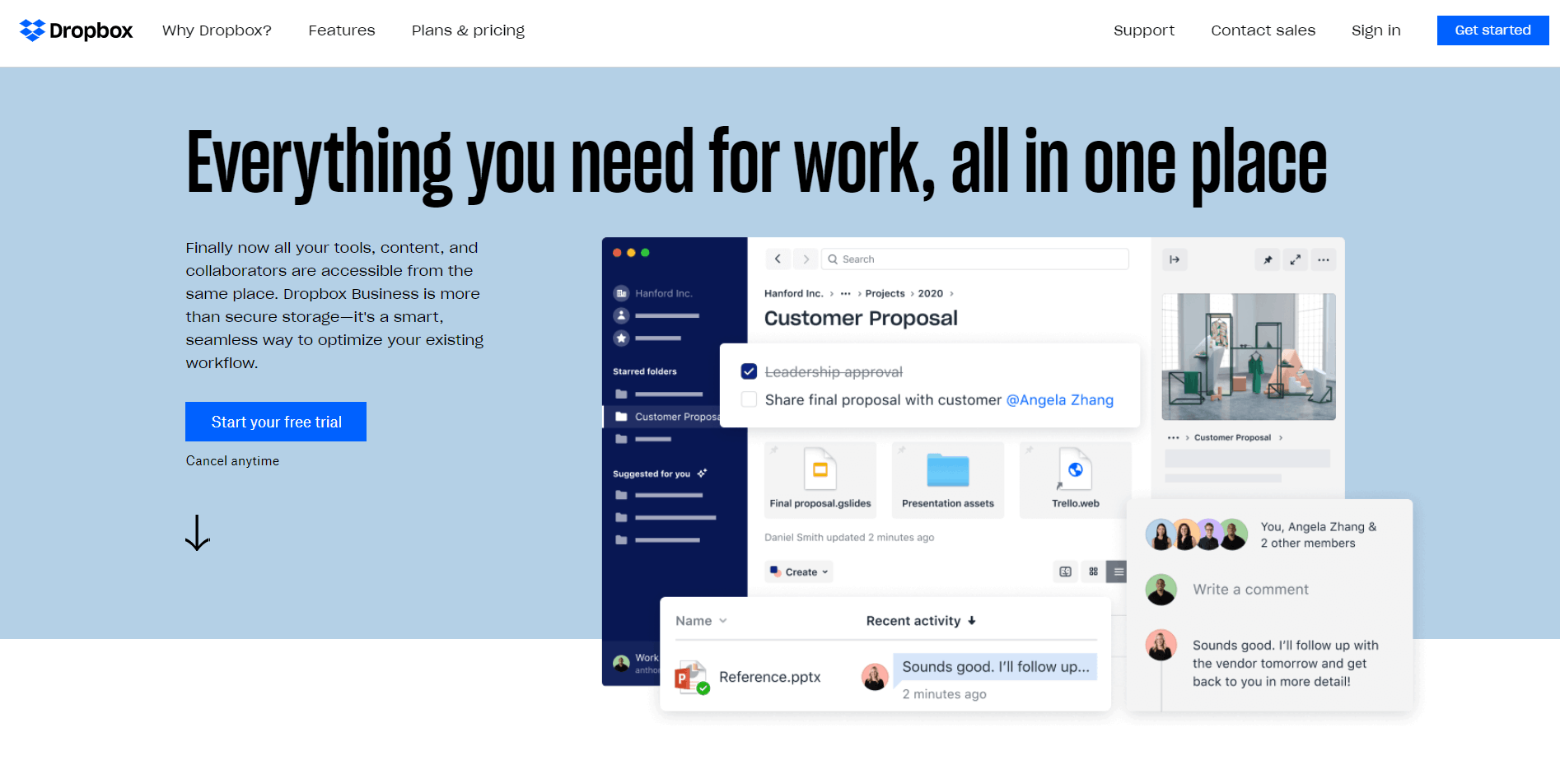 In many ways, Dropbox was the pioneer of cloud storage, but that doesn't mean it's outdated. New features are constantly being added, and the service is continuously being improved. One of the greatest things about Dropbox is the abundance of collaboration tools it supports and all of the possible integrations. Most of them being for tools you very likely use already and have been using for a long time. We're talking about tools like Google Docs or Microsoft Office.
Dropbox also provides easy access to the data stored on it and makes teamwork really easy. All one has to do is allow editing a document or a file, and the job is done. Uploading is also relatively simple, and pretty much any file can be stored without trouble.
Their original "smartsync" feature is really handy if you're looking to save time on syncing everything. However, the ease of access raises the issue of security. Security is kind of lacking when it comes to Dropbox.
The free version of Dropbox offers 2GB of storage which is on the low side, and some of its plans are rather pricey in comparison with the plans of the other entries on the list. The Plus plan comes at a price of €9.99/month for 2TB of storage, and the Family plan offers 2TB of storage for up to 6 users for a price of €16.99/month.
Pros:
Great integrations
Smartsync feature
Makes teamwork easy
Cons:
The free version offers only 2GB of storage
The paid plans are on the pricier side
On the lower end, when it comes to security
5. IDrive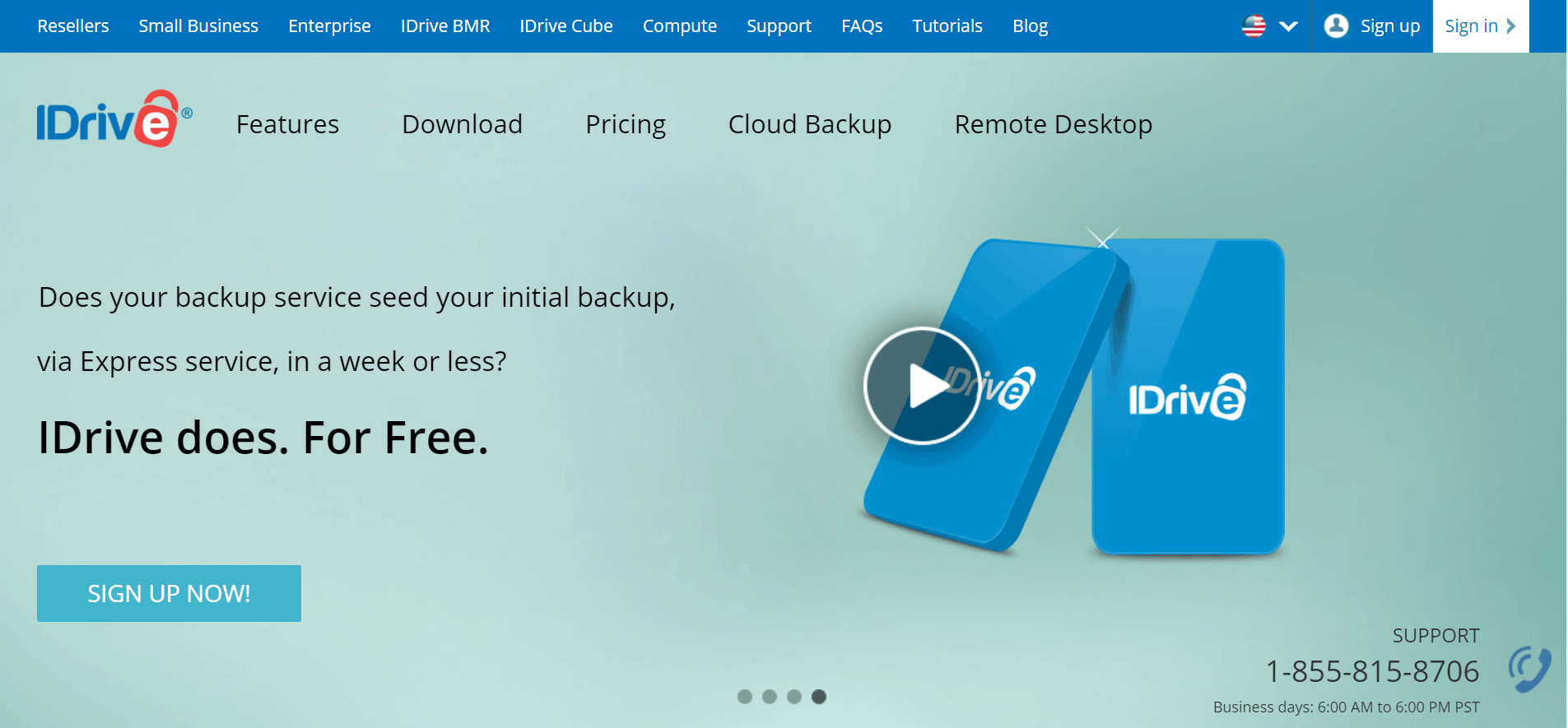 IDrive simply has to get a spot on this list because it's so cheap. It's the most affordable option we were able to find that still had good features and was overall a good quality cloud storage service. Besides the great price, this cloud storage service also gives you the option to sync all of your files; plus, you can share anything stored on IDrive via Facebook, Twitter, or email.
There's quite a decent deleted history; up to 30 past versions of a single file can be restored. A neat thing about IDrive is that it features facial recognition for photos. So, once you upload a photo, you can automatically organize it into the right folder and sync it with everything else.
When it comes to backups, IDrive offers an option to have a physician disc sent to you in the case of data loss. So, you can still get everything back even if the worst thing happens.
The free plan offers 5GB of storage, while the paid plans offer from 250GB to 10TB. The Personal plan costs $52.12 per year and offers 5TB of storage. If you need to upgrade to 10TB, you'll be looking at a price of $76.60. The Team and the Business plan range from $74.62 for 250GB of storage and five users to $599.62 for 50 users and 2.5TB of storage.
Pros:
Offers good security
The plans are really cheap
Cons:
Business plans are pricier
The plans are only cheap for the first year
6. Backblaze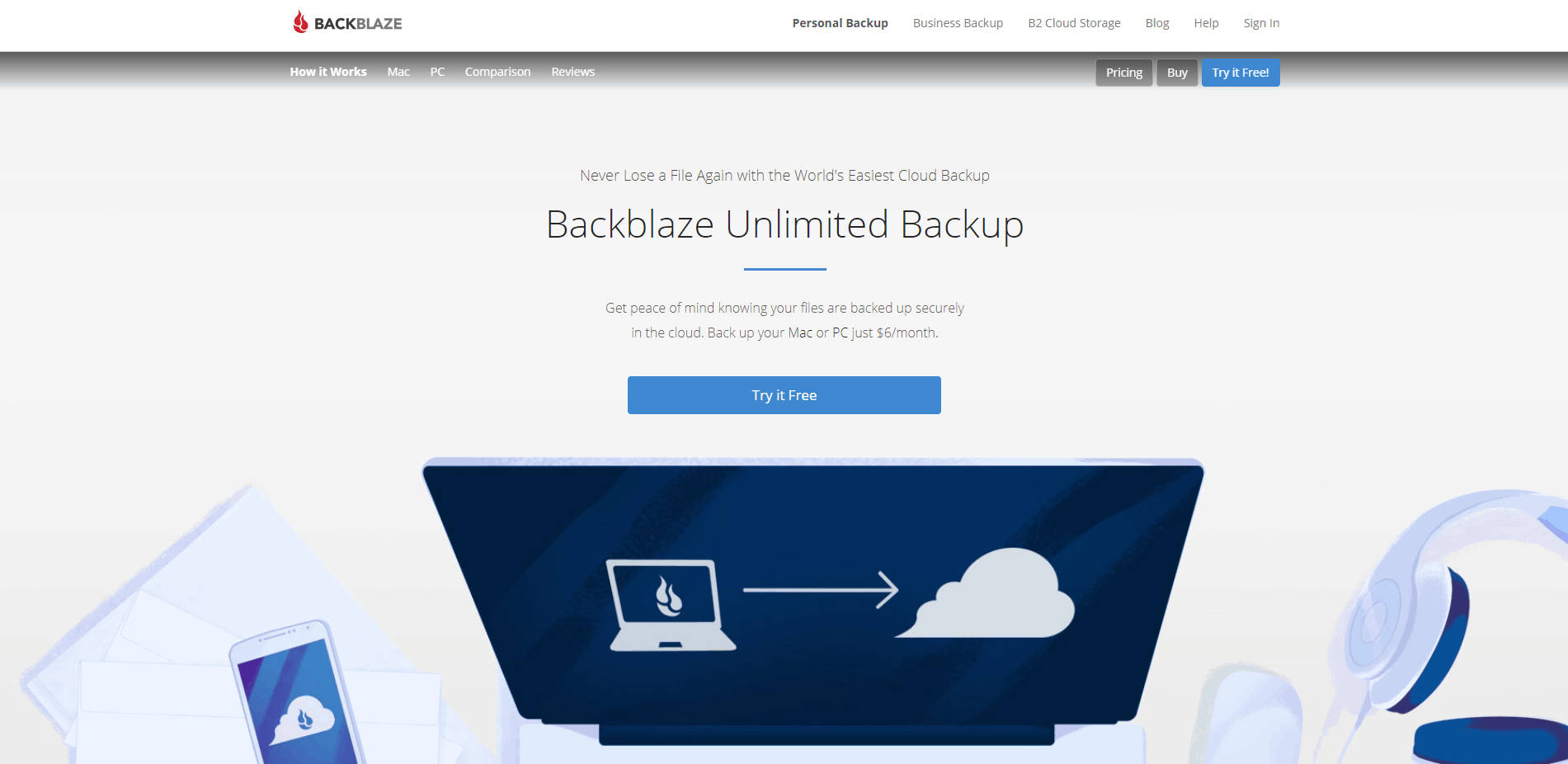 As its name would suggest, this service focuses mostly on backups. Backblaze is a giant in the industry and has plans catered both for personal use and big businesses. With Backblaze, the process of creating backups becomes effortless, and there's very little for you to do. Just install it, activate it, and sit back and relax, knowing that every single piece of your data is consciously backed up.
The process is swift, and everything is encrypted. Plus, if you so desire, you can also receive a physical hard drive with all of your data safely stored on it.
If what you need is something simple, without all the integrations and collaboration tools, this service might be what you should go for. It's practical, fast and reliable.
When it comes to pricing, there is no free plan. But, all of the paid ones offer unlimited storage, which is a feature none of the other entries provide. You can choose to subscribe either on a monthly, yearly, or two-year basis. The monthly subscription costs $6, the yearly comes around to $60, and the two-year subscription saves you a tenner by being priced at $110.
Pros:
Unlimited storage
Great backup
Super easy to use
Cons:
No other features but the listed ones
You can only use one PC per account
Honorable Mention – NordLocker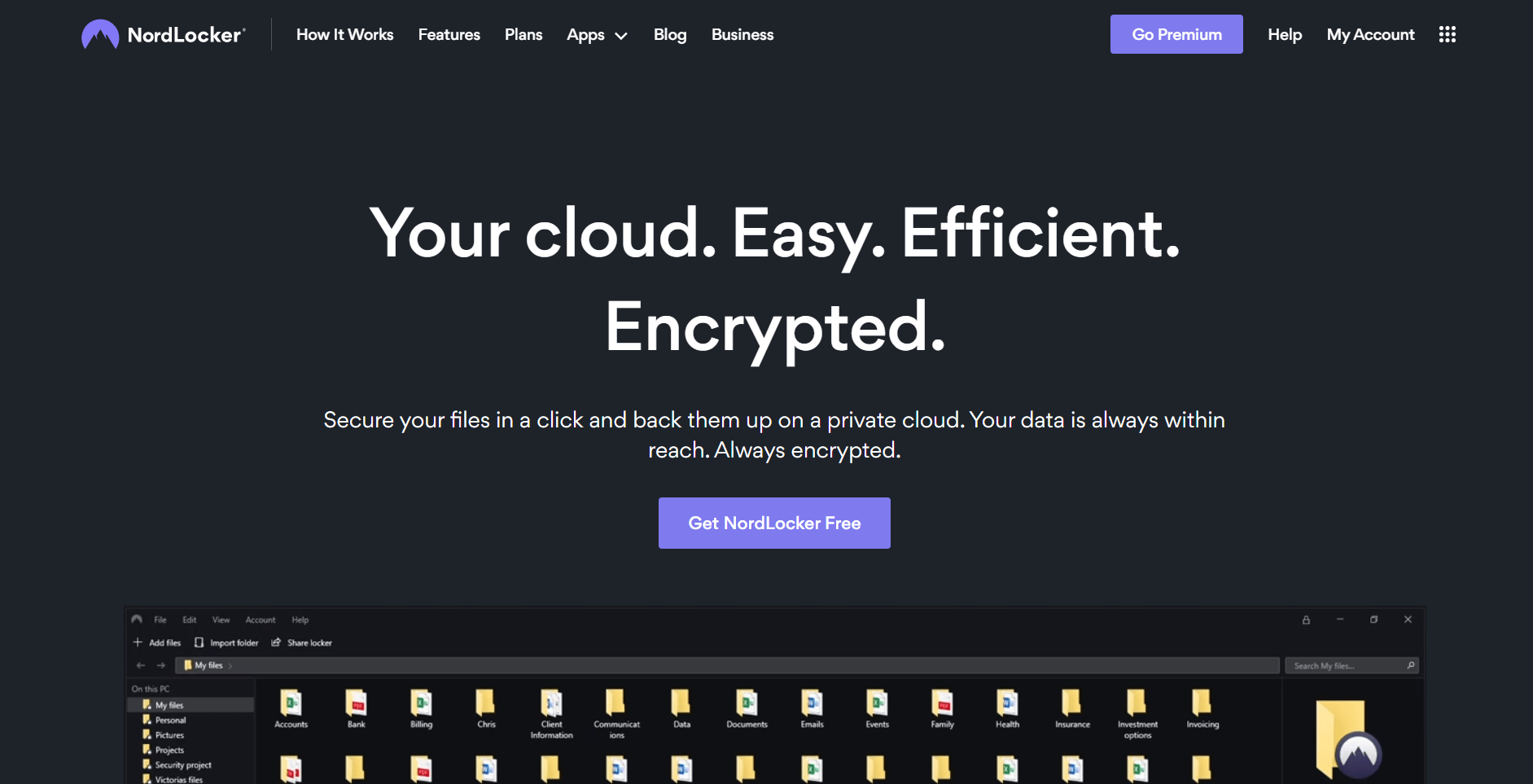 NordLocker is fairly simple, and if it sounds familiar, it's because it was made by NordVPN, one of the most famous VPN providers in the world. NordLocker is free when it comes to usage limited to your own local machine, but the storage, in that case, is rather limited – 3GB. With this service, you can easily sync all of your files, and it's really easy to use.
Just drag and drop everything you want to store, and your files will soon be uploaded and encrypted.
As far as file sharing is concerned, it is possible, but since this service is super security-oriented, whomever you wish to share a file with has to have a NordLocker account. As we mentioned, the basic version is free but has minimal storage; the paid-for version comes with 500GB of storage and costs only $3.99/mo.
Pros:
Really easy to use
High security
Cons:
Which One to Go for?
Well, that depends on what you're looking for. Of course, all of the services will provide you with plenty of storage, but there are other factors to take into consideration. That's why we split the services up according to winning categories. That way, you're free to cross-reference and see which one works the best for you.
Security: NordLocker, IDrive, Icedrive
Collaboration and teamwork: Dropbox, Google Drive
Best for the price: Backblaze, pCloud, IDrive
Best features: Google Drive
Final Thoughts
Cloud services are overall extremely useful, especially now when everyone has to work from home. They make working simpler but also allow you to separate your work material from your personal files – not everyone can afford two PCs.
Hopefully, our list helped you figure out your cloud storage needs, and you are now one step closer to making your job easier.
All of our entries are great and fulfill their purpose. The choice you'll make in the end boils down to your preference and work style.