Owning a business is not only managing jobs, sales, and profit. It is a process of many different factors that directly affect business flow. One of those factors is market research and public surveys. Every successful business highly values people's opinions and their needs about which information they collect through surveys.
Consumers' point of view is that the marketer's focus should be on them as they are on top of the priority list. They strongly want high-quality services and products as that is something they are your consumers, at the end of the day.

Google Forms are the leading software when it comes to free creation of surveys largely due to its integration with the Google account since all the work is automatically saved on the cloud.
It's simple to make a survey, distribute, share, and simple to collect the results. You only need a Google account, and you can create your survey in minutes.
Some of the main features which adorn this one are: upload your own branded content such as logo, banners, and colors to match it with your own design, adding images and videos for better user experience, and detailed insights that let you see which answers have the people picked the most.
Pricing: Free for personal use, $6, $12, and $18 per user monthly.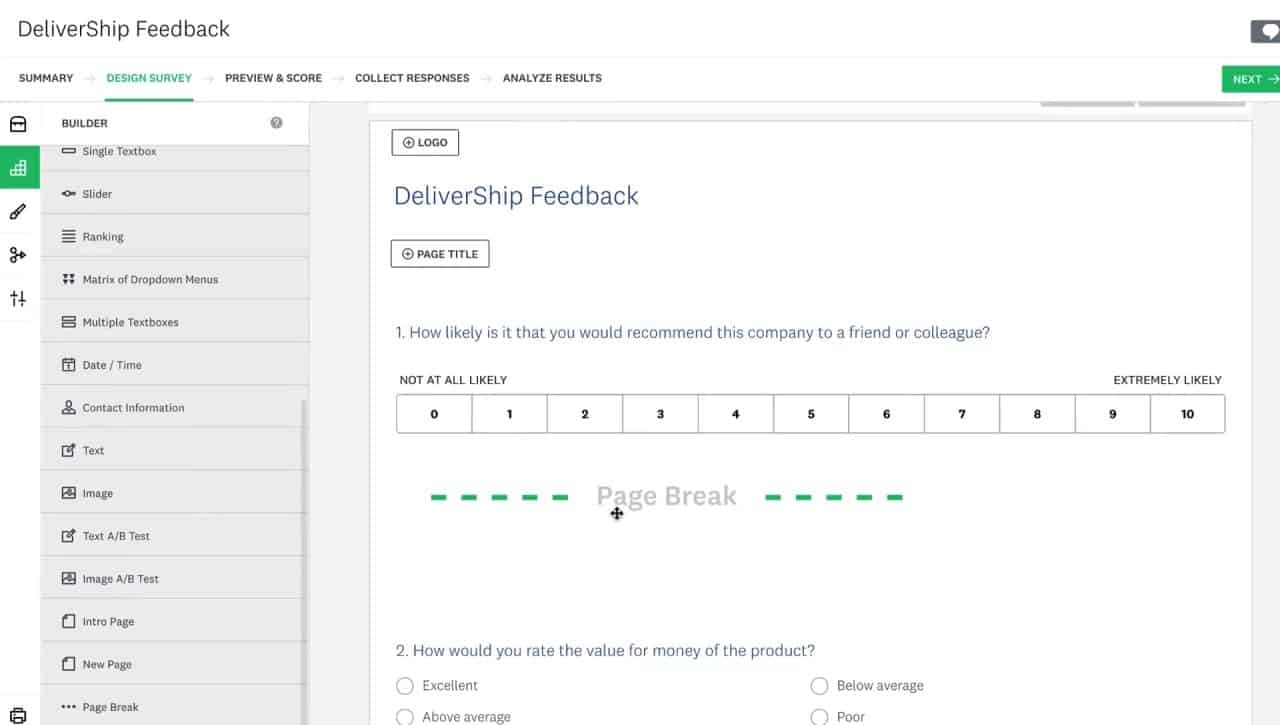 Another widely-used survey software is our second choice. SurveyMonkey has a robust design that favors different survey variations that will help you create detailed online survey projects such as in-depth market research, employee or customer feedback, and quick polls.
The main features SurveyMonkey possess are real-time results tracking, reporting features for thorough analysis, SPSS integration, and custom reporting.
Among these, just like Google Forms, this one offers high customization as it allows you to choose premade templates, customize themes, and survey links, and upload your branding content.
It is specifically made for large data processing since it has great built-in tools that allow it to process huge amounts of data.
Other noteworthy features: unlimited number of surveys, templates, customizable embedded question bank feature, the wide specter of analysis and reporting tools, surveys are shareable between team members, highest encryption possible (HIPAA, Norton, TRUSTe), integration with MS Word, HootSuite, Google Sheets, Zapier, and many more!
Pricing: Its pricing is justified when you look at all the features we mentioned. The plans foes from free to €30, and €38, respectively.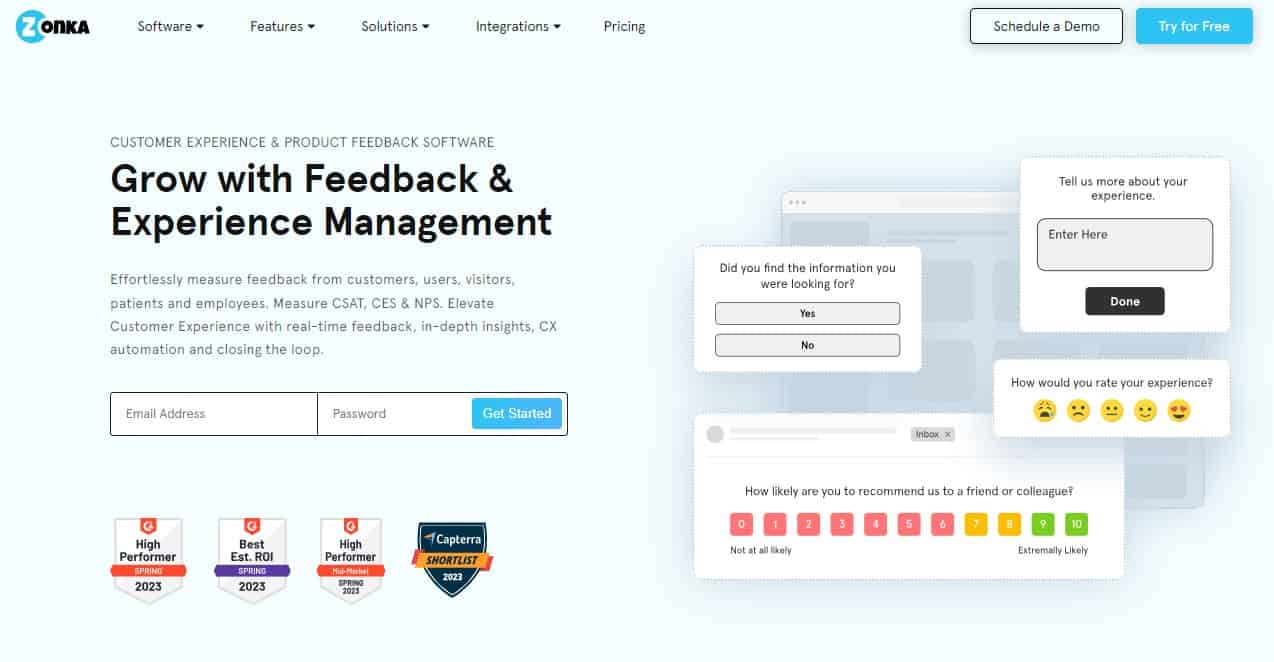 Zonka Feedback is a popular survey tool that lets you create, launch, and measure customer feedback across multiple channels. It offers a complete omnichannel feedback and experience management tool that enables businesses to capture customer insights and improve the customer experience. With this online survey builder, you get 500+ ready-to-use templates with 30+ types of survey questions.
This survey software enables businesses to microsurveys along with detailed surveys for in-depth research. Its main features include real-time reporting and alerts and automated workflows to take instant action on the data received.
One can use Zonka Feedback to collect insights on product experience, website experience, employee experience, patient experience, and more. It offers custom survey reports with text and sentiment analysis to help you improve the overall experience and customer satisfaction.
Pricing: The paid plan for Zonka Feedback starts from $49 per month. It also includes a free 7 days trial that businesses can use to explore its features.
Create visually pleasing and interactive forms using our third pick of the day which is Typeform. This one allows you to start creating forms, surveys, and even quizzes in minutes! It allows us to create an unlimited number of surveys with a special accent on user experience.
Typeform is focused only on user interactions, and engagements. To confirm that, it is a type of survey platform that is based on a survey system of conditional logic which allows participants to walk through the questions based on their previous responses!
Regarding the interface, this one is the embodiment of a simple, minimal, and modern survey that users simply adore.
Pricing: The paid plans go from $29, $59 to $99 per month.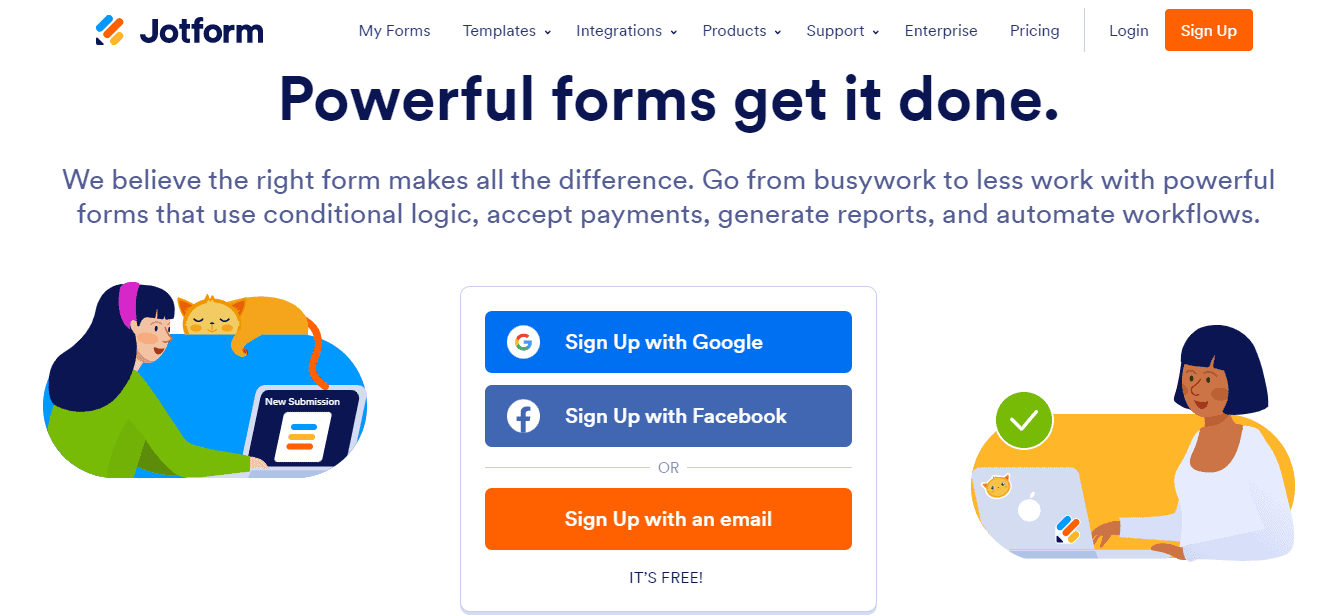 JotForm represents an affordable online survey builder that uses conditional logic in its algorithm! You can create a survey in minutes using the drag and drop system, choosing the right theme and template, and fully customize it by uploading your logo, fonts, and color scheme. It is superbly integrated with various business apps such as Zoom, PayPal, Salesforce, Google Drive, and more.
Among all features, these stand out: more than 10.000 premade templates for any need which you can fully modify, and widgets you can use in your surveys for any purpose such as calculations, inventory, checklists, and many more!
Pricing: It comes in four plans, Starter (free), Bronze ($19), Silver ($39), and Gold ($99).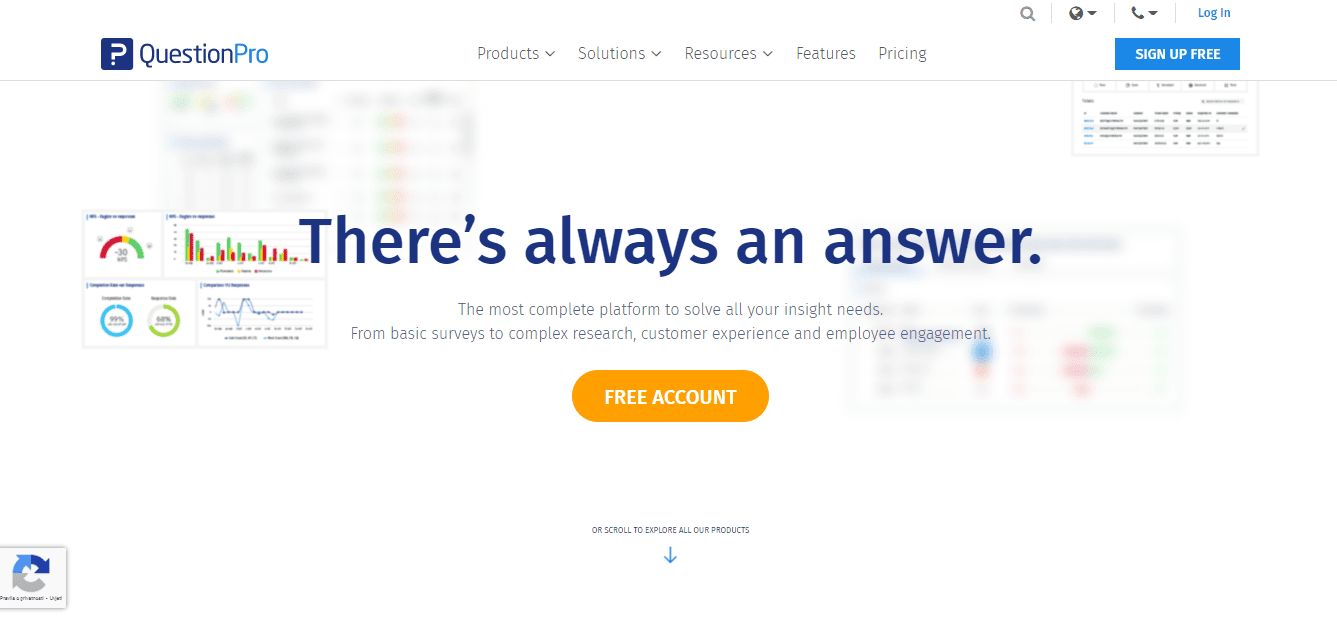 QuestionPro is a platform that offers you to create basic surveys and complex market research collecting customer experience and their engagement. With this one comes the possibility to track the data in real-time, AI analysis for deep data processing, and heatmap analysis that will visually present you the areas with the most attention.
Regarding other notable features, there are more than 20 customizable themes, great Google Sheet integration for data exporting, integration with Zapier, and Google Analytics, multilingual surveys, various question types, adding the media, and tables, and different sorts of validations for logic surveys.
Speaking of customization, this one allows you to modify the header and footer of a survey, its navigation buttons, logo, and add a progress bar. Other significant features you can find are sending thank you emails, timers, importing data to SQL database, etc.
Pricing: Essentials plan for free, Advanced plan for $129, and Team Edition plan whose price varies.
SoGoSurvey is a powerful and intuitive online form builder software. This one also is based on a logic algorithm that enables participants to only see questions that are relevant to them. It offers participants a worthy interactive experience. It allows you to create unlimited surveys with unlimited questions.
Creating a survey is as easy as it looks. At your disposal are the themes for various types of surveys where you customize the questions, and templates, incorporate your branding and embed multimedia into the forms. SoGoSurvey is optimized for all devices, it offers you the auto-translate option, real-time report tracking, and many more!
Other features: exporting data, multilingual surveys, email invites, and more.
Pricing: $25, $66, and $99 per month depending on the plan you pick.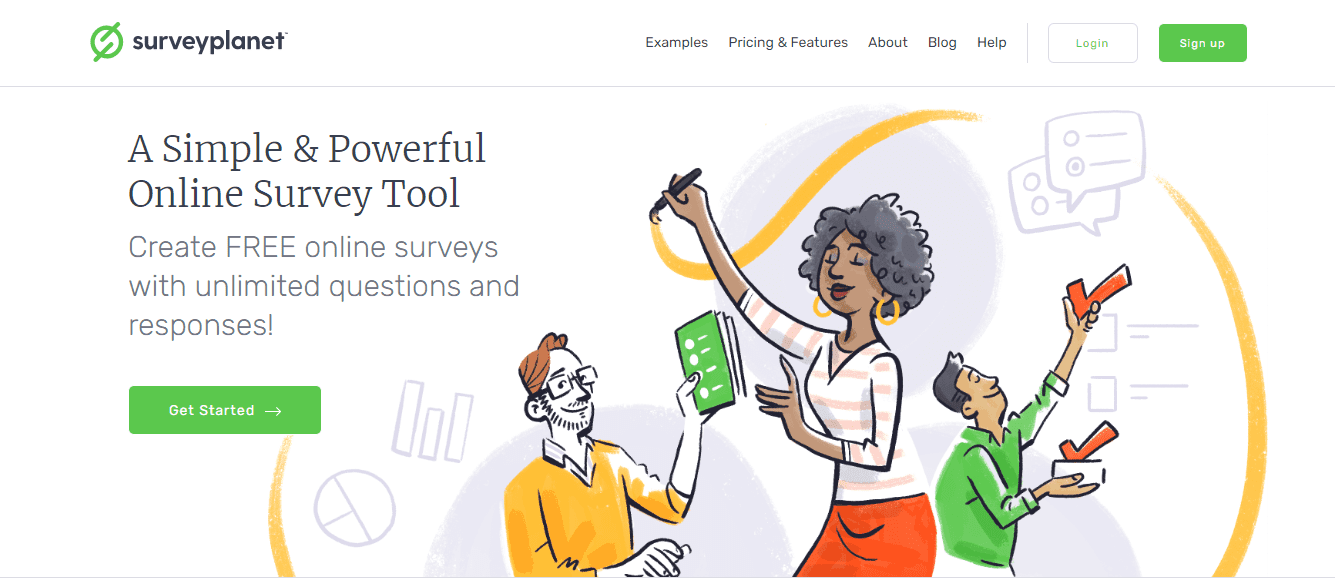 The simple online survey tool from SurveyPlanet allows you to quickly build amazing online surveys for free! Besides that, it offers you opening and closing messages for every survey you make, shareable surveys, over 90 premade themes and surveys in more than 20 languages, in-app reports, exporting data to Excel, results filtering, emailing surveys to the participants, media embedding, and questions branching which will filter the questions to the participants based on their responses.
Other notable features: Text message survey completion notification, URL redirects, themes customization, and image-choice questions.
Pricing: Free, $120, and $350 a year.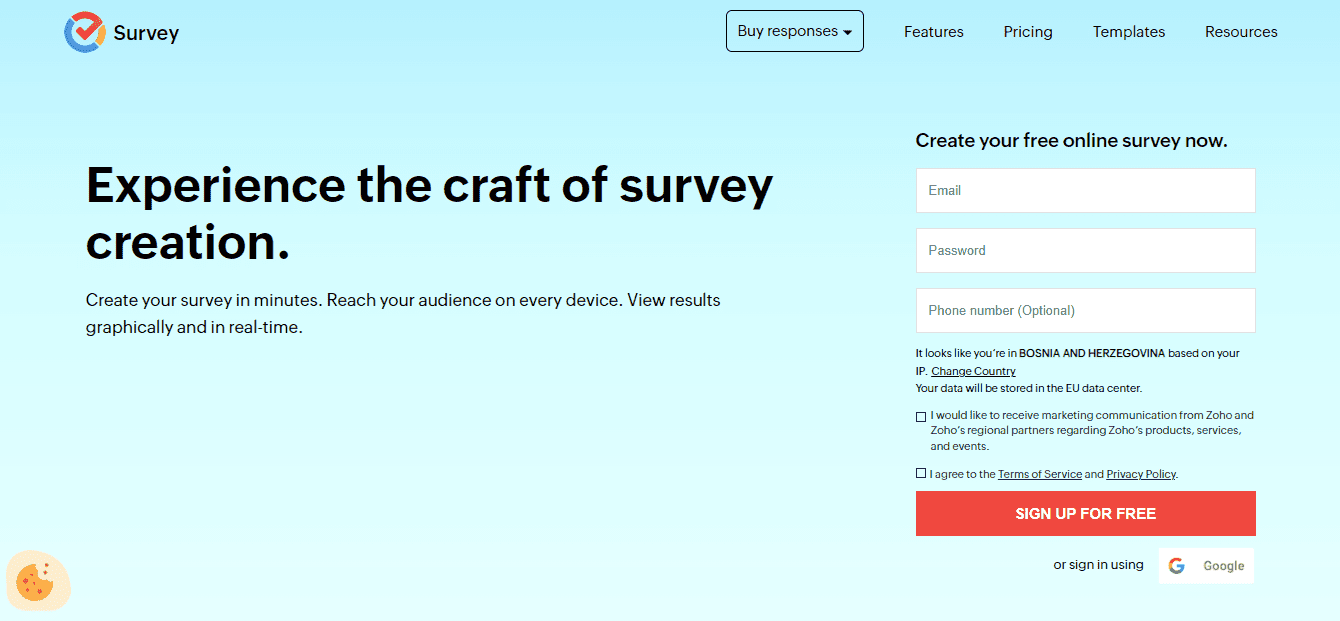 This one is a fantastic choice for acquiring consumer feedback, analytics, and evaluating customer pleasure. It offers you to create an unlimited number of surveys using piping logic that displays the questions to the participants based on their responses. With Zoho Survey you can host the survey on your domain in 76 languages, gather and analyze reports, send email notifications to the participants, and more.
Like the aforementioned ones, this one also allows tracking the data in real-time, exporting them to Excel, and synchronizing the data with various CRM software. You can choose from over 250 premade templates and pick the ones that suit you the best – from collecting customer satisfaction, marketing, and HR, to events surveys!
Pricing: Free, $25, $35, and $75 a month.
Conclusion
With the importance of surveys and collecting mass opinion, in this article we have covered eight survey tools for your business that will help you understand better market needs and wishes of your consumers.