Email marketing is an essential element of every marketing strategy. Successful email marketing involves sending thousands of emails per day, which is impossible to do manually. That is why there are SMTP Servers for this aim!
Mail servers use SMTP servers to transmit, receive, and relay outgoing emails between senders and recipients. Every SMTP server will have its address (e.g., Google has smtp.gmail.com). SMTP is used to process emails and can be server-based or cloud-based. Every email sent through an email client is processed by SMTPs, which then pass the email to the corresponding server, which displays in the recipient's inbox.
If you are looking for the best SMTP Server solution, this article may be of interest to you because we will present six of the top SMTP Services right away.
1. Google
Google has great and one of the most reliable SMTP services for sending transactional and bulk emails. It gives you a two-week free trial during which you can send up to 500 emails every day, and all you need is a Gmail or Google Business email account!
What distinguishes Google SMTP servers are speed, security, and reliability. You can use it to send emails to any popular email client, including Outlook, MailBird, and others. Sending an email to a client successfully using Google's SMTP service is considered a standard since its configuration does not allow ISPs to divert your emails to spam folders.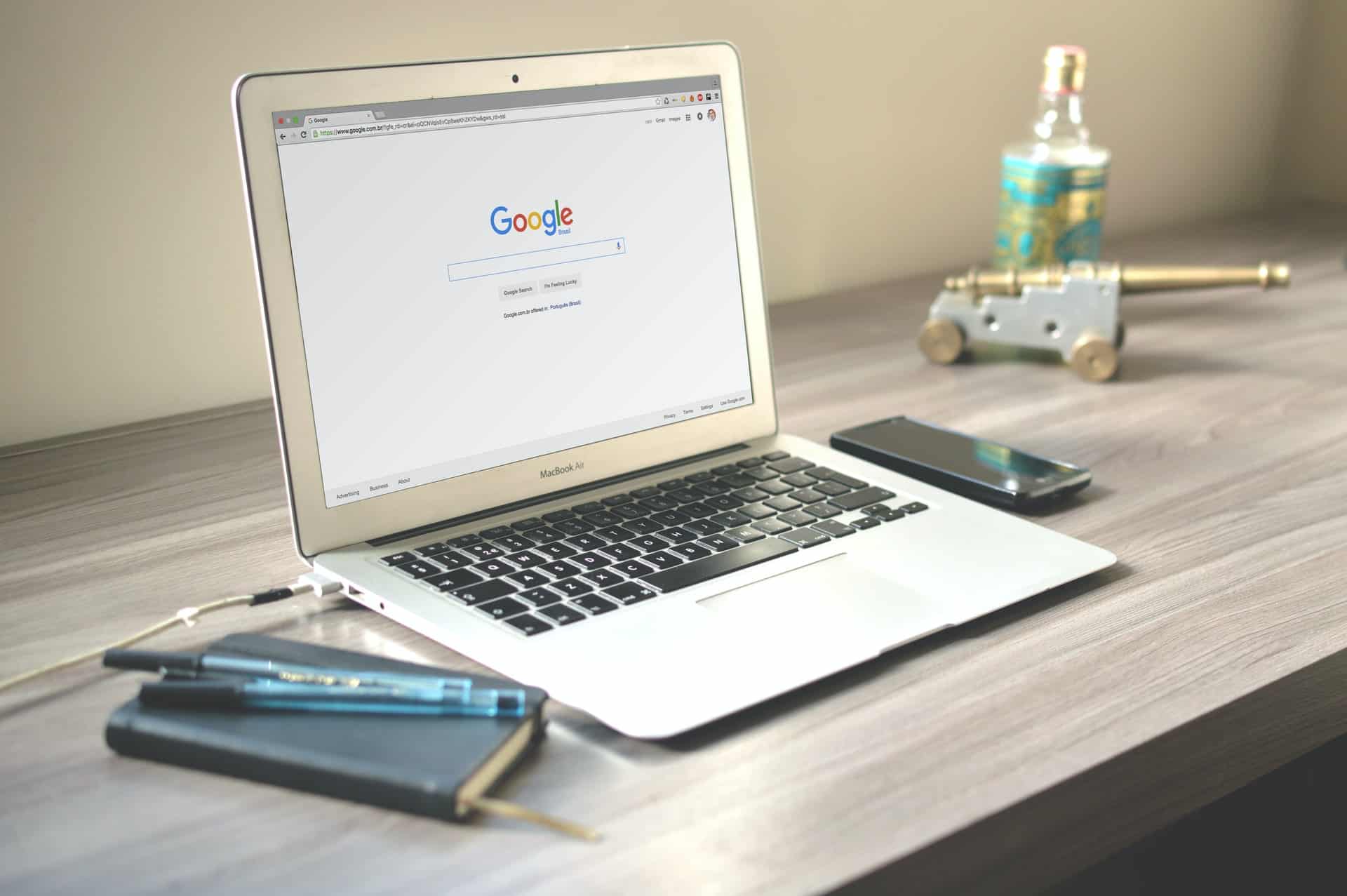 Also, you can use the Google SMTP server to send emails directly from your website, as well, and activate the indexing option, which means that each of your emails will be securely saved on its servers for later use. This one is a super useful tool for large businesses that frequently send a large number of emails – Google allows you to send bulk emails directly through Gmail!
With the free plan, you can send up to 100 emails daily. Subscription plans go from $6 which enables you to send up to 2.000 emails a day.
2. Mailchimp
Mailchimp is another great SMTP service that offers marketers a complete solution. You can use it to send transactional emails and integrate it with the existing SMTP library and framework!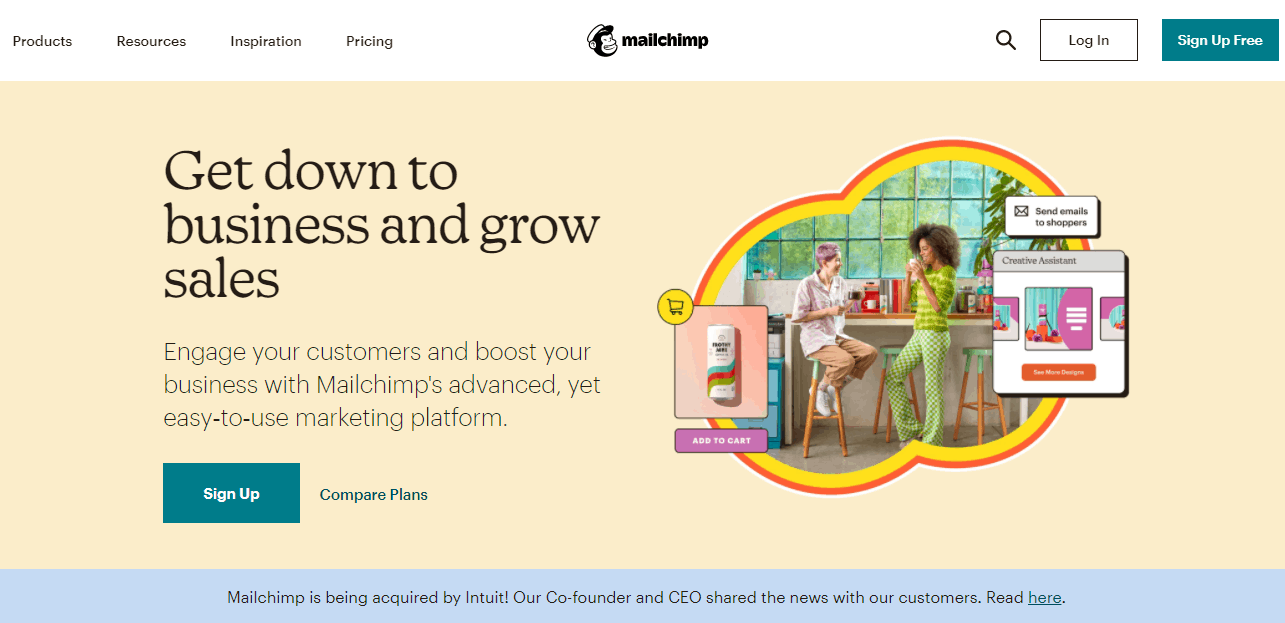 It is a good and easy-to-use service with a simple interface and powerful, high deliverability rates. It offers you thorough reports about clients, geo-tracking, social media activities, and other analytics. Although a bit more expensive than the other SMTP servers, Mailchimp has a free plan that allows you to send 2.500 emails a month with some limited features but at the end of the day, you still have the access to the most of tools and features!
It also gives you pay-as-you-go options, meaning you only pay for what you use, which can be a great value for individuals.
3. Postmark
Postmark is another SMTP gem with a stellar reputation in this niche, made especially for developers, freelancers, and marketers.
It offers a free trial with up to 100 emails a month, while paid subscription starts at $10 with a limit of 10.000 emails per month. Postmark has a great deliverability rate placing it at the top of the most used SMTP services.
It offers you email trackers, message personalization, templates, analytics tools, third-party integrations, and more. Just like its predecessor, it is super easy to use, highly secure (it offers you two-factor authentication security), and easy to integrate with other apps and websites.
4. Amazon SES
Amazon SES is one of the most prominent cloud-based SMTP servers, primarily because it is one of those low-cost services. Although with some negligible limitations, it can be used for free with up to 60.000 emails a month available. However, other subscription plans are affordable, making them a viable option.
Overall, it is an easy-to-use service that will help you send and receive transactional and bulk emails without any restrictions. This one also offers the pay-as-you-go feature and monitoring tool for all your activities, and every problem regarding delivery rates. With its tools, you can act fast and see what influenced badly your delivery rates, and react promptly.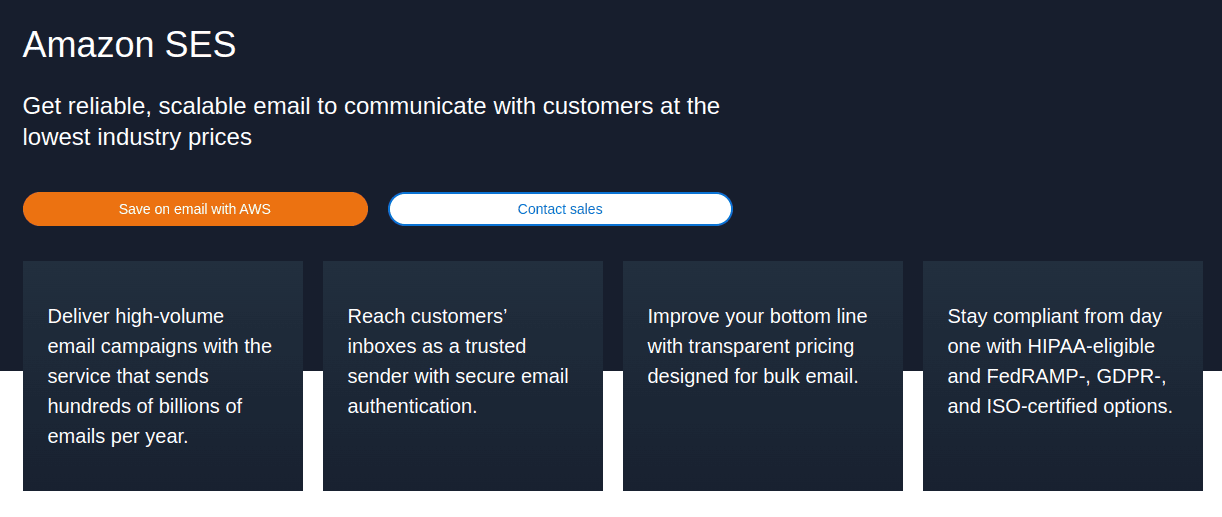 To use this system, you need to have an AWS account. Because Amazon SES divides users into Sandbox and IAM groups, new users are automatically assigned to the Sandbox group. Before you may become an IAM, you must first pass the authentication process as a Sandbox user. IAM users can use all secured AWS resources and can authenticate Sandbox users.
For sandbox users, Amazon SES offers up to 200 emails a day. On the other hand, the quota for IAM users is drastically higher – up to 10.000 emails in 24 hours!
Amazon SES is a forever free option for EC2 users offering you to send up to 62.000 emails a month for free! Other than that, each email will cost you $0.10, and each GB of attachments will cost you an additional $0.12.
5. SMTP2GO
SMTP2GO is another widely-used SMTP service providing you with all of the tools you need to effectively set up and handle your outgoing emails assuring you every email will get to its recipient successfully.
An easy-to-use API is something that distinguishes SMTP2GO since marketers and developers won't have any problems handling it. Another cool thing about this one is it allows you to see how well your email appears on more than 40 email clients to understand if it complies with their spam regulations. Detailed analytics is a great thing about this one – it enables you to get reports about click rate, open rate, or unsubscribe rate which you can use for later marketing strategies.
SMTP2GO offers free 1.000 emails per month with five days of premium reporting included! The starter plan goes from $10 to the Professional plan for $75 a month.
6. MailGun
Similar to Amazon SES, MailGun offers you great and effective service regarding sending emails without the need for owning a special server. MailGun has some serious features, and one of them is surely Email validation that will help you remove those emails that don't exist or aren't valid. This way you will save your time sending emails to non-existent addresses.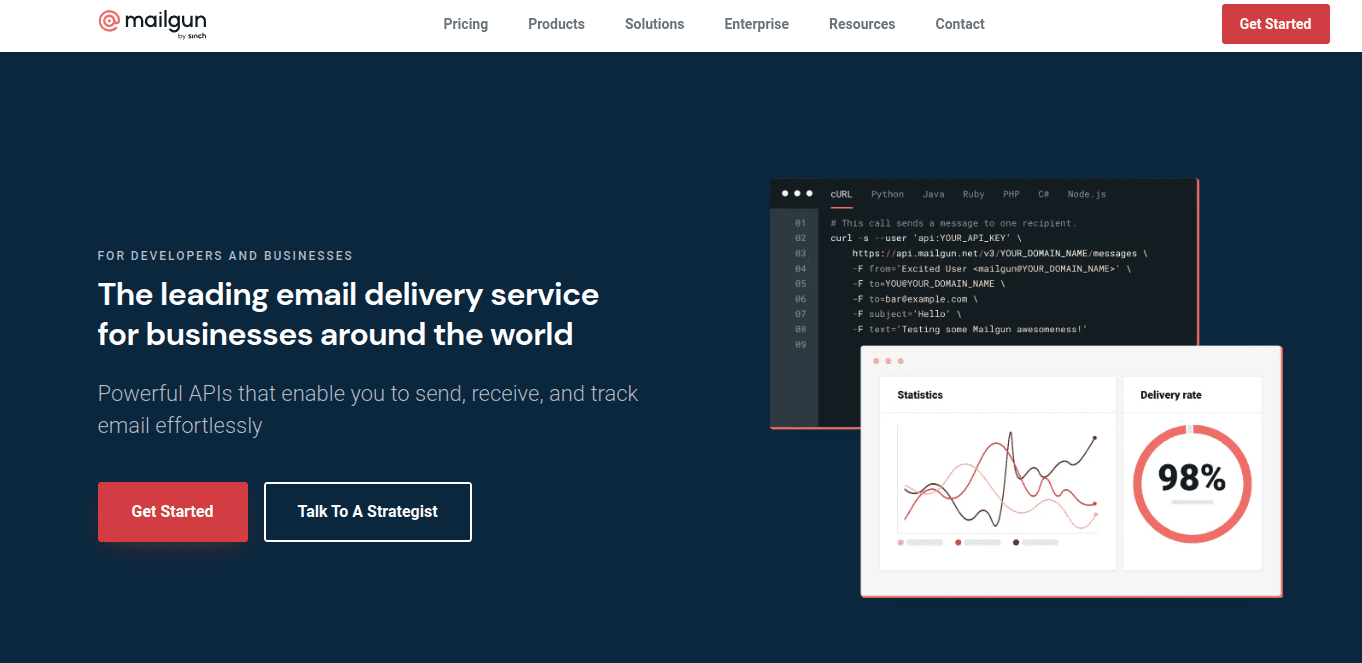 A second noteworthy feature is the Analytics tool which will work along your marketing strategy helping you to fix mistakes and improve them. You can track click rate, open rate, A/B tests, KPIs, and more.
MailGun comes free limiting you to 5.000 emails per month for the first quarter. After that, you will be charged $0.80 for every 1.000 emails. To start using it, you need to create an account with a username and password and enter the SMTP hostname and port.
Final words
All of the services described are excellent for marketers and developers; they are all cost-effective, simple to set up and use, and have exceptional deliverability rates. You can't go wrong with either option.